by Kid Crave
|
Last Updated:
04/07/2020
Babies go through many fundamental stages in their development and movement is one of the most important. It has been proven that the actions of parents in early childhood can have far-reaching consequences later in the child's life and that guidance, over direction, is the best way to enable children to learn and grow.
Toys can be used as a helpful resource to guide children to learn and develop new skills, and balance bikes are a great example of these.
To help you choose the best balance bike for your child, we have compiled a list of 10 which we feel are some of the best on the market. We tell you about their features, design and why we chose them.
Here are the 10 Best Wooden Balance Bikes
Wishbone Design Original 3-in-1 Balance Bike
It's no secret that our little ones grow quickly and as a result, we need to replace their toys often. Wishbone Design Studio have offered a great solution in their 3-in-1 bike which can grow with your toddler, giving them the freedom to explore new challenges and you better value for money!
Start off with a baby walker and push tricycle when your little mite starts to explore the upright world, moving into a small balance bike and finally, a larger balance bike with adjustable height for longer legs – one of the largest on the market.
Offering stability and durability, this bike will give your toddler the confidence to move around on their own. Suitable for toddlers 1 – 4 years old.
Why We Like It:
The bike grows with your toddler
Kind to the environment from its construction to its packaging
Won awards in many categories for its safety, utility and sustainability
Zum CX Wooden Toddler Balance Bike
Designed for children 2 – 6 years old, this bike is built for durability and adjustability. A common problem with wooden balance bikes is the lack of option to adjust them which this bike cleverly solves, able to go from 12 inches in its low position to 17 inches, growing with your child.
Made from 100% birchwood, this bike uses sustainable products with safety top of mind. The handlebar is designed to avoid the bike toppling over it and keep kiddies safe while scooting, the rubber covering to protect fingers and hands and the padded seat to keep them comfortable.
Featured in our best balance bikes for kids guide, this bike will get them ready to level up to a bicycle when they're ready.
Why We Like It:
The adjustable seat means the bike can be used for years to come and grow with them
Clever design keeps safety top of mind and avoids common accidents on balance bikes
Rubber and soft edges minimize risk the of injury when riding or transporting the bike
Nicko Ladybird Kids Children's Wooden Balance Bike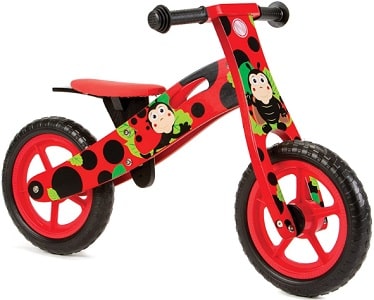 This Little Red Ladybird Rider is the perfect next step from crawling and standing to learning balance and motor skills. With plenty of stability support and a comfortable design, your wee ones can be off on their way in no time!
Its compact design also make it easy to take out with you to the park or for a walk around the block. Suitable for kids 2 – 5 years old.
Why We Like It:
The trunk allows them to take toys around without holding them which could otherwise result in an accident
Happy Trails Giraffe Wooden Balance Bike
Cute, colourful and safe for your baby and toddler, this giraffe balance bike is ideal for 1 – 2 year old toddlers. Babies can push the bike, toddlers can ride it and the four wheels make for a stable base for them to begin their upright escapades!
Made from solid beechwood and durable MDF, this toy will survive the many bumps and knocks that come with learning to ride. Curved edges and natural wood make for soft surfaces, safe for kiddies to interact with as they learn.
The sweet giraffe design is suitable for both boys and girls, perfect for your own children or as gifts. A new character for your child to integrate into their play while working their muscles. Recommended for 1 – 2 years old.
Why We Like It:
Giraffe design is adorable
Stable construction makes the toy safe for kids as they learn and explore
Four wheels and a wide seat are perfect for the smallest toddlers to explore
Prince Lionheart Balance Bike
Ideal for children aged 2-5, this adjustable bike is the perfect pre-bicycle transition. Made to help teach your children not just balance but coordination and steering, sit back and watch them develop not just these skills but the confidence to push themselves and let their curiosity run wild!
Easy to assemble, this bike can be adjusted from 14.8in to 17in, allowing additional height as those little legs grow. The padded seat and rubber handgrips give them a comfortable ride and minimize risk of injury or scrapes. Recommended for 2-5 year olds.
Why We Like It:
Designed to develop coordination and steering as well as balance
Adjustable Seat
Made from sustainable materials from ethical sources
Kinderfeets Baby Balance Trike
Other than the super-cool design, this balance trike is a great option for boys or girls of 1 – 2 years old. Made for the littler scooters, this bike's three wheels provide good stability, with the two at the front closer to enable easier steering. The turning radius is limited so these little ones can't turn too sharply and fall off.
The body of the trike is made from durable, high-quality wood and water-based paint. The handlebars have a stripe indent design which is easier for them to grip, reducing falls that come with slipping.
The trike is made to be toddler safe and to be used indoors or outdoors – although manufacturers do not recommend storing it outdoors as this may lead to damage over time.
Why We Like It:
The bright, colourful design makes a fun addition to any toddlers toybox
Slightly restrictive steering allows toddlers to explore in a safe way
Adjustable seat
Kinderfeets Balance Bike
Coming in a range of styles, the Kinderfeets Balance Bike is the ultimate cool-kid option. Lightweight but strong, the bike is made from bamboo which ensures maximum durability, with a soft handlebar for comfort and grip.
The construction of the bike make it bump and scrape-proof, the tyres puncture-proof and the soft finishings all helping to minimize risk of injury.
Suitable for kids 2 – 5 years old, the saddle height can be adjusted from 33 – 41cm, suitable for children up to around 85cm. The lower frame keeps feet firmly on the ground while children learn and play, with foot-pegs there for kids to practice cruising and preparing for a bicycle with pedals.
Why We Like It:
Every bike sold plants a tree so you can help to protect your child's future as well as their development!
The bamboo structure is stronger than steel, so you should get great durability from the bike
Hape Scoot-Around Baby Wooden Bike
Ideal for toddlers from 1 years old and up, this wooden pushbike is a great way for toddlers to develop their balance and motor skills.
The bike has four wheels rather than two which offers greater stability for younger riders. With its curved edges, soft finishings and rubber wheels, you can be sure that your little monkey can scoot around safely on this balance bike which will last them until they're ready to level up!
Winner of the 2013 Oppenheim Toy Portfolio Gold Seal Award and the 2013 Parent's Choice Recommended Award.
Why We Like It:
Rubber wheels protect your home surfaces
Four wheels offers better stability for younger riders
Product is made from sustainable wood so is kind on the environment
The bright, neutral colour is made from non-toxic, water-based paint
Hape partner with sustainable brands to help minimize their impact on the environment
Janod Scooter Kids Bike
One of the pricier but definitely more aesthetically pleasing options out there is this super cool retro mint green Janod Scooter. It's neutral colour make it a perfect gift for girls or boys, able to travel in ultimate style!
At just 8.9 pounds, this scooter is lightweight with inflatable tyres, adjustable seat and pretend lights and tachometer to really let your child's imagination bloom. Recommended for ages 3-5, this bike is a perfect chance to practice balance and steering for when they're ready for a pedal bike.
Combining retro style with modern design, your little tyke can get all the benefits of safe child-proof engineering while looking very cool at the same time!
Why We Like It:
Unique design makes it stand out from the crowd
Light and tachometer features add to the authentic design
Adjustable seat allows you to keep the bike longer as your child grows
Tour de France Wood Balance Bike
At the lower end of the budget spectrum, you can pick up the BIKESTAR balance bike available in a small range of colours and styles. For children from 2 years old, the frame and seat are adjustable to meet your growing kiddie's growing legs, lasting them even longer with their new favorite toy!
The body of the bike is impact-resistant so any bumps or scrapes won't ruin it anytime soon. The paint is solvent-free and water-based so non-toxic for little hands; the steering wheel sports rubber grips for usability and the saddle is ergonomically designed for optimum comfort.
The tyres are extra wide for a soft ride, great suspension and the bike also features rear splash guards so is easier on play clothes. They have thought of just about everything!
Why We Like It:
Assembly is easy and the manufacturer even provides a vlog to follow along
The design fits around your toddle for optimum comfort and safety
The bike can be adjusted as kiddies grow
Why Choose a Wooden Balance Bike?
The transition from crawling to standing and walking is one that takes time and confidence building. A balance bike allows toddlers to explore their bodies and abilities to move themselves around unaided, in a safe and exciting new way.
Giving your child a balance bike will encourage them to find their stability, work and strengthen their muscles, opening up a whole new realm for their imagination. The even better news is that many of these products are adjustable now, able to stay with your child longer and grow with them.
For parents to feel safe allowing their children riding a wooden balance bike, they need to feel that the manufacturers have met certain standards.
Although all manufacturers recommend that you supervise children using the bikes, we can't watch them every second, so the peace of mind knowing risk has been minimized upfront is invaluable.
Also, read our guide on balance bikes vs training wheels.
Conclusion
Letting your child explore by themselves can be a scary hurdle at the beginning, but it is crucial for their development. There are many toys out there now that have been designed to give your toddler the best tools to grow and learn in the safest way possible to make this transition a little easier.
Wooden balance bikes are not just great for baby's progression, but they are also better for the environment, with many companies making a commitment to sourcing sustainable wood. You can be sure that while you invest in the advancement of your little one, you are also safeguarding the future of their world too.