Some parents might be overwhelmed by today's high tech toys and video games, but they'll be happy to know that some classics never get old—they get better. Over the years since our childhood toy makers, custom builders and designers have improved on simple toys like the humble rocking horse. Now you can find rocking horse toys that not only rock, but rock out loud! Check out these amazing rocking horses that rock!
Motorcycle rocking horse
One of the most modern and cool motorcycle rocking horse that is available for sale.  Although it looks like it is made from steel and chrome but it is actually made of wood, with very delicate designs. Assembling the motorcycle rocking chair is not difficult if you follow the instructions well. It is a great kids toy for children below 3 years old.
---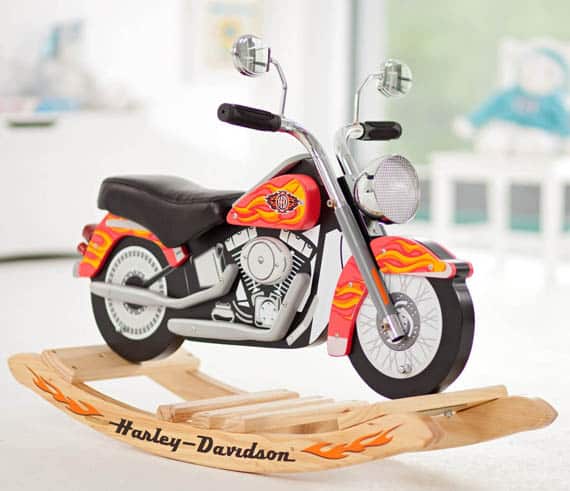 Harley Davidson Rocker
If Italian scooters don't do it for you, maybe you'd rather rock on a real hog, like this Harley Davidson Rocker.
---
Rocking Vespa Scooter
Here's a rocking horse that would make any adult jealous! The Rocking Vespa Scooter not only looks like a real Vespa Scooter, but features working lights and horn. If you have 2k to drop on a rocker, your toddler can pretend to ride through the streets of Italy while the other kids pretend to be in a smelly barn.
---
Wooden Vespa Scooter Rocker
Of course if your rocking horse budget is only about a 20th of the parents who splurge on the real deal, you can get this very hip wooden version for under $100.
---
Day of the Dead Rocking Horse
Sure this Day of the Dead rocking horse is a little macabre, but not every girl loves pink ponies.
---
Rocking Raptor
Kids today are a lot harder to impress. Rocking horses seem so dull compared to Rocking Raptors.
---
Solid Gold Rocking Horse
Your little ones are definitely worth their weight in gold, so they won't be needing this $1.28 Million solid gold rocking horse created by Japanese jewelry designer, Ginza Tanaka.
Check it out
---
Modern Bobbel Rocking Sculpture
Modern design is all about less is more, and it doesn't get any more minimal than the Bobbel Rocking Sculpture made from aluminum tubes.
Check it out
---
Cardboard Rocking Horse
Eco-friendly toys rock, like this recycled cardboard rocking horse by Shell Thomas.
Check it out
---
Stainless Steel Rocking Horse
If you thought hard wooden seats were uncomfortable, check out this insane stainless steel rocking horse—which of course is just a piece of artwork and not meant for use.
Check it out
---
Airplane Rocker
Imaginations will definitely soar with an airplane rocker.
---
Motorcycle Parts Rocking Horse
There seems to be a correlation between rocking horses and motorcycles. This custom motorcycle rocking horse includes an engine and headlamp so your toddler can really vroom!
Check it out
---
Jumbo Rocking Horse
Sometimes as parents we get a little bit jealous of our kids' toys—they make it look so fun! But rather than squeezing your butt onto a tiny rocker and making a fool of yourself, hope on the jumbo Lullaboo Rocking horse and play with your kids.
Check it out
---
Rocking Horse Skeleton
If you thought the Day of the Dead rocking horse looked macabre, take a look at this rocking horse skeleton.
Check it out
---
Dragon Rocking Horse
When you want to pass on your love of fantasy, D&D and dragons, a plain ol' horse just won't do. This custom Winged Dragon Rocking horse is hand-crafted and made to order and your child can choose their favorite color dragon.
Check it out