With Kung Fu Panda 3 less than a month away, it is time to look at some of the kids toys that will be released to coincide with its launch. While Po and the furious five will no doubt be starring in this new adventure, I am predicting the new young Panda, Bao will steal the show. If I am a parent, I will definitely put the Bao plush toy in my list of things to get if my kids is going to like Kung Fu Panda 3.
The funny thing is that with the release date so near, there isn't any news on the toy front yet on Amazon. Until until 2 weeks ago when they were finally released. Nevertheless, I find the selection to be rather disappointing as they were only plush toys and console games available for sale.
Let see what we have in store:
#1: Kung Fu Panda 3 plush toys figurines
First up are the plush toys. At the moment, they are selling like hot cakes as only a few items are left in stock. My favorite is this:
Master Tigress 13 inch plush toy
This plush toy is soft and very hugable. At night, they make great bedtime companions to both boys and girls.   In addition, I find the details on this to be much better than the one on the main character Po. Sizing wise, they are quite big and should make your kids very very happy even if they are fans of the movie.
Po Plush toy
Here is what the Po plush toy looks like. It looks ok but where is the hat?? Comparing these 2, you can see why I prefer the Master Tigress option. However, if your kid really like Po, this is the one to get. Note that there are no stances for this. What is shown above is the fighting stance. The other version is the regular, hands by the side, kind of posture.
#2: Kung Fu Panda 3 lego set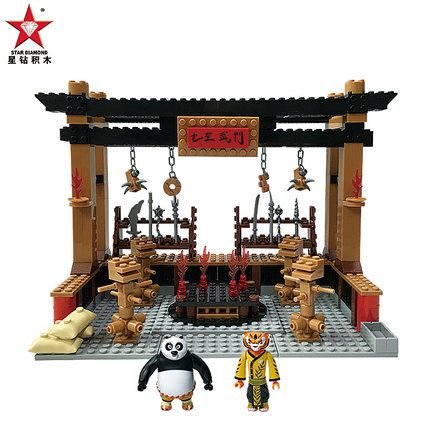 This is what I was looking forward to and is easily the best selection in this article. It recreates the temple scene using 388 mini blocks. Do note that due to use of the mini blocks, this lego set is smaller than the usual set. How much play time your kid gets out of it really depends on whether he is the builder type. If your child just wants to play with the final set, without actually putting it together, then he might get bored easily. However, since this is the only Kung Fu Panda 3 lego set, there isn't much choice.
#3: King Fu Panda 3 console game
Lastly, there are the console games that your kid can play with. I understand some parent don't really want their child to play games at an early stage but there isn't much option as you can see from the selection here. For this game, it is available for all major consoles including PS4 and 3, Xbox one and 360 as well as Nintendo U and DS.
Conclusion
Ku Fung Panda 3 was a fun movie to watch. It is a pity that the toy selection is not that strong to take advantage of the interest stirred up by the movie.