After reviewing the best robot dog toy for 2015, here is another similar kids toy but is even more cool: a remote control walking dinosaur toy! This trend was started by Pleo a few years back. Since then, toy companies have been introducing different models, each becoming more intelligent than the previous versions. This guide is meant to recommend the best remote control robot dinosaur toy to buy.
Radio control robot dinosaur toy recommendations
I ordered a couple of such toys to test it myself. After playing with them for 1-2 months, below is what I think is the best robot dinosaur toy for 2015.
First up is this awesome robot dinosaur toy from Zoomer. Below is my personal version whom I have named Terror Rex! It really is a cool toy and I can see kids playing with it for a long time.
Like all Zoomer robotic toys, it main attraction lies in its ability to learn new commands and execute new actions. I have fun watching it explore and do all sorts of crazy things like roar, burp and fart. It can even laugh at itself! There is definitely something in its algorithm that makes it almost human in nature that kids can appreciate after playing with it.
Another thing fun about Zoomer's dinosaur toy is its ability to keep itself balance. In fact, it can even pick itself up if it topples forward. However, if it falls on to its sideways, I will need to set it straight myself.
The walking action is smooth, unlike the cheaper alternatives that don't walk very well. For that, I think its higher price is justified as it is just a better quality toy all around.
One thing you should note is that you should definitely read the instructions. That help me get all mileage out of this cool dinosaur toy. If not, you might missed some of the cool things that Terror Rex can do which I have mentioned.
However, there are certain flaws that I hope can be corrected in the next version.
First up, the battery live is a bit limited. Compared to the robotic dog toy, it is better as each charge lasts up to 40 minutes. However, that is after an hour of charging so kids might get impatient. To know that the toy is fully charged up, just look at its eyes. Green means it is ready to go!
Second, there are other things you need to buy which I feel should be included. One is the 3 AAA batteries for the remote control. Second is the usb cable for charging the dinosaur itself.
Despite the flaws, I still love Terror Rex and your kids will love him as well! You can buy it from Amazon through the link below (disclosure: affiliate link)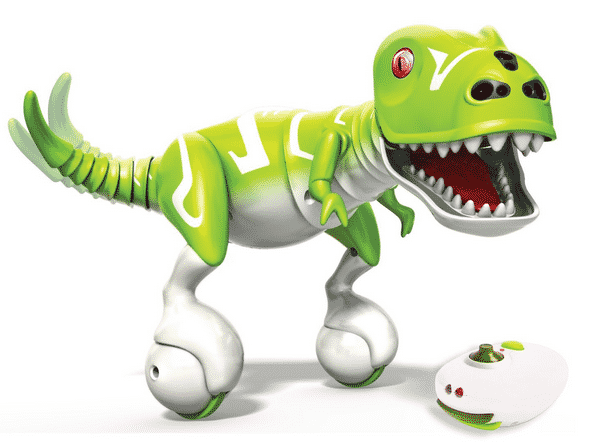 Wow Wee remote control dinosaur toy review
Another model I bought was the Wow Wee remote control robot dinosaur toy. It was more Transformer looking than the Zoomer version and had some cool features as well.
One of the most obvious difference between the Zoomer version and this is the speed which the toy is moving. As you can seen from the images, the Woo Wee version has actual legs rather than wheel so it moved really slowly. However, it is a more realistic walk so depending on what your kid like, there is a difference in the basic movement for the 2 dinosaur toys.
In terms of intelligence, I will say the Zoomer has a slight edge in terms of the commands and actions. However, don't let that take anything away from the Woo Wee. I played it for some time and its range of actions is still impressive. For any 6 year old and above kid, it should entertain him or her for hours.
A cool thing about the Woo Wee is that there are 2 types of remote control. I like the one that is linked to your smart phone. I feel it suits me better as the smart phone generation. However, you can't be too far or the remote control doesn't work well.
Unlike the Zoomer, the Woo Wee dinosaur toy is not rechargeable as it is powered by normal batteries.
Overall, it is cool robot dinosaur toy and should appealed to kids who love big toys.
More expensive robot dinosaur toy?
If you really want to splurge on your kid, this LEGO remote control dinosaur toy will do the trick. It costs a whopping USD450+ which is really on the high end for a dinosaur toy. However, if your kids love lego, he or she will adore this remote control robotic dinosaur toy.
Disclaimer: I got this as a gift for my review but what I said is entirely my opinion.
Out of all the robot dinosaur toys, I spent the most time putting this together but hey, that is the whole point of LEGO toys right? Like I said, for lego fans, they will lots of fun assembling the robot dinosaur. It will take some time but they will enjoy every minute of it.
Once assembled, it can do a lot of cool thing. For one, you can control it via a remote control which I try to do by banging it against my Terror Rex. Unfortunately, this lego toy won and knocked Terror Rex to the floor 🙁
It can also open its mouth and let out dinosaur roars, which adds to the fun of playing with it. Its horns can even shine when in the dark, not that I played in the dark all the time but when the lights are off, it did look very cool.
Finally, it can be reassembled to transform into a crocodile. This is the only dinosaur robot toy that can do that so I guess it is worth the price since it is 2 toys for the price of one?
Here are some tips when doing the assembling from my experience:
Don't screen the engine parts too tightly or the dinosaur will have trouble moving around.
This toy is for kids who are older. Definitely 9 and above will do ok Anybody younger might struggle with the assembling.
It is a very unforgiving lego set. Even a wrong brick will mean it will not work!
Make sure the batteries go on both sides as some of you might missed the instructions about these.
Overall, if you can afford it and your kids love lego, this is a great remote control dinosaur toy to buy.
Tyrannosaurus Rex interesting facts
Since all the robotic dinosaur toys recommended here are all T-Rex, I thought it will be educational to dig out some interesting facts about them. You can impressed with your kids with these information as they are playing with the toys.
Tyrannosaurus is actual an American native as the area it lived in is what is now known as western North America.
Tyrannosaurus is one the later dinosaurs to appear before they all became extinct.
It can eat 500 pounds of meat in one bite!
T Tex is considered one of the largest meat eating dinosaurs that ever lived.
The first T Rex bone was discovered by Barnum Brown in 1902 and the place was at Hell Creek, Montana USA.
Have fun learning these Tyrannosaurus Rex fun facts!