Taking a baby with you on your family camping trip is always going to be a challenge. I remembered going on a holiday trip to Taiwan with one of our couple friends who bought along their 2-year-old boy. Oh boy, talk about challenges then! One moment, it was him having a stomach ache. Next moment, it was him getting tired etc. Luckily, my friends were well prepared with the right travelling gear. This got me thinking that to bring a baby to a family camping trip will need the right baby camping gear as well.
Hence, this list was put together to help mummies and daddies know what camping essential accessories or equipment is needed for babies.
Portable Play Pen
The number one item on your camping gear list is a portable playpen. This acts as a safe enclosure for your baby to play, nap or rest without your supervision. During camps, you will be busy with a lot of stuff such as cooking, chopping wood etc so you need a safe haven for your baby to be in while you work. The playpen also acts as a sort of reassurance for your baby as it feels like a baby crib to them.
One of the best top rated playpens is this Summer Infant Pop and Play Pen. Its biggest strength is its portability and ease of set up. You can literally roll the playpen and carry it with you anywhere. Setting up is also a breeze so it is perfect for a camping trip where you can place it inside the tent or under a tree.
However, there is one drawback which is the lack of cushioning for the bottom layer. It is not a big problem if you placed it on the sand, grass or in a tent but in places such as swimming pools, the floor might be too hard and wet for the babies to be comfortable. If your camping trip does not involve swimming pools or hard areas, this should be fine.
In terms of the materials, the playpen is made of mesh which is perfect as it is cooling in the hot summer days. There is even a net that can protect your babies from mosquitos and such.
Overall, it is a great playpen and one that I encourage you to bring as an essential camping gear for your baby.
Baby Carrier
A baby or mei tai carrier has always been an essential gear for any trips, not just for camping. Without it, it will be difficult to carry your baby around for your hikes or doing camp chores.  I think most families should already have this in their homes and if you don't have one for some reason, here is one of the best mei tai carrier for 2015 as reviewed on Amazon.
The Infantino Sash Mei Tai Carrier is stylish and more importantly, it is very secure for your baby.  Due to its designs, mommies wouldn't get tired that easily compared to other baby carriers.
It is also easy to put on and very compact when being stored away. Perfect for a camping trip.
A screen house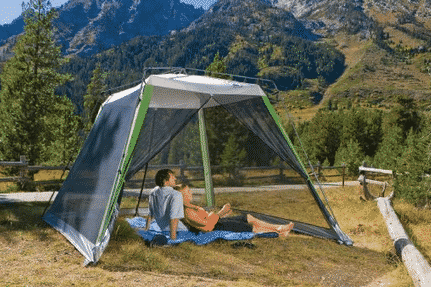 Now, this is something most of you might not have but is essential to a family camping trip with a baby. It is used as a dry place for you to store things that you do not want to get wet. It can also be used as a place to change diapers and such.
The Coleman screen house is perfect for such a use. It is super easy to set up (less than 3 minutes) but provides all the space you need to store things and keep them dry. The sunscreen also helps to keep things cool so you wouldn't be sweating like a cow when you are changing diapers inside the screen house.
Do note however, there is no flooring that comes with this model. A good suggestion is to bring along a large mat that can be used as the flooring for the screen house.
A Bumbo Chair
You probably have this at home so bring it along on your camping trip. This is for the baby to enjoy the surroundings while the adults go about doing the camp chores. Babies can stay in this for hours and be entertained by the going on around him.
An alternative to the Bumbo portable camping chair is a travel high chair for babies. It achieves the same purpose although it does require more set up than a Bumbo chair.  As long as the baby is able to view the surroundings comfortably, either of the 2 these two gear will be ok.
Baby Down Jacket for Sleeping
The temperature might go down significantly in the night so a down jacket is essential to keep your baby warm. Some parents might like to use a sleeping bag but babies tend to want to move around so they might not feel comfortable in a sleeping bag for the whole night.
A down jacket still allows for some movement so it isn't that uncomfortable for babies.  If you are concerned about the cold, you can always bring a thick blanket along as well as give the baby extra clothing underneath the down jacket.
Foam Floor Tiles
I have talked about bring a blanket or mat for your sun screen house. An alternative is the foam floor titles. Compared to a mat, it is much more comfortable for the babies to crawl on. You can use this in the main tent, the sun screen house or even the play pen.
The downside is that setting this up can be a drag as you need to piece the tiles one at a time. If you have any older kids on the trip, you might want to task them with this :p
Bug Spray
Very important for both adults and babies. Make sure they are well protected from insect bites or they will be crying for the entire camping trip.  You probably have one of these at home already so just bring them along.