by Kid Crave
|
Last Updated:
09/18/2012
Having an awesome tree house in the backyard is the ultimate childhood fantasy. A super neat space built just for you and your homeboys and homegirls makes you the coolest kid on the block, all while providing hours of outdoor fun.
Even something as simple as a plywood box with a door and a window works. Though if you're thinking of something a little grander for your little adventure seeking offspring, you can't miss this list of Must See Treehouses for Kids.
Treehouses for Kids – Ideas and Designs
IMPORTANT RESOURCE: Before we show you some awesome designs of treehouses for kids, we highly recommend the complete guide to designing and building a treehouse. It is the leading book for designing a kids treehouse, complete with step-by-step details and full plans.
It includes important not to be missed details on securing the structure to multiple trees, ensuring that it is safe. It's important to know exactly what you are doing before starting the build. See the latest customer reviews today.
Children's Treehouse Ideas and Designs

This charming abode has great extras like a real stairway and a front porch for sipping lemonade while telling stories. A sweet arched doorway adds mom and dad approved style, and a set of barn-like doors up top provide a birds-eye view of the land. Via: Flickr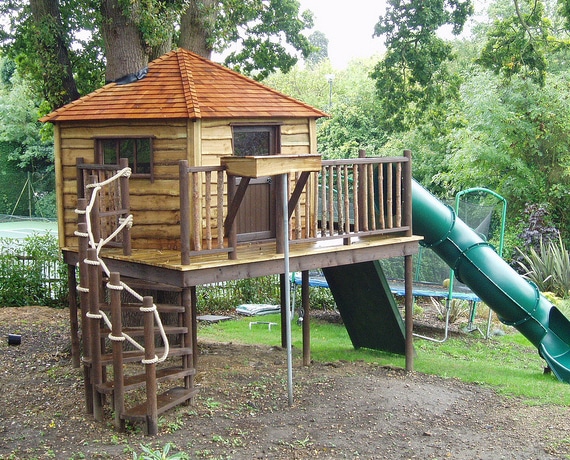 This tree house doubles as a mini playground, thanks to a mega slide and a pole for making quick exits. The curved stairway makes it feel like a grown-up space. We can only hope there's a spot for jumping off and onto that trampoline! Via: Flickr
YOU CAN BUILD THIS TODAY! Talking of mini playgrounds, this kids clubhouse and lower play deck with swings is the most popular backyard playset around. It has a really methodical layout for building and most importantly its sturdy. The kids will love it as it will provide hours and hours of fun-packed adventures. See why customers love this playset.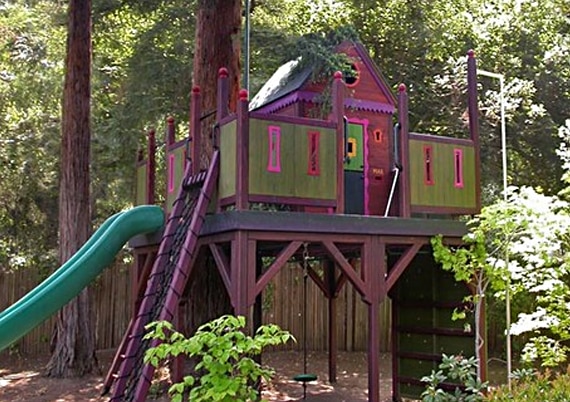 Barbara Butler has been building custom treehouses for kids since 1987. This one doubles as a play structure and kicks things up in notch by using plenty of fun color and whimsical design details. Via: Tree Hugger

The Monstro Tree House by Daniels Woodland comes with its own 8'-10' diameter log. The log has about a 4'x4′ hollow area in the center which provides space for the playhouse. Kids can enter through the base of the giant log, or take a staircase up to the rear balcony and enter the clubhouse through the back door. Via: Daniels Woodland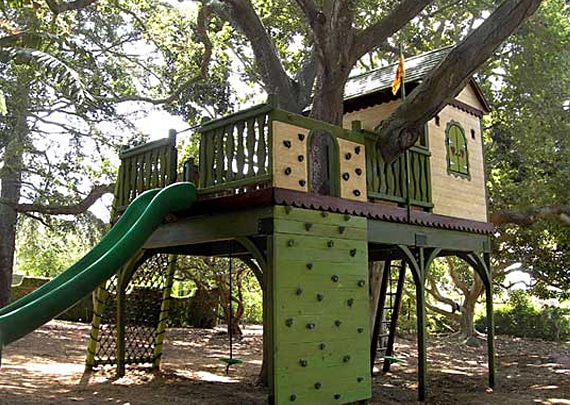 Another eco-friendly, Barbara Butler special has two amazing climbing walls that will take you directly to your lair. Then when the dinner bell rings signifying it's time to come inside, kids can exit via a slide, a traditional ladder or make their way down the walls once again. Via: Inhabitots

This stunning, modern beauty was built for the lucky children of ModFruGal. Though it's not just amazingly cool on the outside. The contemporary hideaway is outfitted with chalkboard walls, a skylight for stargazing, a pail/pulley system for sending up snacks, a DIY disco ball for partying, and has a super-secret barn door entryway. Via: Modfrugal

If the last house was modern, this one is eco-luxe. The tree house known as Solling is located in Uslar, Germany and was commissioned by a family who wanted to take advantage of their unique setting and allow their son to grow up in a nature-rich environment. We are particularly smitten with its insect-like legs. Via: Charlestons Outdoors

What's better than one tree covered in fun? Having a treehouse and tree deck built in two giant redwoods, with a cool walkway linking them together is the ultimate outdoor summer toy! Via: Flickr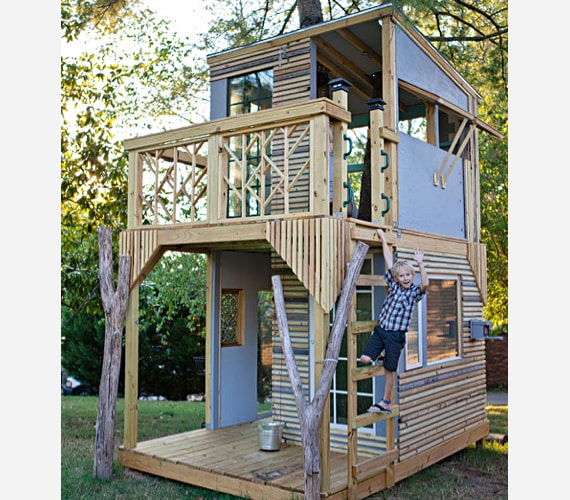 This kids playhouse on steroids maximizes its footprint with two floors of fun. A modern, log cabin look with pops of color makes it a space for kids of all ages to adore. Via: diefordiy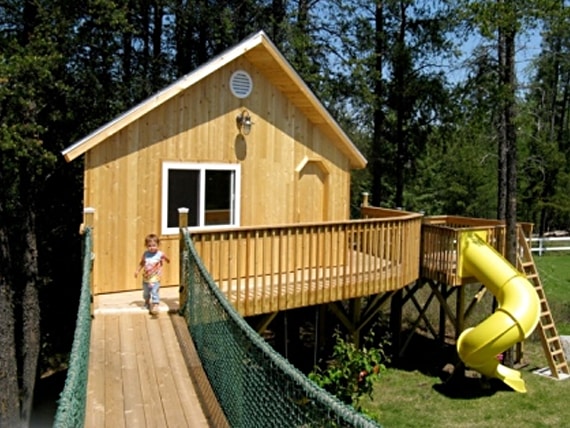 While we can't see what this deluxe bridge connects to, we're sure it leads to more awesome. This awesome treehouse for kids has a huge tube slide, porch, side patio, and a pretty-as-a-picture exterior. Via: Tree House Supplies

This was one of the few tree houses we came across that made use of the space below for swings. Swings are the coolest part of play, and this one not only has two swings for the littles, but it also boasts a sweet porch-style swing for story time and snuggles with the grown-ups. Via: Livinglocurton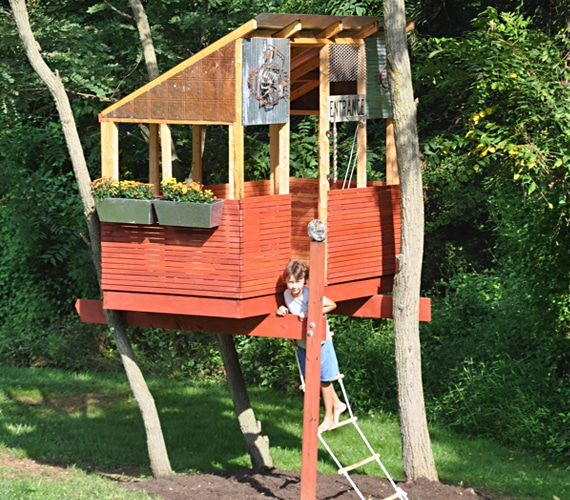 Thanks to loads of repurposed materials and items, this simplistic tree house for kids only cost about $300 to create! The lucky children of the folks over at Kid Baltimore get to play in this fun-meets-modern fort complete with a bucket pulley system. Via: Kid Baltimore

Where do you play when Celine Dion is your mom? Here! This chic white chateau was designed with Celine's 10-year-old son and her many nieces and nephews in mind.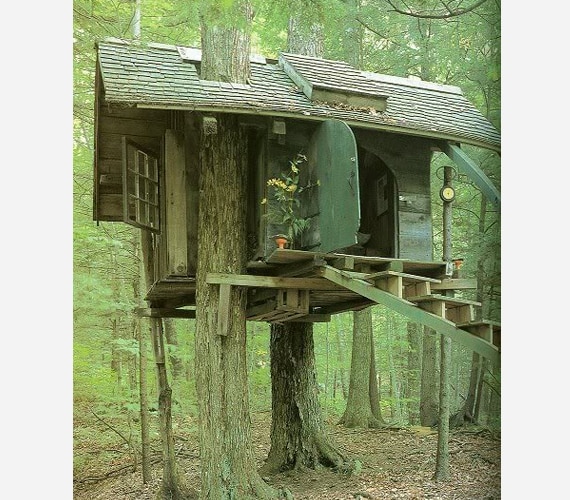 This hideaway has a Hansel & Gretal, lost-in-the-woods feel that adventurous kids will adore. Charming and shabby, it blends in so well with the brush, they just might want to leave a trail of crumbs behind.

Ewoks invading your garden? Building an AT-ST fort should take care of all that. The Star Wars-inspired creation may not be as fancy as the rest, but it sure is one of the geekiest treehouses for kids!

Ever wonder what a human (little human, at least) sized birdhouse would look like? Wonder no more, because we think this is it! Designed by John Rattenbury in 1967, this recreation features neat, hexagonal portholes for bird watching, of course.

If Frank Lloyd Wright had been in the tree house business, his design might have looked something like this. Perched up high, and making use of the play space below, its floor to ceiling windows are great for soaking up some nature.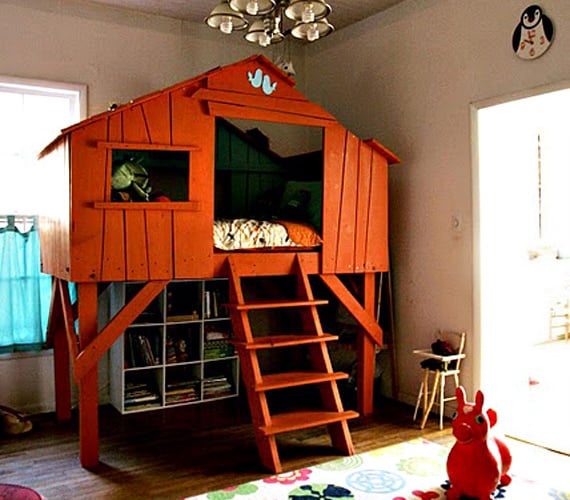 Short on outdoor space? This tree house bed for kids will make up for that. A full-time, all-weather hideaway, right in their bedroom? It might even score you some extra time for sleeping in.
Need more treehouse inspiration? This book by Pete Nelson (the world's most well-known tree house designer) documents some ultra-cool treehouses from around the world, mostly built in the USA. The book has fantastic reviews and is well-worth reading if you're needing a new design idea to kick-start your build. Read the amazing customer reviews.