by Kid Crave
|
Last Updated:
01/25/2019
This post may contain affiliate links, we may receive a commission if you make a purchase using these links. As an Amazon Associate I earn from qualifying purchases.
Some parents might be overwhelmed by today's high tech toys and video games, but they'll be happy to know that some classics never get old, they get better.
Over the years since our childhood toy makers, custom builders and designers have improved on simple toys like the humble rocking horse. Now you can find motorcycle rocking horse toys that not only rock, but rock out loud! Check out these amazing motorcycle rocking horses.
1. Motorcycle Rocking Horse
The KidKraft Star Studded Rockin' Motorcycle is one of the most modern and cool motorcycle rocking horses available. Although it looks like it is made from steel and chrome it is actually made of wood, with very delicate designs.
Assembly is simple if you follow the instructions. It is a fun toy for 3 years old boys and up.
2. Harley Davidson Rocking Horse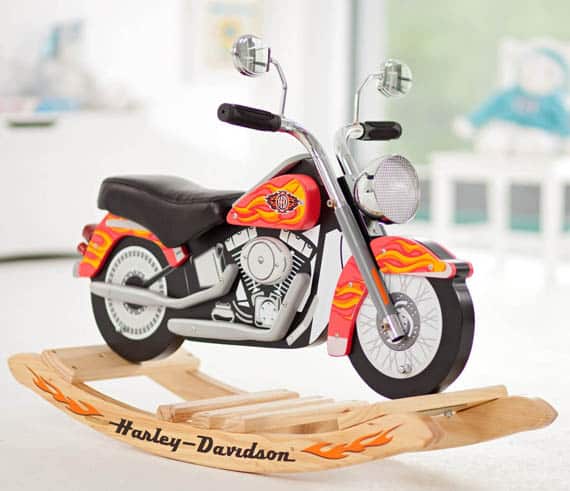 If Italian scooters don't do it for them, maybe your children would rather rock on a real hog. Created from durable high-quality wood, this Harley Davidson rocking horse features a black leather seat and genuine Harley Davidson graphics. The Cute decals and well-crafted design give this rocking horse a nice custom look. Your children will be ready to rock at play time!
3. Wooden Harley Davidson Rocking Horse

Break the stereotypes with this pink Harley Davidson rocking horse. Suitable for being in the house, this rocking horse is made from safe and environmentally friendly materials, it has a soft seat for comfort and non-slip handlebars. The bike also comes with a side compartment for your child to store soft small items like pens or a notebook. One important note to add that we found out when contacting the owner, if the colour pink isn't for you, this motorcycle can be ordered in unpainted form for an additional saving.
4. Plush Motorcycle Rocking Horse
This comfortable plush motorcycle rocking horse comes with a large wooden base, making it extra stable for your child. All the corners are rounded too providing extra safety. This makes a suitable toy for ages 2 to 3 years old, this popular plush fabric rocker is sure to be a popular choice!
It's as cool as a Harley Davidson motorcycle rocking horse at a much lower price with added protection. Soft, comfortable, and stylish, it's the perfect gift for small kids that want to play in style.
5. Wooden Motorcycle Rocking Horse
Made from 100% natural Oak, this motorcycle rocking horse is well-designed and handmade by Amish craftsmen in the heart of Pennsylvania's Amish Country. It has a superior durability for heavyweight and wear.
Featured in our guide to the best rocking horses for kids, this motorcycle rocker comes fully assembled with a cushioned leather seat and rounded edges for safety. With its stylish wooden look and high build quality, this ride on toy will stand the test of time.
6. Pink Vespa Scooter Rocking Horse
Here's a rocking horse that would make any adult young girl! The pink Vespa rocking scooter not only looks like a real Vespa Scooter, but it's pink! If you have a lot more to drop on a rocker, your toddler can pretend to ride through the streets of Italy in style.
7. Motorcycle Rocking Horse Plans
This motorcycle rocking horse plan is suggested for medium or advanced level woodworkers, but if you're just starting out, why not take it on as a challenge? This product does not come with any materials, just the plans.
Here is our second choice for a motorcycle rocker woodworking plan. This plan again comes with a complete paper pattern and guide to make the original design shown. The instructions are simple and easy to follow. The perfect project for an aspiring DIY dad
8. Motorcycle Parts Rocking Horse

There seems to be a correlation between rocking horses and motorcycles. This custom motorcycle rocking horse includes an engine and headlamp so your toddler can really vroom!