by Kid Crave
|
Last Updated:
07/24/2012
It's a bird! It's a plane! It's a homemade DIY superhero costume! Store-bought costumes are fun, but when you make your own superhero costume with love, and with your child in mind, is always well worth the effort. These DIY easy homemade superhero costume ideas cover all sorts of styles that are fit for saving the day.
DIY Make Your Own Superhero Costume
From simple masks and capes that can be made using things already in your home, to complete ensembles that are personalized for your crime-fighter, there's something here to successfully conceal his or her super-secret identity. Why not pair these costumes with their favourite toys and games, adding more playability.
Learn how to make your own superhero costume today with these awesome ideas. We have also carefully selected some of the best value materials (linked in the descriptions).
Rocket Fueled Jet Pack
Sure the Rocketeer wasn't much of a superhero, but armed with a jetback and some serious do-gooder skills, any kid is bound to have a super time. Using cardboard, webbing, spray-painted two-litre bottles and some felt (28-pack at a great price), they'll be thanking you for a job well done before you can say 'blast off.'
Instructions: Doodle Craft Blog
Buzz Lightyear Jet Pack Costume
Struggling make your own superhero costume? This extremely well-rated officially licensed Disney Buzz Lightyear Jet Pack will make for the perfect accessory for a homemade Rocket outfit. It measures 16 inches high, 12 inches wide and its made of quality materials. Check out the customer reviews!
Towel Superhero Capes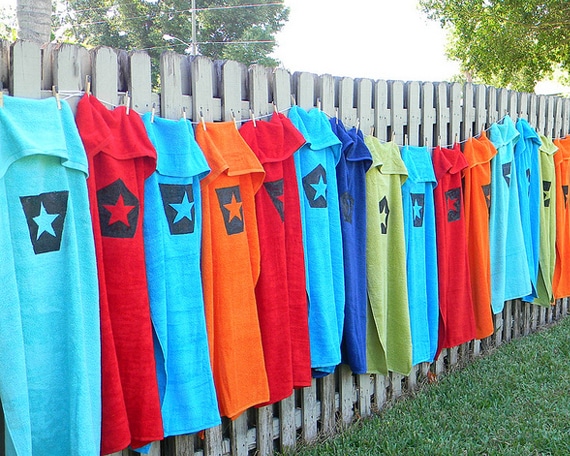 How does a superhero dry off after a swim? With a terry cloth cape, of course. Grab a towel in your preferred color, some velcro for the closure, a letter stencil, and some fabric paint to jumpstart a few (post) aqua man adventures.
Instructions: Lizard n Lazy Bug
No Sew Superhero Mask
No sew, no problem. Make your own superhero costume in no time with a little felt, ribbon, scissors, and five minutes. Incredible speed, indeed.
Instructions: Tip Junkie
Superhero Costumes with Accessories
Some superheros need a sidekick, but others just need some really rad accessories. These projects presented by Martha Stewart pay close attention to all of the important details that aid in their quest for truth and justice.
Instructions: Martha Stewart
Initial Applique Cape
A sleek satin cape outfitted with your initial will definitely result in some super human strength…or just a ton of confidence. This detailed tutorial makes the felt applique process almost as easy as throwing it on and shouting "Up up and away!"
Instructions: Sew like my mom
No Sew Cuffs
Sometimes duking it out with your arch nemesis requires nothing more than your powers and some awesome wrist cuffs. Felt, velcro, and cool printable shapes are all you'll need to piece together these must-have accessories.
Instructions: Seek ate sew
Winged Shoes
A full on dress-up session is great, but walking around feeling like a superhero with every step you take? Sign us up! These wings are made of stiff felt and are perfect for sneakers. They will certainly improve the mobility of any would-be crime fighter.
Instructions: I am momma hear me roar
Flying Captain America Shield
You can't be Captain America without a shield, but you can be Captain Mom using duct tape and cardboard. A PDF and a video will help your very important cause of enabling a hero for all generations.
Instructions: Instructables
T-Shirt Turned Cape
When you breathe new life into a pile of old t-shirts, you become a superhero to the environment and the kids. Whether you're outfitting Boy Wonder or just Toddler Woman, this step-by-step list that includes iron-ons is sure to satisfy their healthy imaginations.
Source: Instructables
Batman Mask
Holy craft skills, Batman! Before little Bruce Wayne faces The Joker, he'll need something to cloak his true identity. This tutorial details how to create a charming Batman mask fit for protecting Gotham City.
Instructions: Living With Punks
Green Lantern Ring
In brightest day, in blackest night, no superhero costume detail shall escape your sight! Making a resin Green Lantern Ring may not be an ordinary request, but that doesn't mean you shouldn't shoot for the stars on this ambitious superhero project.
Instructions: Instructables
Initial Cape, Cuff & Crown
Warning: Our Make Your Own features could bring your crafting skills up to Etsy-status. This tutorial shows you how to create an adorably sweet (just don't tell her that) ensemble that includes a crown and wrist cuff.
Instructions: Feelin Crafty
No-Stitch Baby Superhero
Sometimes a fighter's superpowers arise as a result of an accident. Others are known to sing baby I was born this way. Using a standard bodysuit, iron-ons, and some ribbon, even the tiniest vigilantes will be ready for action.
Instructions: Eliza Domestica
Superhero Party Mask
Creating your own brand of superhero is cool, but if the kids prefer to replicate the most popular masked men, you can still pass on the store bought costumes. These templates, along with felt, elastic, and some sewing, will gear them up for assembling their very own team of Avengers.
Instructions: Cutesy Crafts
We hope these ideas have helped you to make your own Superhero costume at home. DIY costumes can be incredibly rewarding to make so let us know if you have any ideas in the comments below! What did you make?