It is a common misconception that balance bikes are only available for young children below the age of 3 or 4. Although majority of the balance bikes in the market is catering to these age groups, there are a few options out there that are suitable for older children who still have not learn how to ride a bicycle. In this article, I am going to cover where to buy balance bike for old children above the age of 5-6 as well as how to use any normal bicycle as a balance bike.
16 inch balance bike wheel
The easiest way to buy a glide bike for older children is to look for balance bikes with 16 inch wheels as these are high enough for a child to ride. Below are some of the best 16 inch balance bike for the money.
Go Glider balance bike for older child review
GO Glider is a well reviewed brand that is worth your consideration when it comes to buying a balance bike for a 5 year old and up child.
This particular model has a lot of useful features that can benefit a child learning how to ride a bicycle.
For one, it is very light so that makes it easy for the child to control while he is learning how to balance. The foot pegs is also a good training mechanism for pedals. This is something that most brands do not have.
To accommodate children of different ages, the seat is fully adjustable with a simple turn. There isn't many balance bike with adjustable seats in the market so it is fortunate that Go Glider does have it.
Finally, the tires are no pump tires and are full of grip for ease of control. In the unlikely event of the balance bike going too fast, there is even a handbrake mechanism, which is again missing in most balance bikes.
Due to its many features, Go Glider is my top recommendation as a balance bike for older children.
Strider 16 inch balance bike review
The first version of the Strider 16 inch bike was not the product that the market wanted. Fortunately, the company has since revamped the model and this is version 2, which has more features that are in line with what Go Glider has.
Now, the balance bike has removable foot rests for pedal training. The fact that it is removable is a great feature as it gives options for parents to decide when they want the foot rest to be hold.
The seat and height bar is also adjustable as well so that it can cater to children between the age of 6 to 12 year old.  Like Go Glider, this is a great feature that gives more shelf life to the bike.
The tires are actual wheels that have solid grip. The first previous do not have real tires and that make it hard to use. I am glad Strider corrected this flaw.
The only reason I am not recommending this as the top choice is due to the price. On average, A Strider 16 inch balance bike will cost more USD100 more than a similar product from GO Glider. Due to this price difference, I am putting Strider as my second choice. For fans of this brand, you can't go wrong with this newer model balance bike for bigger children.
Tykes Bykes review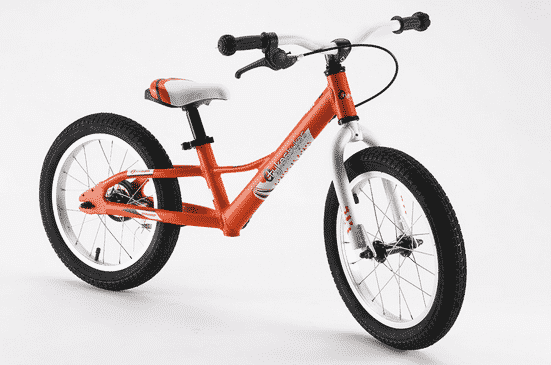 Tykes Bykes is a well known kid brand for producing high quality products. Their 16 inch balance bikes model is one of the first into the market and has achieved favorable reviews.
One of the top reviews said that this balance bike helped the child more than training wheels. Such a review is not unexpected as we have discussed about this in our balance bike vs training wheel article.
Quality wise, this is a well built bike although the set up instructions can be better. Fortunately, assembling the balance sheet is easy enough so the poor instructions do not matter that much.
Overall, it is a great balance bike for a 5 year old and up child. It helps the child to learn balance and steering without parents worrying about safety and such.
DIY balance bike for older child
If you don't want to spend the money or you already have an existing normal bike for the child, you can DIY your own balance bike by simply removing the pedal, chains and stabilizers.  Once these components are gone, the bike essentially becomes a balance bike that can only be pushed forward by the child's legs.
One thing to note that the bike must not be too tall such that the child cannot easily stand up and balance the bike. This is will defeat its purpose as a balance bike is meant to be a glide bike with very little chances of the child falling down. If the seat is too tall, then chances of an injury or a fall is still high.
I hope you enjoy our review of what is the best balance bike for older children.