by Valerie
|
Last Updated:
04/18/2020
Every parent knows that getting the toys for the right age of their little one is especially important. Little kids will be frustrated with advanced toys, while older kids who are given toys for younger ones will become bored.
Choosing the right educational toy for 1 year olds that will encourage their development is the best gift your give them, in the long-run.
These toys help little people work on things like motor-skills, co-ordination and problem solving, not to mention encouraging your toddler to be more creative.
Here are the best eduational toys for 1 year olds
1. LeapFrog My First Learning Tablet
This toy is just like mum's tablet! Not only are there sounds and lights with every touch, but there is also a camera, phone, and music player. Your toddler will be able to create role-play scenarios to their hearts' content.
Your kid will meet a person called Violet who will answer any calls. There are other interesting apps like the weather, sports, and health to stimulate children's curiosity.
Everything about this toy is bold and beautifully colored. With lights and sounds at every push of a button, this will capture the attention of most children.
Additionally, it makes great use of numbers and letters to introduce your child at an early age. Suitable 1, 2, and 3 year old kids.
Pros
20 app icons
Introduces your child to shapes, animals, letters, numbers, and colors
Every action has a sound and light feature
Three play modes
20 songs and melodies
Cons
The slider switch chances the music to something else and then changes the tune to something else
2. Learning Resources Motor Hedgehog Sensory Toy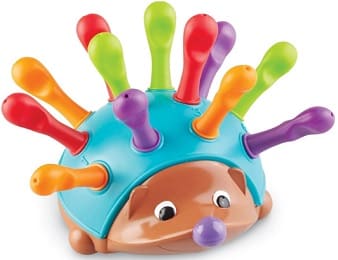 Great for little fingers, this toy will encourage the development of fine motor skills. The chunky pegs fit into the hedgehog's back and when playtime is over, they can all be packed away inside the toy.
The quills are bright and colorful to encourage recognition. Additionally, the pegs help with counting and sorting development. These quills are just the right size for little fingers to grasp. Ideal for one year old toddlers.
The bright colors are great for learning recognition, while the quills can be arranged in any pattern, encouraging individuality in children.
The quills are made of plastic which is easy to wipe clean at the end of playtime.
When play is done, the quills can be put away inside the toy so no pieces left around the house.
Pros
Bright colors
Easy to handle quills
Handy storage place to pack away the quills
Cons
It may have been improved if the quills had been able to screw into the body. This will encourage more hand-eye co-ordination.
3. Tap Bench with Slide Out Xylophone
Your little one will be able to create their own tunes when the balls fall onto the keys. Perfect for developing music awareness and co-ordination! Not only that, this toy will develop hand-eye co-ordination and strengthen muscles in the hands.
With polished surfaces and rounded edges, you can be sure of safe and fun play for a long time. Additionally, the paint is child-safe with non-toxic finishes.
This is a great way to introduce your child to music and how it is made. It is a colorful educational toy for 1 year olds and stimulates the ears as well as the hand-eye movement and co-ordination.
Pros
Durable and sturdy
Child-safe paint with non-toxic finishes
Promotes dexterity
Multifunctional with two ways of playing tunes
Cons
Avid musicians will say that this is not as 'in tune' as they would like it to be
4. First 100 Board Book Box Set
These books are the perfect starter educational books for a little person! Containing three books by Roger Priddy these will introduce your child to the wonderful world of animals, shapes, and words.
For little hands, the books are easy to open and close and the pictures vibrant and realistic. For little people who like to chew things these books will stand up to a good amount of rough handling.
Many kids at the age of 1 year are still 'nibblers' and these books are sturdy enough to handle a nibble or two. The pictures are realistic, and your toddler will build vocabulary and develop speech.
Pros
Chunky and solid
Realistic pictures and colors
Covers first 100 words, animals, numbers, colors, and shapes
Softly padded on the outside
Cons
In these modern times, the telephone pictures are of an old model, could be confusing
5. Munchkin Fishin' Bath Toy
Make bath time extra fun with this cute hook and reel. The magnetic hook easily fishes out sea creatures which will bobble about in the water.
Little hands will find it easy to hold the reel, which even makes clicking sounds when it is turned. Just like Dad's fishing pole!
Great for developing co-ordination and cause and effect theory. This is one toy that both boys and girls will fall for – hook, line, and sinker!
Bobbing characters mean that your kid must focus and concentrate on picking them up, which is good for early development of these skills.
The reel fits comfortably into little hands and the reel makes sounds just like a proper reel.
Pros
Comes with three bobbing characters
Magnetic bobbers to encourage hand-eye co-ordination
Air-tight characters to stop mold and mildew
Cons
The reel must be washed out and dried after each use otherwise the screws may rust
6. Melissa & Doug Shape Sorting Cube
All experts agree that the best toys any child can have are those which encourage them to interact. This sorting cube can do just that, with your child playing by themselves or with a buddy.
This creative sorting game is beautifully made and comes with 12 bright colored blocks which are also easy to grip. Perfect for little fingers. Each shape can only go through one hole so this toy will encourage thinking and co-ordination as your toddler gets the correct shape through the right slot.
Melissa & Doug toys are designed to stimulate the imagination, and this one is no different. The wooden block set is a great gift not only for the fun appeal but also for the educational value.
Because the shapes and the box are so chunky, they are easy for little hands to pick up and keep a hold of. Matching the shape with the right hole takes focus and concentration, thus developing important skills. It is a suitable educational toy for kids 1 years old and up.
Pros
Sturdy wooden construction
12 brightly colored shapes
Encourages problem solving
Fosters early brain development
Cons
The box does not come with a closure device so if it is placed upside down all the shapes will fall out
7. LEGO DUPLO Learning and Counting Train Set
LEGO stays a huge favorite with many people and this set is no different. The DUPLO figures are realistic and recognizable, and the train includes a locomotive, three wagons and numbered bricks.
Counting is an important part of early learning and this train with numbers from 0 through 9 gives kids a good start with numerals.
Measurements of the locomotive with caboose attached are over 3" high and 14" long so chunky enough for small hands to play with. With 23 pieces to choose from they will spend all morning playing!
This can be built and taken apart, then built up again, giving variety every time. The numbered blocks can be arranged in simple addition formulas so kids become familiar with adding and subtracting at an early age.
Pros
Great introduction to numbers and counting
Comes with two figures and a cat for role-play
Colorful, large bricks for small hands
Ideal educational toy for 1 year olds
Cons
The connection between the carriages may seem a little loose and they may come apart
8. Fisher-Price Pull & Play Learning Wagon
The wagon is full of educational stuff to keep kids occupied. There are light-up buttons, crayons and music, xylophone keys and other interesting things – all which encourage kids to learn while they play.
For little ones who are not yet walking, you can tuck the handle underneath out of the way. Walking toddlers can pull the wagon all around. The pup is especially cute when he talks and makes silly doggie sounds.
When the crayons are pushed your child will hear about the color and the number in both English and Spanish.
Pros
Smart technology to change the learning content as the child grows
Loaded with hands-on play activities
Bright and colorful
Easy to pull
Cons
Unless you select 'Ship in Amazon packaging' the toy will be visible when it arrives. Important if this is a surprise gift.
9. Kids Toys Piano Mat for Boys and Girls
Dance mat has 8 piano keys and 5 different animal sounds to stimulate your child's hearing. When play time is over the mat can be folded up and packed away.
So that you don't damage those sensitive ears the mat has a sound volume function which can be turned down low. For tender little feet, the fabric is nice and soft and also easy to clean.
The dance mat is designed to encourage kids to be creative and get to know different musical sounds.
Pros
Colorful, cute animal pattern
Folds up to carry around
Encourages hand-feet co-ordination when dancing to the music
Child-friendly fabric – all non-toxic materials
Cons
Although the mat looks large, it is a little smaller than the picture so two bigger kids may not be able to fit on it together.
10. VTech Chomp and Count Dino
This early learning educational toy for 1 year olds has 130 songs, tunes, and phrases as well as bright colored pieces to feed to the dinosaur. Kids can either learn by counting or meal mode. Dino even asks questions so little ones are encouraged to work out the answers.
When the toy is pulled along it also makes noises, while the buttons teach shapes and numbers. There is a spinning disc so your little one gets to learn some songs.
Pros
Introduces kids to shapes and colors
Over 130 tunes, songs, sounds and phrases
Interactive questions from Dino to encourage thinking
Can be pulled or pushed
Cons
Remember to buy extra batteries as the ones that are included are demo and may not last too long. Takes 2 x AA batteries.
11. LeapFrog Musical Rainbow Tea Set
Little people will love to match up the colored cake slices as they brew up a pot of tea. The teapot gurgles just like a real teapot. Additionally, it lights up in six colors to teach kids the color names.
While the teapot plays songs (there are 7 of them) your toddler can entertain friends while learning those important counting and social skills.
Pros
Teaches kids about colors, counting and matching colors
7 songs to sing along with
Encourages hand-eye co-ordination
Realistic sloshing sounds
Cons
Some people may think that this is a noisy teapot as it sings and talks a lot
12. Battat Pound & Roll Baby Activity Toy Station
Kids will love to pound these balls and see where they go, either down the maze or the chute. The colors are lovely and bright, and the balls are easy to knock down.
For those little hands, the hammer is ergonomically designed. Removing the base sets the balls rolling all over the place to encourage toddlers to run after them.
At the end of the session all the balls can be stored away inside so no loose balls to slip up on. A fun educational toy for 1 year olds.
Pros
Encourages movement when chasing the balls
Hammer has an ergonomic handle
Balls all pack away neatly inside the toy
Teaches about cause and effect
Cons
The balls are quite hard so don't let your kid throw them at another child!
13. VTech Spin and Learn Color Flashlight
This educational toy is great for teaching kids about music. It is also designed to introduce them to animals, numbers, and colors. Simply press the cute ladybug to activate the sounds.
There are over 50 songs to sing along to, and 5 colored lights, along with many fun phrases and sounds to get to know.
What is good about this toy is that after 45 seconds of inactivity it will automatically shut off, so saving battery life. Suitable for kids 1 – 4 years old.
Pros
2 volume levels
Automatic shut off
Includes songs about animals, numbers, and colors
Cons
You cannot have the light without the sound. It might have been nice to have them separately.
14. Manhattan Toy Tree Top Adventure Activity Center
This wooden treetop is packed full of interesting things to do and games to play. Designed to stimulate the imagination, it goes all out to do this! It's such a fun toy that kids won't even realize they are learning important things such as motor skills.
With interesting things such as spinning dials, bead runs and gliders your kid will be happy and busy for a long time!
The toy stands 22" high and is finished in non-toxic coating. It is also filled with highly detailed graphics to stimulate the imagination.
Pros
Packed full of hands-on fun
Bright colors and detailed graphics to stimulate imagination
Wooden with water-based non-toxic finish
Cons
It may topple over if a toddler uses it to pull themselves up
15. Sing the Alphabet Sound Book for Children
This attractive book will get your kid started on the alphabet at an early age. They will be ahead of classmates in no time at all.
The nursery rhyme book has buttons to press and a happy alphabet song to sing along to. It is a very high-quality book with beautiful colors and delightful illustrations.
Pros
Stimulates kids with alphabet learning
Teaches easy first words
Fun sing-along alphabet song
Suitable educational toy for 1 year olds
Cons
It may seem like there is no on/off switch, but it is at the back by the batteries
Benefits of educational learning toys for 1-year old
It is never too early to start introducing our kids to the world of numbers and books. It is a proven fact that kids who are encouraged to play with educational toys develop faster and better. Not only that, they have a lot of fun while learning.
Fun and learning
For our kids to learn well, they need to also have fun and enjoy the learning process. If it is not fun, they will be less inclined to learn so that is why it is important to pick toys that are not only educational but keep them occupied and amused for more than a few minutes.
Colors and shapes
Any toys with bright colors and different shapes will stimulate the visuals of the child. They will also become more creative and improve at simple problem solving such as fitting a shape into a certain hole.
Letters and numbers
Early learning in this area always proves beneficial in later life. Coming into contact with letters and numbers will enhance a child's abilities and knowledge of the abacus and alphabet.
Creativity
Educational toys encourage kids to try new scenarios and use their imagination better. This in turn helps as they get older and move on to problem-solving.
Final thoughts
Educational learning toys can not only help kids develop motor skills such as hand-eye co-ordination and problem solving, they also encourage kids to mix with others and share things, thus developing that important skill of social integration.