by Zane Wetzel
|
Last Updated:
12/26/2019
This post may contain affiliate links, we may receive a commission if you make a purchase using these links. As an Amazon Associate I earn from qualifying purchases.
Choosing the right toys and gifts for a 7 year old boy is no easy task. Your little boy is in the first grade and starting their long journey to adulthood. With their necessary motor and learning skills now in place, it's essential for your child to explore and find out what they like and what they are good at.
Through playing with toys, parents can learn what skills their children may have that should be cultivated. To help you in your search, we've hand-picked 25 great toys and gift ideas for 7-year-old boys.
1. Wonder Workshop Dash
It may be for ages eight and up, but there's nothing to stop a smart 7 year old boy from using Dash the wonder robot. A tool of STEM learning, Dash comes with five apps, has accessories and programs to work with, and can be programmed to follow commands.
It can even playback voice commands for its owner. Between coding experience and working with robotics, this toy will be a new friend for a child and teach them skills that will serve them well in the future.
Why we like it:
Comes with Dash the robot
Comes with apps that help to learn
Tons of extra accessories, challenge cards, and programs to work with
Teaches kids coding and working with robotics, two valuable skills in today's society
2. Wham-O Hamper Hoops
This toy is the answer to an age-old question: how to get boys to throw away their laundry. By doubling as a basketball hoop, boys 8 years old and up (but 7 year olds can use it) can throw their laundry in like a ball. It's not only fun; it encourages them to have proper cleaning habits.
Why we like it:
Doubles as a hamper for laundry and basketball hoop
Encourages boys actually to throw away their laundry!
3. Nerf Zombie Strike Blade Toy
Nerf doesn't just make dart guns and water pistols. They're also in the business of making toy melee weapons for who want to fight the old fashioned way.
The Nerf Zombie Strike blade's made from safe materials and has been tested for durability, making it perfect for that zombie apocalypse Nerf game. Plus, when they get older, your boy can use it as a cosplay prop.
Why we like it:
Excellent add-on to any boy's arsenal of Nerf toys
Great toy for cosplaying
Looks fantastic when worn on the back.
4. Captain Underpants: 10 Book Set
He fights for truth, justice, and all that is preshrunk and cottony! It's Captain Underpants, the gut-busting, wedgie resistant hero created by famous child author Dav Pilkey! Made into a Dreamworks movie and Netflix series, Captain Underpants has been helping kids learn how to read in the best way possible: by making them laugh like crazy.
See the waistband warrior get his start in his first ten books. Kids from second grade onward won't be able to put these books down once they have their hands on them.
Why we like it:
One of the funniest children's book series of all time
Contains Flip-o-Rama, the world-famous cheesy animation sequence
Perfect for the child who doesn't want to read a book!
5. Hot Wheels Roto Revolution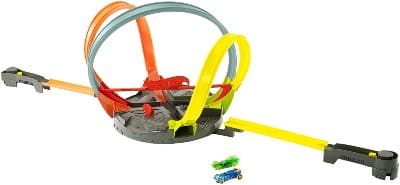 Boys five to nine, rejoice, for there is a new Hot Wheels track. This one isn't as cool as some of the others, but the fun comes in the challenge to be had. Two people will each try and launch their cars into the loop, and see how many they can fit without crashing.
This best toy for 7-year-old boys will help them develop a keen eye to make sure their vehicles don't crash into each other. Practice hard enough, and they'll be able to keep up with the high-speed fun of Hot Wheels cars.
Why we like it:
Encourages boys to time the release of their cars, teaching precision and timing
Improves accuracy and skill
Helps boys play with others and enjoy themselves
6. Klutz Lego Chain Reactions
Made for kids aged 7 – 15 years old, this book combines the infinite potential of LEGO with basic machines. Working with educators, the machines in this book teach the science of machinery and chain reactions.
Additionally, the book contains plastic balls, string, and other materials to enjoy this to the fullest. Don't worry if the LEGO pieces get misplaced; these machines use only the simplest of parts so that they can be replaced.
Why we like it:
Ten moving machines to build from 33 LEGO pieces
Also included are six plastic balls, paper ramps, string, and more
Nappa silver award winner
7. Jenga Classic
Jenga is a classic board game with one goal: keep everything from falling. At least, without making it your fault. As kids remove the blocks, they'll have to learn how to think two steps ahead to ensure their victory. It takes skill, patience, and a steady hand to win at Jenga. We chose this a gift you can play with your 7 year old boy and as an excuse to get them off their computers.
Pros
Classic Game of Jenga
Takes skill, strategy, and learning how to plan ahead
Teaches patience and how to prepare two steps ahead of everyone else
8. LEGO Movie 2 Rex's Rex-treme Offroader!
New from The LEGO Movie 2, it's Rex's Rex-treme Offroader. One of the vehicles of choice for Rex Dangervest, this all-terrain vehicle can turn into two more vehicles that Emmet and Rex can drive as they fight the Plantimal. It also comes with a Raptor with a movable tail, legs, and head.
We chose LEGO as an ideal toy for 7 year old boys because it's currently the most popular toy in this age range.
Why we like it:
3-in-1 set: Rex-treme Offroader, Rex-o-saurus Quad, Execu-Rex-o-saurus
Contains Emmet, Rex Dangervest, Plantimal, Raptor with stud shooter mounted gun
The Raptor's arms, legs, head, and tail are movable
9. LEGO Movie 2 Shimmer and Shine Sparkle Spa!
Another set from The LEGO Movie 2, it's the Shimmer and Shine Sparkle Spa of the Systar System. Run by the non-threatening teen vampire Balthazar, it's where people go to relax and loosen up. It contains figures that can't be found in other LEGO sets, such as the brick figures, and Wyldstyle with her hair dye removed.
Why we like it
Contains figures unique to The LEGO Movie 2
Can be combined with other LEGO sets
10. Pokemon Ultra Sun & Ultra Moon
By age 7, boys will have started to develop an interest in video games, and that means consoles and handhelds. If they have a Nintendo 3DS, then they're going to want to get a Pokemon game. With a new storyline, improved legendary Pokemon, and 400 Pokemon to catch, this is one of the best games in the series. With Pokemon Sword and Pokemon Shield coming up, this is a great way to get ready. In this case, since you can transfer Pokemon between games via Poke Bank.
Why we like it:
Improved story from Pokemon Sun and Pokemon Moon
New legendary Pokemon to battle with
400+ Pokemon to catch
Pokemon can be transferred over from previous games via Poke Bank
11. Waterproof Children's Digital Sports Watch
Once your boy can run outside, it's going to be hard to keep them from getting dirty and wet. So, a good parent will make sure their things are ready for it. This watch for 7-year-old boys can tell the date, time, and double as a stopwatch. It's durable enough to survive being in the water, so it's great for kids who love to play outdoors.
Why we like it:
Waterproof, highly durable watch
Design calendar date window shows the time and date
Stopwatch function
Backlight display
12. MasterChef Junior Cooking Essentials Set
Give your little chef in training the tools he needs with this officially licensed MasterChef Junior Cooking Essentials Set. As well as teaching your child an essential life skill, cooking with this toy will be a brilliant son and parent bonding activity. It's also a great way to get them off their phones and game consoles.
The kit comes with an apron, cutting board, mixing bowl, measuring cups, measuring spoon, spatula, spoon and tongs. It also features three recipe cards and one blank card for children to make their own recipes. This best toy for 7 year-old-boys will invite hours parent and child bonding time.
Why we like it:
Teaches them basic cooking skills
Great child and parent bonding toy
13. Mattel Rock 'Em Sock 'Em Robots
A classic toy that goes back two generations, Rock 'Em Sock 'Em Robots is still a staple toy for families everywhere. Meant for ages six and fifteen, this game is both fun and builds up one's reflexes. By learning how to dodge and then counter their opponent, boys will build up their reflexes and learn how to plan out their next move. This fun gift for 7 year old boys will encourage bonding with their friends as they fight each other.
Why we like it:
A classic toy that kids have loved for two generations
Teaches kids precision, timing, and how to kick butt at games
Easy to play, the high learning curve
14. LEGO Technic WHACK!
Fitting in on the seven to fourteen age range, this is not like standard LEGO sets. Technic's all about building complex machines and the like. This LEGO race car comes with a pull-back motor to make it zoom across the floor. If it crashes into something, and it will don't worry. The front's tough enough to survive a crash, but the engine will pop out. It's supposed to do that, though, so that's fine.
Why we like it:
A fast car with pull-back motor and engine that pops out on impact
STEM toy for 7 year-old-boys
Sturdy front bumper to keep the car from falling apart
15. 5,000 Awesome Facts (About Everything!) (Nat Geo Kids)
This world we live in has so many amazing things about it, and a child's natural curiosity will lead them to want to know about as much of it as possible. Nat Geo is more than happy to provide them with this. This unique and fun book is a unique gift idea for 7 year-old-boys who love to learn about the world.
Why we like it:
Written by the award-winning National Geographic
Contains 5,000 facts about amazing things that kids would want to know
Encourages kids to learn about the world and the awesome stuff that it has to offer people.
16. LEGO Creator Robo Explorer
Attention boys seven to twelve, this is your new best friend, the Robo Explorer from LEGO. As always, the pieces in this set work with any LEGO set, but there's no need to mix and match them. This robot can turn into a robo bird, a robot dog, or its explorer mode.
Why we like it:
3-in-one model: robot dog with jetpack, robot bird with light-up eyes, or Robo explorer
Working tracks, rotating body and head, posable arms and claw
Working searchlight
17. Osmo Genius Kit for iPad
Education meets the next generation of technology with this learning kit for the iPad. This best toy for 7 year-old-boys comes with pieces for gameplay, storage containers, and an Osmo base for the iPad. Kids will have access to five fun games that will teach them core subjects that they will need in life. After all, kids will learn more if they're having fun doing so, and that's what this kit does for the iPad.
Why we like it:
Teaches kids core educational subjects
Comes with Osmo base, pieces for gameplay, and storage containers
Five games for hands-on learning
STEM toy for 7 year-old-boys
18. HUSAN Electronic ATM Box
Piggy banks have never looked as fresh as the HUSAN Piggy Bank Safe. Made from high-quality plastic, this thing can store the right amount of money in coins and paper. Since it's a safe, it's got a passcode to it, as well. Type the four-digit code on the front and then open it up. It will stay safe and secure until your kid needs it.
Why we like it:
Helps kids keep their money safe and secure
Can hold up to 600 coins and 100 pieces of paper money
Password protection with four number key
19. LEGO Speed Champions
LEGO's and cars seem to go so well together, as the amount of LEGO car sets can attest to. With this set, boys can create their own LEGO race track. Aside from the two cars, both Porsche's, it comes with a movable lap counter, pit wall, and checkered flag for accessories.
Kids will love racing their cars around on this set, or just crashing them into the wall. Just make sure they pick up the pieces afterwards, so you don't step on them.
Why we like it:
Three minifigures included
Two cars, a Porsche 911 RSR and Porsche 911 Turbo
Windshields can be removed to place minifigures
20. LEGO Awesome Ideas
Created by the LEGO Group itself and named to the International Literacy Association, among other things, this book is filled with hundreds of ideas for sets. Split into five main themes, this book has instructions on how to build different games, and what bricks they need. This is the kind of book that every little LEGO man needs in their lives. It forgoes the instructions and helps them to create something from their imagination.
Why we like it:
Five themed worlds with hundreds of builds possible
Builds creativity and imagination
Created by one of the story developers at the LEGO Group.
21. Potensic Upgraded A20 Mini Drone
A few years ago, the word "drone" would remind people of some giant weapon used in wars. These days, though, more people are using them for entertainment and business. This remote control drone is for boys aged 7 and up. Easy to fly thanks to game controller-like remote, this drone comes with three-speed levels depending. As your child gets better at flying, they can move to faster speeds.
With the drone business booming right now, this could help turn your kid into a potential pilot well before he graduates. That's a valuable skill to have! Also, we felt this would make a great summer toy to get your 7-year-old boy out and about on the long summer days.
Why we like it:
Easy to use controls modeled after video game controller
Three adjustable speed levels
Two detachable batteries
22. Tot Tutors Kids' Toy Storage Organizer
We parents know the frustration of kids leaving their toys lying around everywhere. This simple to build and sturdy storage bin rack will save parents a lot of headache in the long term. Plus, they can still use it even after they turn eight if they want to keep playing with things like LEGO's or other toys that can get everywhere.
Why we like it:
Removable storage bins for playtime
Easy to assemble for toys
Sturdy and durable construction
23. Wall Climbing Car RC Cars
Using a fan to generate a constant suction, this RC car's capable of climbing on any solid surface, from a wall up to a ceiling. The bonus is that parents won't have to worry about tripping over the car since it won't be taking up space on the floor. That's an instant plus for parents everywhere
Why we like it:
Can run on the floor or the walls and ceilings using a suction fan
Rechargeable battery built into the car
Highly resistant to crashes
24. Dog Man: The Epic Collection
After Captain Underpants ended his book run, Dav Pilkey created another superhero to make kids laugh. Made for 7 year old boys and above, it's about a cop who has the head of a dog transplanted onto him to become Dog Man! Now he uses his incredible dog powers to battle crime while trying not to chew his butt in public.
This collection contains the first three books in the ongoing Dog Man series, filled with Pilkey's trademark humor, and Flip-O-Rama! It may seem silly and pointless, but underneath all that, it teaches good life lessons about the importance of being true to one's self.
Why we like it:
Three-book collection of Dog Man, from the author of Captain Underpants
Contains Dav Pilkey's hilarious sense of humor
Teaches positive themes in life: kindness, empathy, and the power of being true to one's self
25. Shifu Orboot AR Interactive Globe
With the Shifu Orboot Globe, learning about the world we live in is more fun than ever. Meant for boys ages four to twelve, this globe works with iPhone, iPad, and Android to create an AR experience. Just point the device at the world while the app's running, and it will show your child facts about this world we call home. Monuments, cultures, flags, and animals are at their fingertips like never before.
Pros
AR interactive globe for children
Works with iOS, iPad, and Android
Box comes with passport, stamp, flag stickers, and help guide
The app shows off culture, monuments, animals, maps, and more
Final Thoughts
Do you like the toys for 7 year old boys we chose for our list? While some of them do fall in the age range of eight and up, that shouldn't be a big deal. A seven-year-old can be capable of using something a boy a year older can apply. What matters is that they have fun with it and learn something from it in the end.