by Zane Wetzel
|
Last Updated:
12/23/2019
This post may contain affiliate links, we may receive a commission if you make a purchase using these links. As an Amazon Associate I earn from qualifying purchases.
Toys are a time-honored method of keeping your little one happy and safe, but it can be hard finding the right toy for your 4 year old boy. When children reach the age of 4, they will no longer be toddlers. They'll have mastered walking and essential verbal communication, so they'll be able to move wherever they want. They'll be bursting with energy and want to learn and explore the world as much as possible, so they need to stay busy.
If you're looking for a toy that can help your child exercise their body and mind and have fun, worry not. In this list, we've gathered 35 of the best gifts to buy boys aged four years old.
Best Toys & Gifts for 4 Year Old Boys
1. Scoot Hands-Free Mini Drone Helicopter
These days, drones are being used less by the military and more for business and pleasure. The Scoot Hands-Free Mini Drone is only one of the thousands of affordable drones on the market, but unlike many of them, your kid won't need a remote to fly it. They only have to toss Scoot into the air and watch him hover around the house while avoiding any obstacles.
The best part is that since the drone industry is quickly expanding, this could help foster a lifelong love for drone flying that could turn into a career.
Pros
No remote needed. Throw it in the air and watch it hover.
Obstacle avoidance systems present to keep it from hitting anything
Bendable shell to withstand crashes
Can foster an interest in technology and field that is rapidly growing
Cons
Battery time lasts 8 minutes
Indoor only
2. Imaginext DC Super Friends, Batbot Xtreme
This toy is what would happen if they combined Batman with the Megazords from the Power Rangers franchise. Standing at over two feet tall, the Batbot Xtreme's almost as big as the four-year-olds it's built for. Boys can take Batman into battle as he punches, flies, and launches missiles at the bad guys.
There's even a voice changer to make kids sound like the Dark Knight himself. Parents and Batfans will wish that they had this toy when they were a 4 year old boy!
Pros
Comes with wings, punching fists, a motorcycle, and projectile launchers
Can turn into a battle mode with extended wings and fists
Batman fits in the Batbot
Rock em' Sock em' robot fists
Voice Changer
Cons
Parents will be jealous that there isn't one for them.
Pricey
3. Play-Doh Touch Shape to Life Studio
Old school playtime meets the technology of the 21st century with Play-Doh Touch Shape to Life Studio. Boys 3 years old and up use the stampers to create characters, then they load them onto the platform and into the game. They can use their IPad to play with their creations and save them for later, and the more they make, the bigger it gets.
4 year old boys will love watching their imaginations come to life before their very eyes. Even parents can get in on the fun with Play-Doh Touch Studio
Pros
Use the character stampers, platform, and IPad to bring creations to life
Save creations on the app for later use
A game world for Play-Doh creations to run and play in
Combines Play-Doh with AR technology to create even more fun
4. Kylo Ren Rey Star Wars Duel Battler LightSaber Pack
It's a known fact that Star Wars is one of the best-selling franchises of all time and that it has some of the coolest toys. Now boys four and up can wield the franchises' iconic Lightsabers with this Bladebuilders dual Lightsaber pack. Kids can take their pick from the Lightsabers of Rey, Kylo Ren, or a lightdagger.
The best part about this toy for 4 year old boys is that this pack works with any other Bladebuilders sets; the customization is endless! The Force will be with your kids, always.
Pros
Contains Kylo Ren and Rey (technically Anakin Skywalker's) Lightsabers, plus a little lightdagger
Works with other BladeBuilder Lightsabers
5. Star Wars BladeBuilders Spin-Action Lightsaber
The Lightsaber is the iconic weapon of Star Wars and has inspired awe in kids for forty years. With Star Wars Bladebuilders sets like the Spin-Action Lightsaber, boys four and up can create the Lightsaber of their dreams. Mix and match parts from different Bladebuilder sets to create a Lightsaber.
Adapting the spinning blades seen in Star Wars: Rebels, the connector hilt has a button that causes the blade to spin around. Little boys will love playing with their Lightsaber.
Pros
100+ building combinations
Works with other Bladebuilder Lightsabers
The connector hilt spins when you press it
Cons
Risk of kids hitting themselves with the spinning blade
6. LEGO Star Wars X-Wing Starfighter Trench Run
By the age of four, a boy should be able to move on from Duplo blocks and into the realm of actual LEGO's. Meant for girls and boys aged 2 years old and up, this set contains a modest 132 pieces which a child can build with little problems.
Not only does it improve motor skills at a crucial stage in life, but it encourages kids to be imaginative. As a bonus, it recreates the iconic trench run from the original Star Wars movie so that any little Jedi will love it.
Pros
Building with LEGO's improves motor skills and teaches kids creativity
Recreates an iconic scene from original Star Wars film
The modest number of pieces ensures that it's within the child's building abilities
7. LEGO Classic Medium Creative Brick Box
LEGO is proud to give kids from four onward the ultimate in supplemental sets, their Classic Creative Brick Box. This box comes with 484 pieces with 35 different colors of bricks, plus tires, windows, and more. There are more than enough bricks to help kids imaginations flow like the kid from The LEGO Movie.
Parents will be happy to know that the box doubles as a secure container for when the kids finish. A brilliant STEM toy for 4-year-old-boys.
Pros
Four hundred eighty-four pieces, plus 3″x 6″ baseplate.
Thirty-five different brick colors, 18 tires, windows, eyes, and more.
Box doubles as a container
STEM toy for 4 year-old-boys
Cons
Beware of stepping on LEGO pieces. It hurts
Lots of pieces to put back in the box can get lost
8. The Book with No Pictures
People might think that a book whose title is "The Book with No Pictures" would be something kids wouldn't want to read. That's the secret to it, though; the title's meant to attract kids interest. The best part, though, is that everything in the book's to be read out loud, no matter how silly it is, like BLORK. Or BLUURF.
4-year-old boys will be in stitches when they hear an adult saying such silly things, making them want to read it over and over. When books are fun to read, then kids will read them of their own accord, and improve their reading abilities and laughing all the while.
Pros
The title's meant to get kids interested in it, despite the lack of pictures
Everything in the book's read out loud, no matter how silly
9. The Cat in the Hat
One day, two little kids were stuck inside on a rainy day and had nothing to do, when Cat in a Hat came to town. Since its release in 1957, this book has been one of the best kids books in the world. Hearing this read aloud will inspire children to love books and encourage them to read for themselves.
Parents will enjoy reading this to children four to seven year old, too, since they may have read it when they were kids. Continue 62 years of nonsensical fun with The Cat in the Hat.
10. Pokemon Plush, Large 12″ Inch Plush Pikachu
He's small and adorable, one of the most popular video game characters of all time, and if we ever try to make real Pokemon, he's at the top of the list. He's also about to get his movie where that guy from Deadpool plays him; he's Pikachu! This 12″ cuddly plush toy is a must-have for any little Pokemon trainer. Little 4 year old boys and up will love having their own Pikachu!
Pros
As adorable as the real Pikachu
Officially licensed Pokemon merchandise
Pika pi. Pika Chu! Pikachu!
11. Melissa & Doug Abacus Classic
In the days before electric calculators and smartphones, we had the Abacus. This centuries-old invention's as good as ever, and a great toy for boys age 4 to 5. Its colorful beads are sure to attract kids attention to give them a headstart on learning math. That, and moving the beads around for hours will boost their motor skills, which is a good idea.
Pros
Teaches your kids math the old fashioned way
Helps gross motor skills by moving around the beads
STEM toy for 4 year old boys
12. The Learning Journey: Match It!- Spelling
Boys and girls age four and up should be well on their way to learning how to read and building motor skills. This set of twenty puzzle pieces kills two birds with one stone. By connecting the pieces, four-year-olds will learn how to spell while the pictures reinforce the meaning behind the name.
At the same time, working with the parts will help improve their excellent motor skills. It's a win-win for everyone
Pros
Combines problem-solving skills with learning how to read
Enhances motor skills by handling pieces
Focusing on the parts increases attention span
13. The Learning Journey: Match It! – Mathematics
Much like its spelling counterpart, this mathematics version of Match It! Provides the same benefits. With more than thirty pairs of puzzle pieces, boys four and up will learn how to count by matching the pictures with numbers. It's simple, secure, and fun for kids. That makes it perfect for kids to play with.
Pros
Thirty pairs of puzzle pieces.
Helps develop early math skills before school starts
Improves motor skills
14. Encyclopedia Prehistorica Dinosaurs: The Definitive Pop-Up
This book may be meant for ages five and up, but a four-year-old will be able to read it with few problems. Made by masters of pop-up Robert Sabuda and Matthew Reinhart, this twelve-page book has thirty-five pop-ups on the most magnificent beasts to walk the Earth: Dinosaurs.
Watch as your little boy laughs and awes at the pop-up dinosaurs within this twelve-page book. It's incredible how much fun there is to be had from this one book, but that's what dinosaurs can do to people. The unique 3d experience this book provides makes this an ideal gift for 4-year-old boys.
Pros
Made by world-class pop-up masters Robert Sabuda and Matthew Reinhart
Full of amazing facts and pictures about dinosaurs
More than 35 pop-ups of dinosaurs and pieces of information about the most aloof beasts to walk the earth.
Cons
Technically meant for ages five and up
15. Fisher-Price Think & Learn Smart Cycle
This little toy may not help your kids learn how to ride a bike, but it does something just as good! By pedaling on the Smart Cycle, children between 3 months to four years old will be able to learn essential skills. They can learn how to spell, reading and writing, and other communication skills, all before they enter pre-school.
If parents are willing to use the extra money, they can buy additional apps that feature popular Nicktoons. Just make sure your child doesn't have access to your card.
Also, if your child loves motorcycles, see our article the best Motorcycle Rocking Horses!
Pros
Bluetooth technology lets this connect to tablet or TV for immersive play
Free app to provide racing and learning games
Movable handlebars and joystick, adjustable seat and tablet holder
Gets kids exercise
Cons
Assembly required
Freemium game tactics and in-app purchases
16. The Original Plasmacar by PlaSmart
This fantastic little bike's perfect for kids age four and up, and can work both indoors and outdoors. Winner of several awards and meet every safety standard in the US, Canada, and Europe, the Plasmacar relies on kinetic energy to move. Kids can move the front wheels left to right, and it will run on its own. Parents will be happy to know that it's not only quiet but provides exercise and improves motor skills at the same time.
Pros
No batteries, no pedals, no problem
Indoor or outdoor friendly
Safe speed, meets safety standards in the US, Canada, and Europe
Provides exercise and motor skill growth
Cons
No good on carpet, grass, gravel, and rough surfaces
17. Tonka Classic Steel Mighty Dump Truck
When you buy a toy from Tonka, you know you're purchasing Tonka Tough for life. This massive dump truck's made from sturdy steel that can stand the toughest playtime for kids 4 years old and up. Boys will love using that steel bed to carry and dump things in their sandbox or playroom. This toy's a classic for boys from four to fifteen.
Pros
The steel frame used to build it
Guaranteed Tonka Tough For Life
Steel bed great for carrying and dumping. Great for transport and the sandbox
18. 18VTech Write & Learn Creative Center
Between the ages of 4 and 6, it's vital for children to learn how to write and draw. The VTech Write & Learn uses technology and animation to teach kids how to correctly write, even their name. If they don't want to write, they can use the stencils to learn how to draw. With VTech Write & Learn, kids can unleash their creativity
Pros
Have animated demonstrations to help kids follow along and learn how to write correctly
Doodler lets users customize the center to teach them how to write name step-by-step
Stencils to help little artists learn how to draw and unleash their creativity
Cons
The battery case has no screw
19. Toysmith Monster Bus
It may be intended for boys five and up, but there's no reason why a four-year-old boy can't use the Monster Bus. At five inches in length and made from die-cast metal, the difference between this and a regular school bus is the giant wheels. Pull the bus back on its wheels, and watch it zoom forward. Plus, boys will love the fact that it's a school bus with monster truck wheels. That is pretty cool!
Pros
5″ in length
Giant, oversized wheels
Pull back and let it go to watch it move
It looks awesome
20. Learning Resources Puzzle Globe Toy
It's never too early for children to learn about this vast wide world we call home. As the name implies, this Puzzle Globe Toy doesn't just teach boys four to ten about geography; it doubles as a puzzle. All the continents can be inserted into the globe, reinforcing their locations while improving kids motor skills.
The piece de resistance is the images of exotic animals and famous landmarks on the pieces. Parents will love helping their kids learn about their home planet!
Pros
Teaches kids about the names of continents, oceans, famous landmarks, and more
Challenging puzzles to keep kids engaged
Inspires a love for this amazing world we call home
Cons
21. FUNTOK Marble Run Toy
Playing with marbles and watching them move can be a lot of fun for kids at the age of 4 and up, and this toy plays on that. The FUNTOK Marble Run Toy has 105 pieces, and best of all, no set assembly. This best gift for 4 year-old-boys will be able to improve their motor skills as they master the art of space and building.
There's even room for friends to get in on the fun, encouraging social interaction and teamwork. Parents, please remember to supervise children when they play with this, as small parts are present.
Pros
105 pieces to be assembled in any way kids want
Building helps improve kids creativity, color cognition, and mastering space and building a track
Interactive racing game
Cons
Small parts present. Parental supervision required
22. Hot Wheels Deluxe Track Pack
For fifty years, Hot Wheels has been bringing the joy of cars, real and fiction, to boys around the world. This takes that up to eleven and doesn't hit the brakes. Boys of all ages use the remotes to send their favorite car speeding down the track and into the winner's circle. Parents will be happy to know that this track's portable so that it can go anywhere.
Pros
9 feet of fun and entertainment
Pack it and go anywhere
Hot Wheels brand
Remote powered racing in the palm of your hand
23. National Geographic Little Kids First Big Book of Why
Once they learn to talk, children want to learn as much as they can about the world, often through "why" or "how." Nat Geo brings its popular kid's almanac to a pre-school audience to cultivate the curiosity of children ages 4 to 7. Using pictures and an interactive question-and-answer system, this book teaches kids about the world they live in. It's fun and entertaining at the same time
Pros
Brings the Nat Geo Kids Almanac to pre-schoolers
Uses an interactive question-and-answer format to teach kids about the world
What makes a car go? What does the doctor look at in my throat? Answers kids questions about their world
Lots of pictures
24. VTech 3-in-1 Race and Learn
This three-in-one toy helps kids learn while doing something fun: racing. With three ways to play, car, jet, and motorcycle, and nine courses, boys from four to six will love this. They'll learn about spelling, numbers, and shapes while putting the pedal to the metal for hours.
Pros
Three games for the price of one, with nine courses
Teaches necessary spelling, numbers, and learning about shapes
Vibrating controller for realistic effects
25. Little Tikes 3′ Trampoline
At this age, kids have a lot of energy that they need to burn off, and that can be a pain for parents. Since kids are already bouncing off the walls, this Little Tikes trampoline gives them another outlet. At three feet in width, there's plenty of surface for jumping, and the handlebar provides needed stability. Parents will love seeing kids aged between 4 – 6 years old get the exercise they need, and kids will love bouncing around.
Pros
Large jumping surface
Handlebar for stability
Great for burning off energy in kids
Easy to move
Cons
Indoor use only
Assembly required
26. Toysery Dinosaur Bubble Shooter Gun
This toy combines two things that little boys four and up love: dinosaurs and bubble blowing. This easy to assemble dinosaur bubble blower's powered by three AA batteries and has LED flashing lights. The best part is that when kids pull the trigger, the dinosaur will roar as it blows bubbles. Two fun things for the price of one.
Pros
Combines two things kids love: dinosaurs and bubbles
Easy to assemble
LED flashing lights
Cons
Won't stop roaring while button's pressed
27. Learning Resources Gears! Gears! Gears!
A great learning toy, Gears! Gears! Gears! helps teach kids 4 years old and up basic STEM concepts. There are more than 100 pieces in this set that allows for a great deal of customization.
Little boys will be able to learn the basics of design, counting, grouping, and above all, machinery and building. The gear may not always work together, but this can be used to encourage kids to learn what will and won't work when building something.
Pros
Never the same way twice
Great way to experiment with mechanics and science
STEM toy for 4 year old boys
100 pieces including 46 gears, 26 pillars, 21 six-way axles, six bases, crank handle, and guide
Cons
Has some building limits due to speeds
28. Imaginext DC Super Friends, Batcopter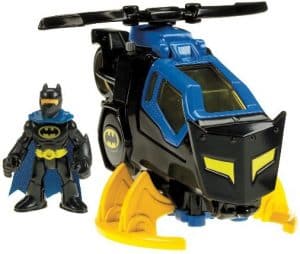 Batman's one of the world's greatest heroes, and he has no shortage of gadgets and vehicles to help him fight villains. Introducing the Batcopter from the DC Super Friends line by Imaginext. This toy for boys aged 4 and up contains the Dark Knight himself, landing gear to capture the bad guys, and the blades rotate.
This outdoor summer toy for 4 year-old-boys will have them will spend hours pretending to be Batman and enjoying themselves!
Pros
Batman figure included
Rotating blades
Landing gear to grab villains
Batman
Cons
Not a lot of freedom for creativity
29. Hot Wheels 9-Car Pack
Another great pick from Hot Wheels, this little beauty comes with nine, die-cast cars to play with. Kids from the ages of four to twelve will love being able to race them around the house or build their fresh tracks. They may not come with any records, but with imagination, that can be fixed.
Continue the fifty-year-old tradition of Hot Wheels, but remember not to let your kids leave them lying around.
Pros
Nine die-cast cars to play with
Never the same vehicles in one pack
Cons
30. Melissa & Doug Wooden Building Blocks Set
Another beautiful product by Melissa & Doug, this set has 100 different blocks of shapes and sizes. They're not only colorful but round and smooth, helping to reduce the risk of splinters. As boys from 4  – 8 years old play with them, they'll boost their motor skills while they learn about how to build and create new things. Parents will love being able to give their kids something fun to do
Pros
100 different building blocks
Develops strong motor skills and patience as kids play and build over and over
Helps to teach kids about building
Round and smooth, so no risk of splinters
Cons
Smaller than expected. Don't let them be put in mouths
31. Wind Up Chatter Teeth with Eyes
The good old fashioned chattering teeth, a classic joke toy from the parent's age. Kids aged four years old and up will love watching them chatter and dance around the floor. Wind them up, and then they will start dancing all over the place. The best part is that every order comes with a dozen Chatter Teeth, so there's more than enough o go around
Pros
A dozen are chattering teeth in one order.
Make kids giggle as they dart and dance around the floor
Classic toy
32. Betheaces Water Guns 2 Pack Super Soaker
A lightweight squirt gun, this pack of two water guns may not look like much, but it packs a punch. All it has to do is soak up the water by pulling back the pump, and then it will let loose. Kids 4 years old and above can fire up to 32 feet away, making it great for water wars.
This is an excellent toy for 4 year olds boys to play away the hot summer days with.
Pros
Easy to use, lightweight
Works like a turkey baster: soaks up water, then shoots it out
Can shot up to 32 feet away
Cons
33. GIGGLE N GO Inflatable Bowling Pins
Bowling's made easy, and fun with the GIGGLE N GO bowling set. Made from high-quality plastic, these pins and the ball are lightweight and easy to carry, while the pins are weighted with sand on the bottom. They can stand up in the light wind, so they're great for outdoor parties. If only there were ten pins, then it would be perfect
Pros
Giant inflatable bowling game
Lightweight and easy to carry
The sand-weighted bottom on pins
High-quality plastic used
Cons
34. Playskool Heroes Marvel Super Hero Adventures Ultimate Super Hero Set
Avengers assemble with Playskool Heroes set. Based on the movie Avengers: Age of Ultron, this set of ten toys includes the Avengers, Nick Fury, Ultron, and an Ultron Sentry. Their appearances are based on their comic book versions, though, so they carry part of Marvel's long history with them. They have enough possibility for 4 year old boys to create their adventures with Earth's mightiest heroes.
Pros
Inspired by Avengers: Age of Ultron
Ten collectible toys in one
Shows the Avengers as the way they are in the comics
Possibility
Cons
Missing Scarlet Witch and Quicksilver
35. Learning Resources Pretend & Play Teaching Cash Register
With more than 73 pieces that match the size of real-life money, so parents can use this to teach their kids about money. For an added effect, this cash register has a bunch of lights and sounds for added realism. Parents will be happy to teach their kids basic math and understand the value of money at an early age, making this an excellent buy
Pros
Features, scanner, scale, lights, voice messages, and coin slot
73 pieces that are actual sized
Helps practice math and learn the value of money
Cons
Can't tell some coins apart
Did you find the best toy for your 4 year old boy on this list? Don't worry if you haven't. At the age of four, kids will be starting to enter pre-school and learning everything they need to know to live in this world. It's imperative they have a grasp on the basics of writing, spelling, and math before they enter pre-school. At the same time, they need to develop their bodies and learn how to play with others. Keep those things in mind when purchasing toys for your little boy, and make sure that they have fun while they play.