by Zane Wetzel
|
Last Updated:
12/26/2019
By 5 years old, boys will be moving out of the toddler phase in their lives and headed into childhood proper. They'll be headed off to kindergarten, making new friends, and be ready to start learning more about the world. That means that they're going to need toys that cultivate their imagination and natural curiosity.
For parents who don't know what to get their children, here are 35 gift ideas for 5 year old boys.
Best Toys for 5 year old Boys
1. Marvel Infinity War Infinity Gauntlet Electronic Fist
When Thanos set out to destroy half the universe, he did it while wielding this: the Infinity Gauntlet. Now your boy can use the power of the Gauntlet in his hand with this electronic fist. It fits most kid's hands, and if you press the center stone, the gauntlet lights up and sounds. It is perfect for any little Marvel fan as they pretend to be the MCU's ultimate big bad, and it does not wipe out anyone.
Pros
Fist fits most kids hands
Inspired by Avengers: Infinity War
Push center gem to light up a stone and activate sound FX
Perfect cosplay for little Thanos
Cons
Doesn't give the user control of all reality (though that's a good thing)
2. Disney Toy Story Buzz Lightyear Talking Action Figure
To infinity, and beyond! Our generation remembers when we first met Sheriff Woody and Buzz Lightyear in Toy Story, and they have been entertaining children ever since. Now, Buzz Lightyear comes home once more in one of his realistic forms ever. All his features are there: his arm laser, retractable wings, and more than thirty sounds and phrases.
Pros
Made by Disney itself, certified to be authentic
Retractable wings that light up
Arm laser and sound effects
30 original phrases and sounds
3. THE LEGO MOVIE 2 Emmet and Benny's 'Build and Fix' Workshop!
LEGO's one of the most popular toys in the entire world, and it is easy to see why; it has movies, theme parks, and more! Now boys can hang out with the heroes from The LEGO Movie: Emmet and Benny.
The simple instructions help kids understand the importance of knowing when to follow the rules. Then they can go crazy with their imagination because that is what LEGO has meant to do. Parents will enjoy the classic design of Benny as something they saw as kids and can pass on the LEGO love to their kid.
Pros
Helps kids understand the purpose of instructions.
STEM toy for 5 year-old-boys
4. The LEGO Movie 2 Introducing Queen Watevra Wa'Nabi
Presenting her royal highness and one of the stars of The LEGO Movie 2, Queen Watevra Wa'Nabi. With more than 115 pieces, this set should be an easy build for a boy with the experience.
What parents will like about it, though, is that it is not a standard LEGO set. Aside from Lucy, the other characters either are mini-dolls like General Mayhem or made from bricks. Queen Watevra comes in her horse form and has four extra pieces to change facial expressions. Kids can mix and match Queen Watevra out with blocks from their other sets, make the fun even more significant. She is Queen Watevra Wa'Nabi, after all.
Pros
Includes two mini-dolls- Sweet Mayhem and Susan- and Lucy
Banarnar and Queen Watevra Wa'Nabi in horse form
Four facial expressions for Queen Watevra
5. Flybar My First Foam Pogo
By the age of five, kids will be bursting with excitement, so why not channel that into some good exercise. The stick made from foam and bungee cords, making it safe and sturdy for kids. While channeling their inner bounciness, it promotes balance and excellent motor skills.
Pros
Made from foam and bungee cord. Nothing to hurt kids
Teaches balance, coordination, and excellent motor skills
Channel kids inner bounciness
Cons
6. Moose Toys Chocolate Bar Maker
What little boy doesn't love candy? Now they can learn how to make their delicious confectionary treats with the Moose Toys Chocolate Bar Maker. Kids only need to use the molds to melt the chocolate in the microwave, add whatever they want to it, then put it in the fridge to let it cool off. After that, they need only dig in.
As a bonus, it helps to teach kids how to cook for themselves, something that will come in handy when they are adults. Parents, be ready to clean up afterward; melted chocolate can be messy.
Pros
Uses molds for chocolate. Melt it down in the microwave
Kids can add any treats to the melted chocolate, cool it in the fridge, and then enjoy
Satisfies kids sweet tooth while teaching them on to cook
Cons
7. Pokémon TCG: Random Cards
Twenty years, dozens of movies, games, and TV shows, Pokémon is buried into global culture. Aside from the hit show and games, Pokémon is famous for its trading card game. This is the best deal parents can get for Pokémon TCG. It has 100 cards from each series in a single pack, plus seven bonus foil free cards per purchase.
Your little Pokémon trainer will love seeing all these cards and will take them to school to trade and play on the playground or the bus.
Pros
100 cards from every generation of Pokémon
Seven foil free cards with each purchase
Completely random
Cons
Duplicates may occur
Maybe confiscated by teachers who do not care.
8. Silly Jokes for Silly Kids
Once upon a time, there was a boy named Silly Willy who moved to Mount Everest to practice surfing. When that failed, he decided to write silly books for children. This was one of those books. In its 118 pages, it has stupid jokes that are easy for children to understand.
Making kids laugh is a great way to get kids into reading, and this joke book can be the key to unlock so many literary doors. Also, they will be splitting their sides from how much they end up laughing.
Pros
Hundreds of illustrated jokes
Written by an author will a silly backstory
Great way to get kids into reading at a crucial time in their lives
9. Sphero Special Edition BB-8 with Force Band
From the new generation of Star Wars heroes, it is Poe Dameron's best friend and partner, BB-8. This little droid is a great toy for kids of all ages and can be controlled by one of two ways. Kids can use the Force Band to give him commands with their wrists, or they can use the free app on the phone to control him. Your boy can zoom around for almost an hour on a single battery so that kids will have more than enough time for fun.
Pros
The stand provides 60 minutes of battery lie
Bluetooth range up to 30 m
Free app for more fun and controls
Control through the Force Band
10. Osmo Creative Kit for iPad
Technology meets education with the Osmo Creative Kit! This kit takes an iPad and turns it into a tool to unleash a child's creativity and enjoyment. There are three separate modes from which to choose from: one brings drawings to life, another has an interactive art tool, and the final is a fusion of rendering and physics. It includes the Osmo Base, art supplies, and all the games that come with it.
Pros
Turns the iPad into a tool for creativity
Features three friends that bring drawings to life, an interactive tool, and a combo of doodles and physics
Winner of 2016 Oppenheim Platinum Award for toy
Six dry-erase markers, fuzzy eraser pouch, and creative board
11. Hot Wheels Corkscrew Crash Track Set
The ultimate in motorized Hot Wheels action. This track uses three high-speed boosters to send cars rocketing across the road at high speeds. The secret to making this a great track is the problem-solving skills it hones. Kid's have to figure out how to launch their cars without them crashing into each other, and that generates good problem-solving skills.
Can they succeed, or will they crash and burn? Let your kids put themselves to the test with this fantastic Hot Wheels track set!
Pros
Giant corkscrew track with three loops, crash zones, and high-speed boosters
Challenging action with problems solving component
Kids spend time trying to figure out how to launch cars without crashing
Connects to other Hot Wheels sets
12. My World Interactive map
Winner of several awards, My World Interactive Map is an entertaining way to teach kids about the world we live in. By pressing the buttons, My World Map shows kids about different countries, their flags, landmarks, and fun facts.
With over a thousand points and questions, kids will get an early start on learning about geography, earth science, and problem-solving through listening. Parents will be happy to see their child take an interest in the fantastic world we call home and encouraging them to learn more about the world.
Pros
Can hang on a wall, play with on the floor, or be used as a playmat
Great for classrooms or at home learning
Teaches capital cities, flags of countries, languages, trivia, and more!
STEM toy for 5 year old boys
13. Pokémon Action Figure Mega Battle Pack
The perfect gift for your little Pokémon trainer, it is the Pokémon Action Figure Mega Battle Pack! Featuring five Pokémon from across the generations, this set includes the three starters from Pokémon Sun and Pokémon Moon, plus the franchise's legendary mascot, Pikachu. Each of these little figures is very detailed and will be a great joy to any boy four and up who wants to be a Pokémon trainer. Parents will be happy to get their kids into the franchise that they grew up with.
Pros
Five Pokémon: Popplio, Litten, Metang, Wobbufet, Rowlet, Cosmog, and Pikachu
Three-inch figures with articulation
Incredible detail on all data
Officially licensed Pokémon toys
Cons
Do not let kids stick them in mouths.
14. Retrospec Cub Kids Balance Bike No Pedal Bicycle
By the age of five, boys should be able to move away from the training wheels and move towards an actual bike, but it can still be hard. That is what the Retrospec Cub bike is for, though. As we mention in our popular Best Balance Bikes for Kids Guide, balance bikes may not have pedals, but it helps improve kid's coordination and balance to prepare them for riding on a real motorcycle.
Parents will not' have to worry about maintenance because the tires never run out of the air, and there is a reduced risk of injury that comes with training wheels.
Pros
Improves balance and coordination
Reduces the risk of injury found on tricycles and training wheels
Maintenance-free
15. Learning Resources Puzzle Globe Toy
Geography's fun with the Learning Resources Puzzle Globe Toy at the fingertips of people. Featuring six large puzzle pieces representing all the inhabited continents, kids can learn about the names of places by putting in the continents. All that, plus labels for the pieces, pictures of famous animals and landmarks, and more.
Pros
Helps kids learn Geography through the fun of puzzle building
Teaches kids the names of continents, oceans, famous landmarks, and more
Rotates on its base
Challenging puzzle for kids.
Cons
Australia can fall out of the bottom
16. Learning Resources Space Explorers Building Set
This whimsical little toy is just what a boy needs to get them interested in space exploration. By working with the gears, they can construct a model of the Solar System, and use the levers to move and rotate everything around. By doing so, they learn basic engineering while improving their motor skills at the same time.
Pros
Fosters a love of astronomy and space exploration
Builds engineering skills, motor skills, and teaches science and astronomy
Cons
Can get boring after a while
17. Encyclopedia Prehistorica Dinosaurs: The Definitive Pop-Up
Ever since Jurassic Park came out in the 90s, dinosaurs are on most 5-year-old boy's lists of awesome things. This little book, made by master pop-up artists Sabuda and Reinhart, is perfect for boy's five to nine. With 35 pop-ups about the extinct creatures, facts, and trivia, this will get any boy's attention. It may even inspire them to have a career in science one day.
Pros
Made by pop-up artists Robert Sabuda and Matthew Reinhart
Has fantastic facts and trivia about dinosaurs
35 pop-ups about the coolest creatures to ever walk the Earth
18. Tonka Classic Steel Mighty Dump Truck
For seventy years, Tonka has been making trucks for little boys around the world. That tradition continues with this classic steel dump truck. The truck is well-built with a sturdy steel that will last boys for a lifetime. Whether it is used to carry sand in a sandbox or holding toys and blocks, this thing's Tonka tough and ready for play.
Pros
Sturdy steel frame
Guaranteed to last a lifetime
19. FUNTOK Marble Run Toy
It is the racetrack that is never the same way twice, and few things are as fun as racing marbles. With 105 pieces, this racetrack can be built in any way possible. Kids can hone their motor skills and problem-solving by figuring out what builds work and what do not. It encourages creativity, makes color recognition, and is a great all-around toy for boys.
Pros
105 pieces to be assembled in any way kids want
Helps improve creativity, color recognition, and is downright fun for kids
A racing game that's never the same way twice
Cons
Small parts present. Parental supervision required
20. Learning Resources Magnetic U.S. Map Puzzle
With the way that the states are mapped out, the USA looks like a big puzzle set. Ergo, making a Map Puzzle seems like a good idea. Boys can play them on a board or the ground, learning about the fifty states and essential features about them. The only downside is that there is not one for every state.
Pros
Puzzle Piece Map of the puzzle piece country that is the US
Magnets stick to any magnetic surface
Each state includes names, landmarks, state plants, and animals.
Cons
Only 45 pieces. Not one for fifty states
21. There is No Place Like Space: All about Our Solar System
Everyone's favorite Cat in the Hat is back. Now revised to exclude Pluto from the planets, the Cat that is part of Dr. Seuss big three takes Dick, Sally, the Things, and readers to explore the Solar System. Dr. Seuss himself may not write it, but it has some of his iconic characters in it.
Parents will appreciate how it teaches boys the basics behind the wonders of the Solar System.
Pros
Now revised to ditch Pluto. Sorry, Pluto
Cat in the Hat series
Teaches the basics of astronomy
Educational toy for 5 year old boys
Cons
Not actually written by Dr. Seuss
22. Hauck Batmobile Pedal Go Kart
The power of the Batmobile is in the hands of your little boy wonder. This little go-kart bears the symbol of the dark knight proudly on it. Also featured in our ride on toys guide, Bat-fans will enjoy being able to take this thing for a drive, and its responsive steering makes sure that it will move the way boys want it to. Parents will be happy to know that there is a handbrake for the rear wheels in case of emergency.
Pros
Handbrake for rear wheels
3 point steering for responsive steering
23. Fisher-Price Think & Learn Smart Cycle
The Smart Cycle will help teach them essential skills. Parents can watch as they learn how to read, write, and spell. For a little extra money, they can buy apps that feature favorite cartoon characters. Parents do not forget to keep your kids away from your card.
Pros
Connects to tablet or TV for play
Free app for racing and learning games
Everything's adjustable and movable
Gives kids exercise
Cons
Freemium game tactics and app purchases
24. VTech Kidizoom Camera Pix
This 2.0-megapixel camcorder toy for kids comes with 4x digital zoom and includes all the tools and features needed to take photos. Kids can learn from an early age how to take pictures of the world, photocomposition, and more. It is tough enough to survive the hands of a kid, and it doubles as a video recorder! This camera has it all, and parents will love seeing their little ones develop an eye for composition.
Pros
Takes real photographs with camera pix
Kid-friendly, 2.0 megapixels camera; 4x digital zoom
Photo collage templates
Selfie Mode
Built-in memory and Micro SD card
25. Hot Wheels 9-Car Pack
What good are a Hot Wheels set without any Hot Wheels cars? Every one of these packs of nine Hot Wheels cars is never the same, so boys will be able to look forward to getting a new addition with every buy. The tracks may not be included, but they are cheap and easy to buy. Continue the fifty-year tradition of Hot Wheels with this 9-Car Pack.
Pros
Nine die-cast cars to play with
Never the same vehicles in one pack
26. Mimtom Drawing Stencils for Kids
Learning how to make art has never been this easy or fun. With the Mimtom Drawing Stencils for kids, children ages three and up will have all the materials they need to master the art of drawing. Twenty stencils, 370 shapes to choose from, and that is not including the pencils and sketchbook. Parents will enjoy how the container doubles as a carrying case for everything.
Pros
All in one stencil kit with 20 stencils
15 colored pencils with paper tube case, sketchbook, and sharpener
370 shapes to choose from
Includes carrying case
27. The LEGO Movie 2 Unikitty's Sweetest Friends EVER!
Who says unicorns have to be a girl's thing only? Princess Unikitty has proven more than popular with both genders! What is fantastic about this set is how none of the characters is normal minfigure; they are made out of LEGO bricks. The pieces used for Ice Cream Cone Butler and the Chocolate Bar may even be unique to this set. Kids can use these three friends to host the sweetest tea party they can dream up, making it a fantastic choice for a LEGO lover.
Pros
Ice cream cone butler and chocolate bar minifigure. Unique.
28. DITTO Mini Talking Robots for Kids
Seeing a robot is just something that seems cool for little boys, and this one may be one of the coolest around. Meant for age's three to ten, the DITTO talking robot repeats everything the child says back to them. Also, he comes with 11 posable joints to provide for articulation and fun. He is a robot parrot, only more relaxed.
Pros
11 posable joints and flashing LED eyes
Echoes every sound he hears, no matter how fast it may be
Super durable body
29. Stomp Rocket Stunt Planes
This toy is so simple, yet it can do so much. Boys only need to stomp on the hose pad and then watch as the planes soar into the air. The looper plane alone can go up to 100 feet! Boys will have fun for hours trying to launch these things.
Pros
Three different planes, looper, glider, and wildcat, each offering their advantages
100% kid-powered. Just stomp, and let er' rip!
Sturdy launch stand, launch pad, and air hose
30. My USA Interactive Map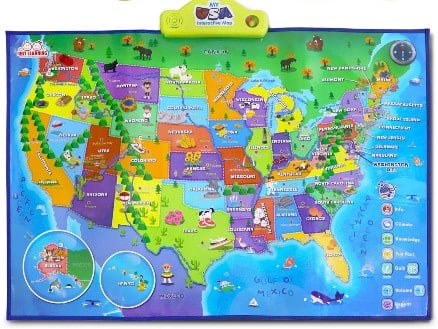 Featuring all fifty states in the USA, My USA Interactive Map teaches kids more than 500 facts about them. It brings about most of the effects that the My World Map would bring.
Pros
Can hang on wall, floor, or be used as a playmat
Great for classrooms, at-home learning
Teaches kids about climate, capitals, and information about the 50 states
31. VTech 3-in-1 Race and Learn
On the air or the land, this little toy from VTech can move. With nice racecourses, it has three modes to play; car, jet, and motorcycle. The vibrating controller gives off a realistic effect, so boys will have fun as they learn how to spell, count numbers, and learn about shapes. All while putting the pedal to the metal and burning digital rubber.
Pros
Three games, nine courses, all fun
Teaches necessary spelling, numbers, and learning about shapes
Realistic controller
32. WOWMAZING Giant Bubble Wands Kit
There may be those who wonder how this thing does what it does. Let us answer that question with another question. Who wants to see the biggest bubbles in the world? This 3-piece kit has everything you need to make bubble art: the bubble maker, the bubble juice, and a booklet with tips and tricks. They will be blowing bubbles like a pro in no time.
Pros
Comes with tips and tricks booklet
Lightweight, durable, outdoor fun
33. DIY Slime Kit for Girls & Boys
This jumbo kit has everything that a boy needs to create slime. Fifty pieces, all to make 18 different and wacky colors of slime, and the tools and straws required to manipulate the slime. By playing with this slime, it unleashes a child's creativity, boosts their motor skills and hand-eye coordination. Not to mention, this stuff is super fun to play with!
Pros
Comes with 18 colored slimes, three cutting utensils, two plastic straws, 12 vials of glitter, sugar paper, beads, and foam balls
Boosts creativity, hand-eye coordination, and artwork
Eco-friendly
Glow in the dark
34. QuadPro Magnetic Travel Chess Set
Chess is one of the most popular board games in the world, and it is easy to see why. It teaches people about strategy and planning, both essential traits to have in life. With this portable magnetic chess board, boys will be able to practice their skill at chess from a very young age. Before you know it, your little boy may develop a taste for this time-honored game.
Pros
Portable size and foldable board
Money back guarantee
Pieces attach to the board via magnets
35. LEGO City Pickup & Caravan
If your child still wants to continue using LEGO's, then they are ready for the big kid sets, like the Pickup & Caravan. With 344 pieces, this set from the LEGO City line lets boys build pickup truck and trailer. The trailer has a removable roof, opens on the side and support side, plus a minfigure family of three; and a crab. The number of pieces will provide a good challenge for boys and help them improve their motor skills.
Pros
Adjustable trailer with a buildable interior
Three minifigures, and a crab, for some reason
Conclusion
Did you find the best gift for your 5 year old boy on this list? Do not worry if you did not. By the age of five, your child will be able to walk and talk, read and write, and be learning how to interact with the world. They should have a basic grasp of the concepts that run the world, but it is essential that they learn how to interact with other people and get exercise. Keep those things in mind when you buy toys for your child!