by Zane Wetzel
|
Last Updated:
05/04/2019
Are you looking to find a great toy for a 3 year old boy? In the review of the latest toys for little boys aged 3 years old we have compared various types of toys for toddler boys.
Finding a gift for boy who has everything can be difficult, but with so many toys reviewed it becomes less. We have looked at child friendly toys that are easy to use, fun to play with and will be enjoyed for hours at a time.
Wondering what to buy a 3 year old boy? As children hit the age of three, they begin to make the transition between being a toddler into a child. By now, they should be able to start walking, talking, and understanding the world. What a boy does at the age of 3 will help mold what kind of adult he will become.
According to unicef;
"Scientific research over the past 30 years has taught us that the most important period of human development is from birth to eight years old. During these years, the development of cognitive skills, emotional well-being, social competence and sound physical and mental health builds a strong foundation for success well into the adult years."
It's going to be important for your little man to have something that will keep him busy and which encourages his creativity and self-expression. Plus, it needs to look cool enough to entice him. In this list, we've chosen 35 of the best gift ideas and toys for 3 year old boys.
Best Toys & Gifts for 3 Year Old Boys
1. Flybar My First Foam Pogo
Once boys hit the age of three, it's hard to keep them from bouncing off the walls, so parents should channel that energy into exercise. Let them direct that bounce with the Flybar My First Foam Pogo. Made for ages three and up, it's made from materials to encourage safer play so that parents can rest easy.
As a bonus, it teaches kids balance, coordination, and motor skills, all things that they'll need later in life. Just beware of the sound of the squeak.
Why we like it:
Made from foam and bungee cord.
Teaches balance, coordination, and excellent motor skills.
Helps channel the inner bounciness of being a little kid into exercise.
2. Think Gizmos Take Apart Toys Range
Little boys love things like race cars, and this Take Apart Toy by Think Gizmos appeals to that love. With more than 30 parts available to take apart, build, and match, this little car set can go a long way.
Three-year-old boys will love the sounds and lights that this thing makes, and it will teach them how to take things apart and put them together. That's the kind of spark of curiosity that they need at a young age while improving their motor skills for the real world.
Why we like it:
Engine with realistic lights and sounds.
30 parts total makes for high customization.
Improves kids cognitive and motor skills, teach them how to take apart and build things.
3. Windy City Novelties Spino the Dinosaur
He walks, he roars, and he lights up in the dark. He's Spino the Dinosaur by Windy City! Unusual and exotic creatures make for some of the best gifts boys, and nothing's more exciting for a three-year-old boy than a dinosaur. Playtime with this little guy will encourage a boys imagination, sense of wonder and adventure. Press the switch on the tail, and he'll start roaring. The downside is the lack of volume control, so make sure they have somewhere to play that won't bother people.
Why we like it:
Walks roars and lights up in the dark.
Easy on/off switch located at the tail.
12″ long and 6″ tall. Not that hard to lose.
Red, blue, and green lights in the spikes.
4. The Original PlasmaCar by PlaSmart
Winner of multiple awards and exceeding the safety standards of the US, Canada, and Europe, the PlasmaCar is one of the unique toys for ages three and up. It moves by twisting the handle around, causing the wheels to turn in the front and propelling a 3 year old boy forward.
Thanks to its lack of noise, this ride on toy for 3 year old boys can be used indoors and outdoors. Parents will be pleased to see their child getting the exercise that they need riding this thing. With the ability to carry 220 pounds, parents can join in on the fun if they're daring.
Why we like it:
No batteries, gears, or even pedals.
Can be used inside or outside.
Multiple award-winning product.
Provides exercise and motor skill development.
5. Kinetic Sand
Why should your son or grandson have to wait to go to the beach to enjoy the fun of playing in the sand? Introducing Kinetic Sand, a non-toxic, non-drying material. Made from real beach sand and glue, Kinetic sand is like wet beach sand, but won't stick to anything but itself.
Boys 3 – 5 years old will love playing with this, and parents will enjoy how it teaches hands-on learning and sparks the imagination. It's perfect for future sculptors, and unlike Play-Doh, it never dries out.
Why we like it:
Non-toxic materials, hypoallergenic.
Never dries out, holds its shape.
Great for sculpting and kinesthetic learning.
Made from real beach sand.
6. Melissa & Doug Abacus Classic
Before we had electric calculators, we had the Abacus, the original calculator. This centuries-old invention is as good as it has ever been, and with its colorful beads and looks, it will make a great toy for young boys (up to ages five).
With its colorful beads and smooth sliding, kids will spend hours enjoying learning how to do the math, and parents will love that their kids will get a headstart on their math. As a bonus, the moving of the beads will improve their motor skills while entertaining kids for hours.
Why we like it:
STEM toy for 3-year-old boys.
Doubles as entertaining by moving the beads around.
7. John Deere Ground Force Tractor
Wondering what toy to get a 3 year old boy for Christmas? The ultimate in kiddie cars, the John Deere Ground Force Tractor is everything a little boy could want in a toy. Parents will be happy to know that it works on two speeds: 2.25 and 4.5 mph with the faster speed locked out for beginners.
There's also the automatic breaks for those who need it. The back has an extra-large trailer for carrying things, and the radio onboard actually works. In other words, this toy is super cool to drive.
Why we like it:
• Working FM Radio.
• Traction on grass, dirt, gravel, or pavement.
• Adjustable seat.
8. The Very Hungry Caterpillar
Parents probably remember reading this book when they were little, but do they know that this year marks its 50th anniversary? Eric Carle's The Very Hungry Caterpillar is one of the greatest kids books of all time, and reading is an important part of a boy's growth. Continue generations of joy with Eric Carle's The Very Hungry Caterpillar.
Why we like it:
Reading is essential for kids.
One of the best kids books ever made.
Written by legendary kids author Eric Carle.
9. Mr. Potato Head
The toy, the myth, the legend, Mr. Potato Head has been entertaining children for generations. He's so famous, and he's one of the main characters in the Toy Story Franchise.
Now the lovable spud's back and better than ever. Sporting a slimmer look with even more holes for his parts, Mr. Potato Head is ready for imaginative play for kids of all ages. With over eleven accessories, including pants, this classic toy shows he's still got it.
Why we like it:
1 Body, one base, and 11 accessories.
Works with any parts from other Mr. Potato Head's.
Has been remodelled to make him slimmer and with more holes.
10. Fisher Price Toy Harley Davidson Trike
Harleys are some of the most popular bikes in the entire world, and what could be a better toy for a 3 year old boy than to ride a Harley big-wheeler. With durable tires, an easy-grip handlebar, the markings of the Harley-Davidson company, and a storage compartment underneath the seat, this thing oozes cool.
Made for kids ages two and up, it's better for boys ages three and over. Customers have said that it doesn't fit well for its initial age-range. Adventures can be had on a toy Harley making this another one of my top gifts for 3 year old boys!
Why we like it:
• Easy-grip handlebars.
• Durable Tires.
• Storage compartment under the seat.
11. Playskool Heroes Transformers Rescue Bots Optimus Prime
For more than thirty years, Optimus Prime has inspired kids as the leader of the Autobots. Even today, Transformers remains one of Hasbro's most popular line of toys, and Playskool's Optimus Prime is ready to continue that tradition. With his smooth, two-step conversion from robot to vehicle mode, kids ages three to seven will be able to say "Transform and roll out."
Why we like it:
• Easy two-step conversion.
• Hones motor skills and imagination.
• One of the most popular heroes in pop culture. One that parents probably grew up with.
12. LEGO Duplo My First My First Bricks
There's no age limit to something as awesome as LEGO. As the song from the movies says, "Everything is Awesome!" Parents will be happy to get their boy started early with LEGO with this startup set. Filled with eighty pieces of DUPLO and building cards for inspiration, this set for ages 1 to 3 is great for building those early motor skills. Help your kids tap into the power of LEGO's at an old age, and watch as they make worlds.
Why we like it:
80 colorful LEGO DUPLO pieces in different sizes.
Building cards to give ideas for building.
Great for any DUPLO collection.
Educational toy for 3-year-old-boys
13. TINKERTOY 30 Model Super Building Set
Before LEGO, Mega Bloks, and other building toys, there were the Tinker Toys. Made in the USA, this 30 model kit has 200 bright and colorful pieces for kids ages three to fifteen. Through the use of the STEAM values of education, it will unlock the imagination in a child.
Parents will be thrilled to know that the box doubles as a container when the toys are not in use. The best part, though, is that unlike the ones of old, these Tinker Toys won't come apart so quickly. No more pesky collapsing models.
Why we like it:
Made in the USA.
30 model ideas to improve learning through STEAM (Science, Technology, Engineering, Arts, and Math).
Grows analytical skills, motor skills, hand-eye coordination.
Box doubles as a container.
14. KKones Sprinkler Pad & Splash Play Mat
What kid doesn't love playing in a sprinkler on a hot summer day? With the KKones Sprinkler Pad, kids from ages three and up can now have more room for fun. This summer toy for 3 year old boys can be adjusted to allow for higher and lower heights for splashes.
There's more, though: every kid in the neighbourhood will want to hang out with your little boy when they have this out. That means they can build valuable social skills by making friends and having fun! Just make sure they dry off before they come inside.
Why we like it:
Attach the hose, then adjust for higher and lower heights.
Made from heavy and durable materials.
15. VTech Pull and Sing Puppy
Puppies and little kids seem to go great together. They're both adorable, and people love them. Kids will spend hours having fun with this robot dog toy while building their motor skills. All they need to do is pull on the cord and it will start singing and moving around.
With more than 60 different songs and phrases, 3 year old boys will get up and be active while learning how to speak by copying the VTech Puppy.
Why we like it:
Music and sounds to attract kids attention.
Promotes language development with 60+ songs, melodies, songs and phrases.
Buttons support motor skills.
16. Think Gizmos Interactive Whack A Frog
For years, the game of Whack-A-Mole has been both fun to play and an excellent method of teaching hand-eye coordination and building up reflexes. All the fun and challenge comes home with Think Gizmos Whack a Frog, a frog-tastic light-up toy for kids three and up.
With two different modes and 38 levels of increasing difficulty, parents and kids will enjoy whacking those frogs as they light up. By the time they are done, they will have the reflexes of a cat!
Why we like it:
Teaches hand-eye coordination and concentration.
Durable and non-toxic plastic.
Two game modes, 38-speed changing levels.
Spoken in four languages.
17. Munchkin Fishin' Bath Toy
For toddlers, bathtime can be just another form of playtime, but with water. Parents should make sure their kids have some toys to keep them busy in the bathtub. Children just use the little fishing hook to catch the little bobbing toys in the water, or just use the magnet to move them around.
The little characters are air-tight, easy to clean off and float with magnets. It may be for ages two and up, but it will work great with your boy.
Why we like it:
Magnetic rod and bobbing characters.
Air-tight characters.
Clean by rinsing with warm water, wipe clean, hand wash, air dry.
18. GoBroBrand Bow Arrow Set Kids
Archery's one of the best ways to teach people accuracy, and with the GoBroBrand Bow and Arrow set, boys three and up will have hours of practice time. This six-pack of arrows are made from suction cups that are safe for kids, while the lights on the bow let them practice even at night.
Three-year-old boys gain experience with accuracy, and parents will be happy to see them improve their motor skills and get some exercise.
Why we like it:
Teaches kids accuracy, motor skills, and hand-eye co-ordination.
19. Magnetic Blocks
Fit for kids three and older, this set of two dozen magnetic pieces can be used to build whatever a little boy could want. From giant towers to complex shapes, the only limit on these things is the imagination. Aside from improving motor development, it has the added benefit of learning to recognize shapes and colors.
Parents will be pleased to know that kids can build their interpersonal skills by working on this toy set with others and that it comes with a storage bag.
Why we like it:
Helps build motor development.
STEM toy for 3 year old boys.
 24 pieces, a booklet, and a storage bag.
20. Color My Bath Color Changing Bath Tablets
Teach boys three and up to about different colors during bathtime with the Color My Bath Color Changing Bath Tablets. This set of three hundred red, blue, and yellow tablets dissolves in water and dyes it with color. By mixing and matching the different tablets, the water in the bathtub can turn into an ocean of rainbows.
Why we like it:
300 tablets of red, yellow, and blue.
Non-toxic, safe, and fun.
Turns the bath water different colors depending on tablets.
21. Dinosaur Toys Take Apart Toys
This set of dinosaur toys lets kids take them apart and put them back together in any fashion they want. They'll spend hours trying to master how to combine these toys and unlock their imaginations. Parents will love how this gets them away from the TV or smartphone, and for teaching them the art of patience.
Why we like it:
Includes six dinosaurs and a dozen tools.
218 combinations of building.
Develops coordination skills, puzzle solving, and patience.
If your boy loves dinosaurs, read our guide on the best remote control dinosaurs.
22. Just Play Marvel Swing & Sling Spiderman Plush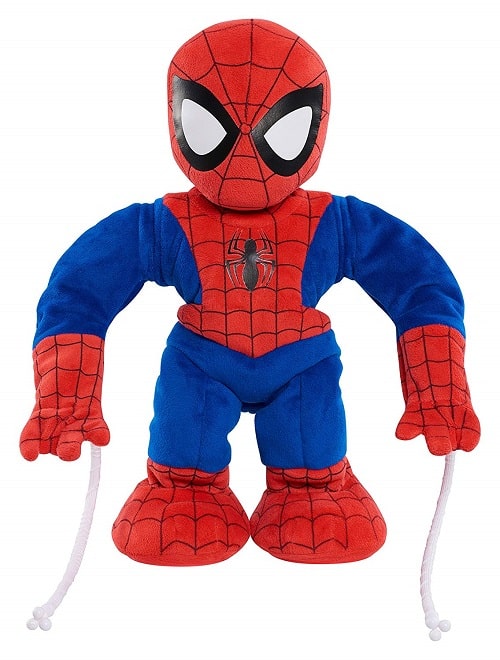 Almost every kid in America has heard of the Amazing Spider-Man. Now, one of the greatest heroes in history comes to the bedroom in plush form! Boys from three to six will love picking up Spider-Man by his web-strings and then watch as it does somersaults in mid-air. Or let him stay on the ground and tumble forward and backwards, all while giving his famous one-liners and phrases.
Why we like it:
Swings 360 when picked up by the webs.
Tumbles forward and backwards.
Says fun phrases.
23. Hot Wheels 9-Car Gift Pack
Hot Wheels are some of the world's most popular toys, and with this pack of nine, boys three and up will be overjoyed. Every Hot Wheels car is genuine die-cast and made for playing with, and this one gives nine of them! While it may not come with any tracks or sets, that won't be necessary as long he has a good imagination and a place with nothing to break or people to slip on the cars.
Why we like it:
Nine die-cast cars to race and play with.
No two packs are the same. Always expect a surprise.
Great for kids and adults.
24. VTech Race and Learn
This fantastic toy does something unusual: it helps kids learn while they race. The three modes of gameplay teach necessary spelling, numbers, and more as it hones hand-eye coordination. The fact that it has realistic sounds and vibrations makes it one of the perfect toys for 3-year-old boys.
Why we like it:
Three games in one.
Nine courses to play with.
Teaches spelling, numbers, shapes and more.
Vibrating controller.
Three ways to play: car, jet, and motorcycle.
25. Fat Brain Toys Squigz Set
Parents can agree that letting kids build things is one of the best ways to help them grow their motor skills and encourage their creativity. The Squigz help boys above the age of three develop their imaginations with no mess and no hassle. The best part is that they don't leave behind any mess; they pop off easily.
Why we like it:
Sticks to each other and any flat surface.
Teaches kids how to build things.
Leaves no mess behind.
26. Play-Doh Cake Party
For years, Play-Doh has been a go-to toy for parents looking to keep their kids hand's busy. It can be squished, molded, and shaped into anything a kid can think of, and with this Cake Party mold set, the magic gets better. Watch as boys create the sweetest treats with this fantastic playset.
When they're all done, they can put everything back in the containers or let it harden and keep it forever. Just remember that they're not real foods, so don't let kids eat them.
Why we like it:
The time-honored tradition of Play-Doh.
Comes with cutters and an oven to work with, plus decorating tool.
27. Playmags 100 Piece Super Set
Your 3-year-old boy will learn necessary building skills with this set of 100 magnetic tiles. Working with these tiles of squares, rectangles, and triangles, this set will stimulate their brains and teach problem-solving and necessary engineering skills.
Before long, they could be creating entire structures that will amaze their friends and wow their parents. As a bonus, it comes with a booklet of ideas and a storage bag for easy transportation.
Why we like it:
Stimulates problem-solving, shape recognition, and motor skills.
Enough pieces for a group of kids to play with.
18 Click-ins for numbers and learning.
Comes with storage bag and booklet.
28. Fisher-Price Think & Learn Teach 'n Tag Movi
This little robot's ready to help get kids moving and learning, so it kills two birds with one stone. With three game modes and six games to choose from, Teach 'n Tag helps them practice how to listen to directions while getting them to harness critical thinking. For example, pointing to something and asking what it is will teach them how to identify objects and the like.
This toy will get your 3 year old boy ready for preschool in no time at all.
Why we like it:
Three game modes and six games to choose from.
Helps kids practice their listening skills, gives them something to follow, and fosters critical thinking.
360 degrees of movement.
29. Play-Doh Modeling Compound 24-Pack Case of Colors
As we said before, parents can never go wrong with the power of Play-Doh. Hasbro has been using it to make kids smile for years now, and with this 24-pack of Play-Doh, boys will have more than enough to make their creations a reality.
Despite being meant for ages two and up, this doubles as one of the top toys for 3 year old boys, and it can be used again and again as many times as kids want to.
Why we like it:
10 cups of Play-Doh in one pack.
Easy-open, recyclable package.
30. Tonka Classic Steel Mighty Dump Truck
When you buy Tonka, you know you're getting their brand of Tonka-Tough. Made with a sturdy steel framework, this rugged construction vehicle is ready for playtime anywhere. With the movable steel bed, it can be used to transport things like a real dump truck. Your boy will love playing with this in the sandbox or indoors, and it will last them a lifetime.
Why we like it:
Built with sturdy steel frame.
Guaranteed for Life.
Steel bed moves for dumping.
31. Infinity Cube Fidget Toy
If your boy gets upset or cranky, they can use the Infinity Cube to calm themselves down. People can use it to flip open and outward into a variety of different shapes, providing an outlet for the hands to use any pent up energy and relieve stress. Kids will spend hours working with this thing with their hands, improving their motor skills while relieving their worries.
Why we like it:
Great for kids to work with hands.
High-quality material.
Stress reliever.
32. Champion Sports Rubber Horseshoe Set
Horseshoes have been used for games for centuries, and these rubber horseshoes are great for kids of all ages. Their high-quality rubber is soft yet durable, and is safe enough to play with indoors or outside. They won't damage the floor if they hit something, and they'll improve boys' hand-eye coordination and arm-strength by using them. Parents can join in on the fun as they help their kids burn off their excess energy.
Why we like it:
Quick and easy set up.
Great for indoor and outdoor play.
Made from lightweight rubber.
Great for exercise.
33. Betheaces Kids Toys Hover Soccer Ball Set
Soccer is one of the best sports out there to help teach kids teamwork, and it's never been this much fun. This set comes with a durable LED hover soccer ball with a high-quality foam bumper, ensuring that it won't damage anything even if it hits something.
The hover ball will work great on most flat surfaces, and it comes with two portable goal posts. By playing this, your boy will be able to get exercise, build their motor skills and reflexes, and learn how to interact with people and work in a team. That's four birds with one stone making it one of the best games three-year-old boys!
Why we like it:
Contains two portable goals for playing anywhere.
Great for kids parties.
Works on wood, low-pile carpet, concrete.
Games encourage teamwork and build social skills.
Foam bumper for protection on walls.
34. Tintec 3 Pack Walkie Talkies
There's just something about walkie-talkies that sparks kids imaginations. They may not have as many features as smartphones, but they are still a lot of fun to play with. With a radius of two miles, this set of three walkie-talkies can be used for kids to communicate with each other or with their parents.
It has simple to use controls and the frequency won't mess with any other electronics in the area.
Why we like it:
Compact, drop-resistant design.
Simple push to talk operations, beeping signal, can broadcast to one or more units.
2 miles of wireless communication.
35. VTech Sit-to-Stand Learning Walker
By the time kids are three, they need to have mastered the art of walking correctly. With all the bells and whistles on this walker push toy, most toddlers won't want to complain about it, though. It has seventy different songs and phrases for kids to enjoy for hours as they master walking.
Why we like it:
Has music panels that encourage creativity.
Spinning rollers, shape sorters, and light-up buttons for motor skills.
70 songs and phrases.
Conclusion
As they begin to move into preschool, they'll need toys that ensure that they develop the right motor skills and learn how to interact with other people. Above all, they need gadgets that will help them get up and stay active. Now that your toddler knows how to walk, they will want to explore every nook and cranny possible, and these toys will keep them from getting into trouble. Which of these are your best toys for a 3 year old boys?
See more: