by Kid Crave
|
Last Updated:
04/12/2019
This post may contain affiliate links, we may receive a commission if you make a purchase using these links. As an Amazon Associate I earn from qualifying purchases.
Looking for the best toys for 2 year old boys along with gift ideas can be difficult and tricky. "Are there specific gifts or toys that I should be buying for my toddler?" you may wonder. Toys are not just mere fun things to play with.
The best toys for 2 year old boys should aid the little one in developing his motor, emotional, and cognitive abilities that will mold him into a well-adjusted adult. You should definitely consider these factors when choosing your next gift.
Tovah Klein, author of How Toddlers Thrive, says that:
"Two-year-olds are entering pretend play and figuring out who they are. Kitchen items, cars, trucks, baby dolls, allow them to pretend, to be in the adult-world in their play".
In this list, we've compiled 35 of the best gift ideas and toys for 2 year old boys. These toys are just right for their development stage, and stimulates his learning through play and explorations. These toys are chosen based on parents', consumers', and child experts' approval ratings, so you can be confident that they are beneficial to your child. Updated for 2020.
35 Best Toys for 2 Year Old Boys – Gift Ideas
1. Alex Toys Little Hands Button Art
Alex Toys Little Hands Button Art includes 46 chunky, colorful buttons for imaginative combinations with any of the 10 different brightly-colored pictures. It comes with a storage tray to conveniently store all pieces. Your little one won't have any problems putting the pieces into the holes and its great for learning color matching and improving hand-eye coordination, creativity, and fine motor skills.
Pros
Increases hand-eye coordination.
Develops fine motor skills.
Encourages artistic creativity and color matching.
Keeps 2 year olds engaged in quiet play.
Helps 2 year olds learn counting
Cons
Maybe a little boring for kids older than two.
The lid may not close properly to securely hold the buttons and cards in place, an improvement may be a locking mechanism.
Keep the original box so you can easily store the pictures too.
2. Cartoon R/C Race Car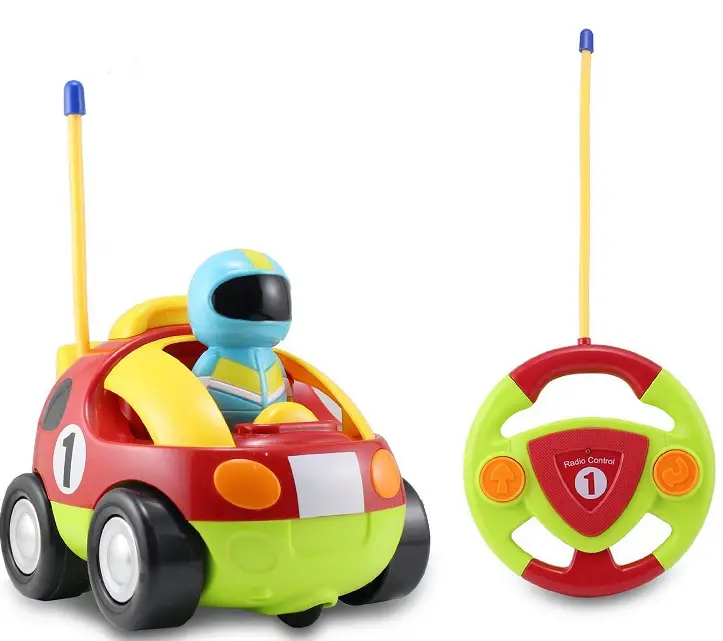 This is one of the best toys for toddlers who aspire to be little race car drivers! This cute and stylish sports car is a great introduction to remote control toys for little guys.
The controller has a great grip and it only has 2 buttons making it very easy to use even for very young children. The driver has a really cool design, and it's removable so you essentially get 2 toys in 1.
It has a very bright color scheme that young kids will find very appealing. The flashing lights, sounds, and music is also very engaging making it a really fun toy for your 2 year old.
It's durable, well-balanced, and it drives pretty smoothly on most surfaces.
Pros
It's a remote control car.
It makes honking noises and plays music.
Toddlers can play with the removable race car driver action figure.
Very interactive toy for young children.
It's very easy to operate.
It's durable and it can withstand a decent amount of impact.
Cons
Cannot use the remote to turn on/off the sound, music, or headlights.
Batteries are needed, but not included.
3. Dinosaur Toys
Curious 2 year old boys will love this Dino Friends dinosaur gift set that contains mini replicas of four pre-historic Jurassic age dinosaurs: brontosaurus, stegosaurus, triceratops, and the big king of dinosaurs, the t-rex. These dinosaurs come in four colors: green, lime green, red, and blue.
They have a really charming design and they also have wheels making them more fun to play with.
Pros
Best value for your money with four popular dinosaurs in one set.
Kid-safe and environment-safe as these dinosaur toys are BPA-free, lead-free, and phthalate-free.
Charming designs.
Rounded edges to make it safe for young children.
Cons
Some parts have been known to break.
Colors are a little tacky.
4. Fisher-Price Bright Beats Dance & Move BeatBo (Winner of the Infant/Toddler Toy of the Year)
With an award under its belt, this futuristic and interactive toy is one of the best toys for 2 year old boys! This cute futuristic pal inspires your little guy to get up and move. This interactive toy offers three ways to play as your toddler grows – Dance 'n Move, Learning & Games, and Customized Sing-Along – while introducing your toddler to ABCs, colors, counting, music, cause and effect, and more.
This toy is very interactive as aside from the lights and music, he also has buttons on his chest and soft colorful ears. It has a really cute design with a lot of great vibrant colors, and a very charming expression.
Pros
Introduces kids to cause and effect.
Teaches letters, colors, counting, and music.
A fun, entertaining pal for years to come.
Cons
Requires batteries but they aren't included.
5. Fisher-Price Bright Beats Smart Touch Play Space
One of the best toys for musically-inclined 2 year old boys, this interactive touch-sensitive light bar responds to your toddler's touch through songs, phrases, colors, and more! It provides three play modes: Piano Play, Dance, and, Game. It's a cool toy that introduces your kid to ABCs, colors, counting, and much more.
The toy was designed to grow with your kids as they get taller, they gain access to more features.
Pros
Introduces kids to cause and effect.
Strengthens motor skills and hand-to-eye coordination.
Encourages your kid to move and explore around.
Other hands-on activities to explore using the colorful balls, roller ball, or spinner.
Cons
Some people found it difficult to put together.
Better for younger toddlers.
Requires batteries.
6. Fisher-Price Harley-Davidson Tough Trike
This is one of the best toys for 2 year old boys hands down! Little guys will love cruising around in this cool Harley-Davidson trike. The durable and rugged tires, and stable wheel base safely takes them wherever they want to go. If your child loves motorcycles, see our article the best Motorcycle Rocking Horses!
It has decent sized pedals allowing young kids to pedal easily. This trike also comes in various designs and colors. It's a very sturdy vehicle that's sure to bring hours of fun for your little boy.
Pros
Offers a great way to exercise leg muscles and develop gross motor skills.
Secret compartment under the seat for storing stuff.
Pedal-powered foot pedal makes it easy for little riders to get rolling.
Encourages kids to explore.
Easy to assemble.
Cons
Some kids may not be able to reach the pedals.
Wheels have little traction.
7. Fisher-Price Little People Loops 'n Swoops
Ramp up your 2 year old boy's imagination with one of the best toys ever! At over 2 feet tall, little guys will have tons of fun sending their wheelies zipping and zapping in gravity-defying loop-the-loop action.
This toy is sure to bring your 2 year old hours of entertainment with a tall winding track that they can send their little Wheelies on. It has great lights and sounds that your son will surely enjoy.
Pros
Develops fine motor skills.
Amuses kids with sounds, lights, and songs
With 2 ramps for double the fun.
With push button to easily start the roller-coaster ride.
Includes two all-new Wheelies.
Easy assembly.
Cons
Parents need to assemble this toy.
Not very interactive.
8. Fisher-Price Power Wheels Thomas & Friends, Thomas Train with Track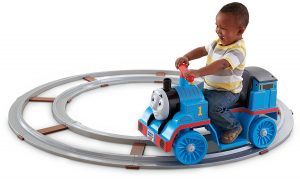 This fun ride on toy will let your toddler ride Thomas round and round the 18-feet track. Specially designed for toddlers, this indoors toy set provides toddler-friendly features including easy-to-use push button operation and comfortable footrests.
This little bite-sized vehicle runs at 2 mph making it a safe but fun experience for young kids. The design is also really nice as your kids might recognize the character, Thomas the Tank Engine.
Pros
The little one can ride the train on or off the tracks.
Provides toddler-safe features.
Provides self-confidence as toddlers develop a can-do attitude.
Teaches the concept of cause and effect through moving Thomas forward, start, and stop.
Getting on/off and driving the vehicle teaches cognitive awareness, balance, and motor skills.
Drives creativity and imagination, and develops role-play skills.
Cons
For indoors use only.
Needs to unscrew the seat to recharge the battery.
The motor is loud.
9. Green Toys Farm Playset
Your 2 year old boy will have endless imaginative play with this play set that includes a barn, pick-up truck, farmer cow characters, sheep, pigs, fences, and a hog shed. Clean-up and storage is easy – all pieces fit into the barn — and built-in handle makes it easy to take it on-the-go.
The farm animals come in a very easily recognizable shape that it encourages learning. This uses recycled plastic and it's a very durable, simple toy that most kids can enjoy.
Pros
It's a kid-safe and environment-safe as it's free from BPA, phthalates, and PVC.
Develops fine motor skills and coordination.
Engages kids in cooperative, interactive play.
Teaches kids about animals.
Durable.
Cons
No other toy animals are offered.
Some parts of the set are a little small.
10. Green Toys Fire Truck
Let the 2 year old boys' imaginations run wild! Put-out three-alarm blazes, rescue kittens from treetops — the list is endless in the day of playing with the Green Toys Fire Truck.
This fire truck has great detailing with functional wheels that kids can play with. It's also really lightweight despite its size making it really easy to carry around. This toy also features a ladder that kids can adjust and angle freely.
Pros
BPA-free, phthalates-free, and PVC-free, making it a kid-safe and environment safe toy.
Stimulates imagination and creativity.
Improves motor skills and pincers grip.
Cons
Too plain.
Older kids can get bored easily.
---
11. HABA Mod Blocks
The little architects in 2 year old boys will have tons of fun creating many awesome towers with these blocks. This block set includes 21 building blocks in varying shapes, features, and designs, stimulating creativity in young explorers.
Pros
Stimulates creativity and STEM skills.
Works with other block sets from HABA.
Encourages building outside the box with its uniquely-shaped blocks.
An ideal educational toy 1 years old and up
12. HABA Tree Maze Wooden Magnetic Game
This magnetic board game for kids offers safe magnetic fun. They'll love steering the magnet balls into the whimsical tree maze.
Pros
Fosters motor skills and concentration.
Some parents love the simplicity of the design.
Cons
The magnetic wand may be quite strong, meaning that all balls are dragged together. This can be frustrating for 2 year old boys.
---
13. Hucklebee Game
Teaching 2 year old boys the basics of learning with Hucklebee Game! Little tykes learn about colors, shapes, and how to follow instructions from this award-winning toy set. This toy set includes an ultra-soft plush toy, 25 double-sided action cards and instructions.
Pros
Teaches colors, shapes, and how to follow instructions.
Stimulates imaginative play.
Encourages multi-faceted learning skills.
Creates closeness and interaction between parents and their kids.
Teaches desired behavior in kids.
Cons
Action cards are not sturdy.
14. LEGO Duplo Town Truck and Truck Excavator
If your toddler loves digging, then this is one of the best toys for 2 year old boys! It features two exciting vehicles, a truck and an excavator, each with movable parts that have different intriguing functions.
Pros
Nurtures early building skills.
Encourages role-play with the two figures of construction workers.
Includes two vehicles with movable parts.
Includes a roadwork sign and a shovel.
Cons
Assembling the parts requires parental supervision/assistance.
15. Lego Duplo All-in-One Box
Let the 2 year old boys' imaginations fly high in the exciting world of LEGO! This toy set is loaded with bricks for hours of building and rebuilding. Little builders will have fun creating with the colorful blocks that are just the right size for their small hands. It includes a buildable wagon base with rounded edges and spinning wheels.
Pros
Encourages creative building skills.
Improves fine motor and counting skills.
Makes a great first LEGO set.
16. LeapFrog Count Along Cash Register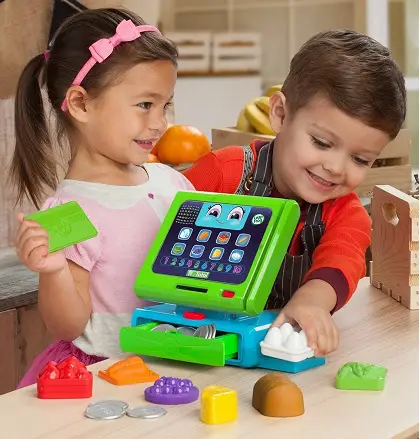 This 20-piece set offers lots of imaginative role play with learning thrown in to the cart! Little 2 year old boys can explore counting, colors, and running a shop for the first time with the help of a singing register pal. The register pal comes to life with scanning beeps, lit-up face, and zesty lines.
Pros
Encourages imaginative role-play skills.
Teaches about colors and shapes.
Cons
The coins can get stuck with the drawer left open.
17. LeapFrog Scout's Goodnight Flashlight
Let Scout's Goodnight Flashlight blast off 2 year old boys' imaginations into starry night dreamland! Use this toy as a flashlight to project an image of the planets, or as a night light to bring 2 year old boys to sleep with twinkling stars and lullaby sounds.
Pros
Teaches about colors, music and rhythm, numbers, counting stars, and planets.
Stimulates imagination.
Fun, bright, and practical design.
Cons
Lullaby flashlight can become quite loud.
Some 2 year old boys do not seem to like the night light.
18. LeapFrog Mr. Pencil's Scribble & Write
Bring 2 year old boys to the world of interactive learning with the help of Mr. Pencil! Mr. Pencil provides his feedback after the little tyke correctly traces a number, shape or letter. The little one can tap the screen to animate the number, shape, or letter.
Pros
Teaches about writing, drawing, and spelling.
Interactive educational toy.
Cons
No or low visibility on the screen.
19. Little Tikes T-Ball Set
Start training 2 year old boys to hit a baseball like pros. If your toddler loves bats and balls, then this t-ball set is one of the best toys for 2 year old boys. It includes an easy-to-use oversize bat, five oversize baseballs, and tee. Its special "hang-on-the-wall" design allows for easy small-space storage.
Pros
Improves batting skills, motor skills, and coordination.
It's lightweight and safe.
It's easy to assemble and store.
Cons
Tee height is not adjustable.
Requires parental supervision/assistance for little tykes' safety.
20. Melissa & Doug Dust, Sweep & Mop Toy Set
Your 2 year old boy can have good clean fun learning about household chores with this 6-piece cleaning set. This kid-sized set includes a broom, duster, dust pan, brush, and storage stand. These tools are easy to use and easy to store — simply hang them on the wooden upright stand.
Pros
Helps develop fine motor skills and encourages them to get up and move.
Develops creativity and imagination.
Teaches about responsibility and build self-esteem.
21. My First Brain Quest
The #1 educational bestseller in the U.S.A, Brain Quest is the game beloved by 2 year old boys, trusted by parents, and highly recommended by teachers. It gives 2 year old boys a smart start and parents an engaging way to get involved with their toddlers' learning process. It contains nearly 400 questions that focus on developing toddlers' word skills.
Pros
Includes nearly 400 intriguing questions that focus on building toddlers' word skills.
Cons
Requires adult involvement.
22. Myland Car Intuitive Tech Toy
Myland Car is an intuitive tech toy that stimulates curiosity, encourages exploration and imaginative play, and integrates technology and hands-on classic play into an enriching adventure, making it one of the most intuitive and best toys for 2 year old boys.
Pros
Encourages learning early STEM concepts.
Myland Car doesn't need instructions or intricate rules — 2 year old boys are free to play and explore at their own pace without adult interaction.
Allows 2 year old boys learn cause and effect, action/reaction, and basic reasoning.
Made from the highest quality ABS for durable, long-lasting play.
23. Munchkin Fishin' Bath Toy
Keep 2 year old boys hooked on Munchkin Fishin' Bath Toy, line, sinker, and all! Keep them busy and engage in reel bath time fun with this bath toy set, which contains one magnetic fishing rod and three underwater bobbing characters.
Pros
Magnetic bobbers are air-tight, which helps limit mold and mildew.
Helps develop hand-eye coordination.
Easily clean with just warm water.
Cons
Screws in the rod may get rusty.
Reel is not retractable.
24. Playskool Sesame Street Play All Day Elmo
Let 2 year old boys play all day with Elmo! Elmo, a lovable and interactive Elmo toy, has 150+ responses, and eight games and activities to keep 2 year old boys busy with activities. Toddlers can tickle Elmo or squeeze his nose and see his response. After a busy day of games and activities, you toddler can hug or snuggle up to Elmo for a soft sleep companion.
Pros
A cute interactive toy.
A cuddly soft-sleep companion.
Explores basic cause and effect play.
Cons
Elmo is heavy on top.
This cuddly, interactive toy sheds a lot – his fur catches everything.
Lovable Elmo does not sing Elmo's song.
25. Play-Doh Classic Fun Factory Playset
The Play-Doh playset is a timeless and staple playtime classic toy enjoyed for generations. Little 2 year old boys can squeeze fun shapes like spaghetti noodles from a factory-shaped toy extruder.
Pros
Contains cans of vivid Play-Doh colors, a classic style fun factory, and more.
Encourages timeless, open-ended creative play.
The Fun Factory extruder is sturdy enough for continuous play.
Cons
Some parents may have some issue with the small hinges that keeps popping off.
Some 2 year old boys may find it hard to manipulate the playset.
26. Prince Lionheart Balance Bike
This toy is an award-winning balance bike, made of 100% birch wood and with adjustable seat and rubber hand grips. If you want your toddler to learn to ride a bike the correct way, teaching balance and control, then this is one of the best toys for 2 year old boys. Balance bikes are much more effective than training wheels for teaching your little one to safely ride a bike.
Pros
Eco-friendly material as it's made from 100% birch wood.
Teaches the art of balance, steering, and coordination.
With height-adjustable padded seat, solid rubber handgrips, and air-filled tires.
Cons
Parents need to assemble this bike.
---
27. Rainbow Mosaic Pattern Puzzles
The tiles are 2 inches across and snap together (and come apart quickly) to create huge floor mosaics. This toy set includes 96 hexagonal tiles in eight colors and 20 pattern ideas on double-sided cards.
Pros
Improves motor skills and hand-eye coordination.
Helps develop color and shape recognition.
Teaches about patterns and matching.
28. Radio Flyer 4-in-1 Stroll 'N Trike
Radio Flyer 4-in-1 Stroll 'N Trike is an adjustable toy that "grows" with 2 year old boys. It easily converts from infant trike to a steering trike, a learn-to-ride trike, and a classic trike. It is an amazing toy for 2 year old boys and one that is worth the investment.
Pros
The trike is adjustable to grow with kids.
Easy to steer and push in infant trike mode.
Great value for such a great price.
29. Seek-A-Boo!
Seek-a-Boo improves your 2 year old boy's vocabulary and memory skills with matching and repetition. This memory game includes 36 circle cards and 36 square cards. It offers multiple ways to play as detailed in its Interactive Parents Guide. It has six color-coded card categories on food, toys, clothing, colors and shapes, outdoor items, and animals.
Pros
Develops memory, vocabulary, turn-taking, and large motor skills through matching and repetition.
Contains an Interactive Parents Guide that instructs parents on more ways to play, giving flexibility to increase or decrease the difficulty level of the game.
30. Start-up Circuits
Inquisitive 2-year-old boys will have a blast mixing and matching the blocks and action tops together. All switch blocks and action tops are safely interchangeable to mix, match, and experiment with working circuits.
Pros
All blocks and tops are safely interchangeable for mixing, matching, and experimenting.
Develops an innate understanding of basic circuitry.
Builds a strong foundation for STEM skills.
Develops cause and effect, fine motor, and problem-solving skills.
31. Teddy Ruxpin – Storytime and Magical Bear
The beloved Teddy Ruxpin is back! The new Teddy has advanced featured like his LCD eyes with over 40 animations, touch sensors to control stories and songs, and much more.
Pros
Develops reading skills.
Teddy is a cute and cuddly bear.
Includes preloaded content.
Cons
A screwdriver is needed to access the battery panel.
32. 3 Bees & Me Bath Toys
Make bath time fun for 2 year old boys with these four bath boat toys for the price of one! Drive 'em, fly 'em, or dunk 'em, these versatile toys can go anywhere 2 year old boys' imaginations can take them.
Pros
Made environmentally-friendly; BPA-free, lead-free, and phthalate free.
Teaches about colors and shapes.
Enhances motor skill development and encourages imagination and creativity.
It's a durable and long-lasting toy.
33. VTech Count and Learn Turtle
The Count and Learn Turtle teaches 2 year old boys their 123s. Press the light-up buttons to hear the friendly turtle count and say the number. This cute turtle toy can be switched to Spanish mode and learning number and math skills are done in Spanish. It comes with two rollers that introduce around 125 songs, melodies, sounds, and phrases. This is one of the best educational toys for 2 year old boys.
Pros
Supports STEM skills in kids by encouraging early math such as counting and shapes.
Switch to Spanish mode and the turtle teaches numbers, counting, shapes, and colors in Spanish.
Allows 2 year old boys to learn and play math at their own pace.
Cons
The turtle's dominant language is English.
34. VTech Drop and Go Dump Truck
Make learning lots of fun as your toddler pushes and pulls along this Drop and Go Dump Truck. Drop a colorful rock and watch it tumble as the interactive truck counts each rock. This cute toddler push toy has three colorful buttons that play melodies, phrases, and teach colors.
Pros
Teaches numbers as this interactive truck counts the rock.
Teaches about melodies, colors, and phrases.
Develops motor skills.
Cons
Unloading the colored rocks may require a little effort.
35. VTech KidiBeats Kids Drum Set
The KidiBeats Drum Set is an electronic learning toy that has three drum pads and cymbal, each with its own unique sound. This drum set allows boys to beat to rock 'n' roll or to 9 different melodies. It has four play modes that teach letters, counting, phonics, and memorization with follow-along tunes.
This is one of the best toys for 2 year old boys that are musically-inclined with the added benefit for teaching letters and numbers. Phonics is widely known to be the most effective system of reading.
Pros
The drum pads and cymbal have different sounds.
The four play modes teach toddlers about letters, counting, phonics, and memorization with follow-along tunes.
Toddlers learn about different sounds as they beat out new rhythms to four different musical genres: jazz, rock, and pop.
Toddlers learn about memorizing their alphabet, numbers, and learn about phonics.
Cons
Toy is not interesting enough for some kids.
Final Thoughts
Have you found the perfect gift or toy for a 2 year old boy from our list? If you still haven't decided yet, bear in mind that 2 year boys want toys they can play with and are just right for their age and development phase. From the age of two, kids learn to socialize and do a lot of pretend play.
Miniature farm sets stimulates their imaginations, while paints, Play-Doh, and art toys nurture their creativity. Legos, puzzles, and other construction toys develop their fine and gross motor skills. Kids at this age love creating noise — drums and hammer toys are just perfect for this age.
See more: