by Kid Crave
|
Last Updated:
02/27/2019
If you have got a curious child who loves to go on spy adventures, then you need to read on to learn about some of the best spy gadgets for kids. Children really like to feel in control, and feel a great sense of achievement when they solve a problem.
15 Best Spy Gadget for Kids
These gadgets and kids toys will not only make investigative games fun for your little ones, they are also a way for you to make doing simple chores an exciting activity.
1. Multi Voice Changer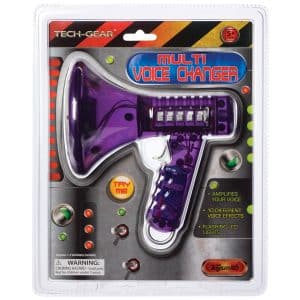 To keep your identity a secret, use this Toysmith Tech Gear Multi Voice Changer which has plenty of different voice modifiers. It also comes in various colors so your kid gets to have the gear of their choice. This voice changer has an adjustable frequency and amplitude which means that there are hundreds of sound combinations that they can choose from. Kids can experiment with this fun toy, and add a punch to their investigation.
At first, the different voices might sound similar, but if you read the instructions on the packaging, you will learn how to create completely different voices. This toy also has flashing LED lights, and kids simply love anything that flashes. With a ton of sound combinations, this voice changer is sure to keep your little ones busy and intrigued as they experiment with it.
Another positive feature of this voice changer is its easy to use buttons, which means that even toddlers can use it. Suitable for kids 3 years old and up.
Positives
Ten different voice modifiers
Various colors to choose from
Easy to use buttons
Adjustable frequency and amplitude, allowing for hundreds of variations
Flashing LED lights
Negatives
It is a noisy toy that is sure to give the adults a headache.
2. Walkie Talkie
The Walkie Talkie has always been one of the best spy gadgets for kids. With around two miles of coverage, the USA Toyz Walkie Talkie is an ideal toy for both boys and girls. It features a backlit LCD screen, an LED flashlight, labeled buttons, and 22 channels.
Kids simply love to make ordinary activities more exciting and fun by adding some sort of mystery to it. This is a perfect outdoor summer toy, especially for siblings, to keep them happily engaged for quite some time. Moreover, it makes for a wonderful two in one gift for siblings.
You can also use it to assign house chores to the kids to make it seem like serious spy business! The walkie talkie has a flashlight on top so kids can use it outdoors at night and have a thrill. This is a button free walkie talkie that allows even smaller kids to play with it.
The ability of this walkie talkie to work with earbuds is one of the best features I believe. Children can get noisy, so just hand them earbuds and rest your ears because the walkie talkie can be a bit loud.
All in all, it's a fun toy that is sure to give your kids hours of fun and excitement. The only drawback, I feel, is that the range is not as long as I would have appreciated.
Positives
Around 2 miles of coverage
Features 22 channels and 99 subchannels
2.5 mm headphone jack
LED flashlight on top to allow for play in the dark
Button free walkie talkie so toddlers can use it as well
Negatives
Range not long enough
Too loud when the walkie talkies are in close proximity
3. Invisible Ink Pen
Leave hidden notes for your friends to make your games more interesting. The invisible ink pens are an exciting gadget that allows you to write secret messages. Once the ink dries up, the writing vanishes, only to be read with a UV light that is conveniently set in the cap. To add a punch, the pens come in six different colors. Batteries are already installed so just unpack and reveal the mystery.
These pens are simply amazing, and you can make boring tasks more fun for your children by having them decode your secret messages. The pens feature a pocket clip so you can easily carry them and be ready for thrilling spy business anytime.
To make classroom activities fun, simply use the invisible ink pens and your students are going to be highly excited about their tasks. The best thing about these is that if children write with them on the walls, the ink dries up and your walls are spot free. Until you shine the UV light on them, that is.
Positives
Pack of 12 pens with six different colors
Each pen is a complete package in itself
Batteries are included and installed
Mess-free toy
Pocket clip for easy carrying
Negatives
Some of the pens were dried out so order extra if you require a certain minimum
4. Project Mc2 Ultimate Spy Bag
Spy business is just not complete without a glamorous girl carrying her Project Mc2-themed spy bag, full of cool spy gear. The kit contains more than 20 different pieces, each with a unique feature.
Use the shimmery make up powder on your cheeks, and then use it to dust over prints. No one can even imagine that your perfume bottle is actually an air blower to reveal prints. The lipstick holds and launches your secret messages, and the nail polish holds a flashlight because spy business usually takes place in the dark. Unfold a make up compact to reveal a magnifier. The kit also contains beakers and test tubes so you can take samples. Moreover, there is a booklet with a ton of awesome ideas and experiments.
This children's spy kit is intended for ages 6 and up. For little girls obsessed with make up, this toy is just the thing.
Positives
More than 20 different pieces
Cute pink bag to carry everything
Lipstick message launcher
Nail polish flashlight
Make up compact magnifier
Perfume air blower
Fingerprint dusting kit
Negatives
Fussy to open for children
A little smaller than expected
5. Undercover Spy Case Detective Gear Set
Go undercover, and reveal all mysteries with this funky detective gear set. A sleek black case contains all the items you need for your recon activities: magnifying glass, flashlight, fingerprint powder, brush, binoculars, secret marker pen set, and a spy guide.
The case has a handle for easy carrying, and can even be looped through your belt so you can be on the go at a moment's notice. Although the toy is intended for ages 8 and above, children aged 5-7 can also have quite a lot of fun with all this cool spy gear.
The spy gear kit also comes with batteries, secret code files, and an ink pad. It's a great toy as kids can carry it in the black bag when they are traveling. It might not be as advanced as some other spy gear out in the market, but it sure is an excellent way to keep little investigative minds busy.
Positives
Folding binoculars
Magnifying glass
Secret marker pen set
Spy guide
Carrying case with handle
Ink pad
Negatives
Smaller than expected
6. Rear View Spy Glasses
How cool is it to be able to actually have eyes in the back of your head? With Alex Toys' pretend and play rearview spy glasses, you can now be fully aware of your surroundings. Its lenses are specially treated so you can see what's behind you without having to turn around. It's made of durable plastic so you can carry on your spy activities, come rain or shine.
This is a funky piece that is sure to be a cool addition to any child's spy gear kit. And it will also keep little detectives busy for hours. These glasses are very reasonably priced for aspiring young spies who are new to the spy world, and not completely ready to dive into expensive and advanced gear. It would have been nicer if they could double as sun glasses.
Positives
Sturdy plastic material
Gives you a rear view
Negatives
No protection from the sun
7. Spy Pen Camera
Capture intriguing footage without anyone knowing with this fantastic spy pen camera. This regular ink pen doubles as a camera that records crisp videos in 720p or 1080p. Its battery has a long lasting life that gives you hours of spy fun. It comes with a mini SD card to store all your videos on, and a USB cord that easily transfers all your data to a computer system. There's a single button on the pen that is used to turn the camera on and off.
Because of the nature of this gadget, it is better suited for older kids who can safely use it. This spy pen is a little on the expensive side, but that is compensated for with the quality of video it provides, as well as the long lasting battery life. Moreover, it has a 16 gb SD card, which is plenty of space for a little spy.
Positives
16 gb SD card
720p or 1080p video recording
Long lasting battery life
USB cable
Easy operation
Negatives
A little expensive
Not suitable for younger kids
8. Batman Ultimate Utility Belt Bundle
This utility belt bundle is one of the best spy gadgets for kids who are into Batman. It consists of a belt with some micro accessories: listener, sonic distractor, and tactical light. To make sure no one steals your belt, it features a detachable motion alarm for added security. The belt has an adjustable strap so it can fit super heroes of all sizes.
Track your suspects with the listener, distract and scare them with the sonic distractor, and shine the iconic bat symbol on a wall to let them know you've got your eyes on them. The Batman utility belt bundle is a little pricey, but makes for a great gift for young fans and heroes.
Although the toy is intended for children ages 5 and up, the belt is better suited to bigger kids so it's recommended to keep that in mind before buying this bundle.
Positives
Listener
Sonic distractor
Tactical light
Adjustable belt to wear all the accessories on
Negatives
AAA batteries not included
Adjustable belt not as well suited for children aged 5
9. Night Goggles
Want to go out in the dark and be able to see everything like a real spy? Then look no further than Spy Gear night goggles. It is definitely one of the coolest spy gadgets for kids, and is sure to fascinate them by letting them see what's in the dark. It has blue tinted lens and bright LED lights to improve night vision.
What's even more cool about this piece is that it has a magnifying glass attached to it; you can now look farther in the dark and spot your targets!
You will need 3 AAA batteries for these night vision goggles, and then you are ready to hop in to the exciting world of espionage. However, be sure not to use these goggles in the rain as they are not waterproof.
Positives
LED lights
Blue tinted lens
Magnifying glass
Instruction guide
Negatives
Battery compartment might feel a little heavy for younger kids
Not waterproof
10. Laser Trap Alarm
A spy has valuable and sensitive gear that must be protected from all intruders. This is where SpyX laser trap alarm steps in. With three pieces of laser beam traps, you're all set to create an invisible barrier and protect your stuff.
The laser beams are fully adjustable so you can set them however you want. The receivers can be placed up to four feet apart from each other so you can cover up a larger area. Moreover, you can also choose whether the alarm sounds or flashes when there's an intrusion.
The laser trap is a little difficult to set up so adult support is recommended. Keep in mind that the beams are infrared so you won't be able to actually see them.
Positives
Receiver and two lasers
Adjustable up to 360 degrees
Custom alarm
Works up to four feet apart
Negatives
A little difficult to set up for kids
Not suitable for outdoors due to small coverage
11. Spy Master Briefcase
Keen hearing, sharp sight, and quick thinking are what you need to become an excellent spy. With a listening device, binoculars, and rear view spy glasses, spy master briefcase is one of the best spy gadgets for kids. All these gadgets come in a hard briefcase which also contains a handbook.
It's a perfect kit for a little spy on the go. Beware of what's behind you with the cool rear view glasses that have a mirrored outer edge. Know what your opponents are saying with the awesome listening device, and see far ahead with the fold-flat binoculars.
All in all, it's a pretty good children's spy kit for the price and makes for a cool gift. But it would have definitely been nicer if it contained a few more pieces of spy gear.
Positives
Carrying case
Binoculars
Listening device
Rear view glasses
Handbook
Negatives
Cardboard briefcase
Not a large variety of items
12. PlayMaster Chrono Bomb
If your kid is up for some action, then the PlayMaster chrono bomb is the perfect game to play. Create a super spy mission for your little spies; set up a field protected by strings and have them crawl through to get to the bomb and diffuse it.
Make sure not to get trapped in the strings otherwise it will set off the alarm and you will face dire consequences; and that is definitely not what a spy wants.
To make it even more challenging, spread out gear cards on your obstacle path, and pick them up on your way to gain extra points. This game will give young spies just the stealth they need to conduct super secret missions.
The box contains everything you require to create a laser field: string (to act as the laser), clamps, ticking bomb, gear cards, and rules on how to set up. So what are you waiting for? Suitable toy for kids 7 years old and up.
Positives
Exciting game to improve little spies' stealth
Gear cards for added fun
Strong clamps
Negatives
Too noisy
Difficult for little children to set up on their own
13. Spy Costume Set
To act like a spy, it is also essential to look like a spy. This role play spy costume set by Melissa and Doug is an excellent addition to a super spy's gear. Kids will feel really cool in it, just like actual spies, and will be pretty busy in their spy missions.
The costume features a long black jacket, a hat, rear view glasses, decoder, message card, and a spy guide. An all in one costume that is sure to make kids feel awesome. Kids can read secret messages with the red lens which is a lot of fun. Rear view glasses, as mentioned earlier as well, is itself a fascination for little spies.
For the quality it provides, the price is really reasonable. And you can certainly use it for many years to come, if taken proper care of.
Positives
Rear view glasses
Secret message cards
Red lens to decode the secret messages
Negatives
Comes in one size only
14. Video Watch Spy Kit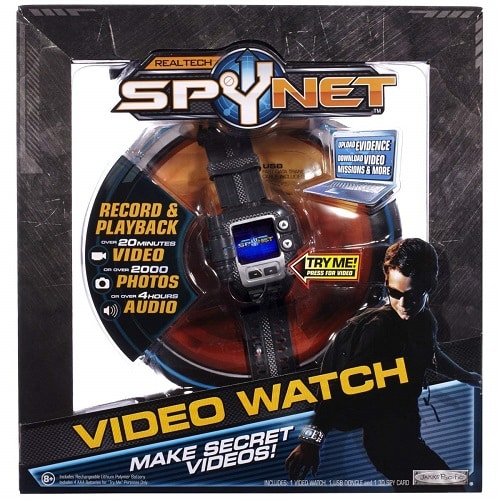 It is an important part of a spy's job to keep a close watch on their targets. With Spy Net's secret mission video watch, little detectives can now record and playback photos, audio, and video. How cool is that?
Capture up to 20 minutes of footage, 4 hours of audio, or 2000 photos without anyone knowing, and solve the mystery. To make sure that you don't lose your precious evidence, you can use the reset button on the back which is a fail-safe feature.
It comes with a USB cable which you can use for charging and transferring your data to a computer system. This watch is better suited for older kids. It might not hold younger children's attention for too long. The best thing is that it can be used as a regular watch as well! Suitable for kids aged 8 years old and up.
Positives
Four hours of audio
20 minutes of video
Reset button to protect data
Both 12 and 24 hour format
Negatives
Not much fun for little kids
Watch goes to sleep if not in use for a few seconds
15. Mini Remote Control Helicopter with Camera
This 4.7 inch RC helicopter with a spy camera is truly a delight. It obviously comes with a remote control, and a camera that you can use for making aerial videos. How wonderful is that!
Not only kids, but adults will also have fun playing with this. It is basically intended for indoor use, but you can use it outdoors when there is no wind otherwise you might hit your pretty little chopper against something, and damage it. You can assemble this helicopter with just a few screwdrivers in less than an hour.
This toy is better suited for older kids who can learn easily how to operate it. It has flashing lights that look awesome in the dark, making your games exciting. It comes with a micro SD card, and a USB adapter so you can easily transfer your interesting footage to a computer and solve the mystery.
Play a treasure hunt with your kids. Hide an exotic treat somewhere and have your kid search for it with this adorable chopper.
Positives
Compact size that is easy to store and carry
Awesome toy for rainy days when the kids have to stay indoors
Flashing lights to make playing in the dark a lot more fun
Comes with a micro SD card to store captivating footage
USB adapter to easily transfer all your data to a computer system
Negatives
Not ideal for younger children who can't operate an RC toy
The instructions might get a little confusing
Lightweight copter that is not very great for outdoor flying on windy days
Final Thoughts
Little minds are full of questions and imagination. Whereas some people might think that spy gadgets for kids are just a waste of money, they are actually a great way to let them seek answers, use their imagination to solve problems, and observe their surroundings. With such gadgets, we give them the chance to polish their investigative skills, and open up their eyes and minds.