by Zunaira Ghazal
|
Last Updated:
04/03/2020
Looking for the best rocking horse for your child? A rocking horse is a classic toy that never gets old.  Kids and toddlers never get bored see-sawing from one end to the other. They will have a lot of fun riding it out – just like enacting their very own dramatic horse-back escape or cowboy chase.
Here are the best rocking horses for kids:
1. Radio Flyer Blaze Interactive Riding Horse
Rocking horses for kids have completely been revolutionized over the years. They don' just come in the typical see-saw format anymore, and this one is a prime example of just how unique this kids accessory has really become. Like everything else today, tech has paved the way for fun, and this simple toy has become something that would put the old-school versions to shame.
Suspended in the middle of a cross-shaped structure, this horse has a very realistic looking body and can hold an amount of weight up to 60 pounds. It has an 'EZ Climb' step so that your kid can easily get on and off the toy without any help.
Furthermore, it features 3 riding actions including walking, trotting, and galloping – all with authentic sounds. The carrot accessory can be used to activate chewing sounds and a grooming brush is also included in the kit.
Pros
Technologically advanced rocking horse toy for kids
Has an 'EZ Climb' step for safe mounting
Features 3 riding actions
Comes with a unique carrot accessory and grooming brush
Has a weight capacity of 60 pounds
Cons
It's not waterproof, so don't play in the rain or try to give it a bath. It can damage the mechanical parts in the nose area.
2. Animal Adventure Plush Unicorn Riding Toy
Going back to the classics, this plus rocking horse toy is a great accessory for toddlers. It's got that magical unicorn vibe and features bright, playful colors that will attract your kids very much. Moreover, it has been beautifully crafted and is quite hardwearing. Its durability will go a long way when your kid gets rough with it.
The soft, embroidered details on the horse add so much more nuance and fantasy to the design. Kids will love playing 'pretend' with it. There are also additional seat accessories that add a lot of character to an otherwise simple design.
The movable reins are specially designed for small hands and will make your child feel like they're on a real adventure while the toy rocks. As a parent, the best part for you would be the easy spot cleaning – just a damp cloth will allow a good wash. Suitable for kids 3 years old and up.
Pros
Comes with detailed embroidery and a lot of nuanced details
Made from real wood
Super easy to maintain with spot cleaning
Plush parts are bolstered with polyester fibers
Additional seat accessories and kid-sized reins ensure fun playtime
High quality and incredibly durable toy
Cons
Polyester is highly flammable so beware of any fire hazards
3. Rockin' Rider Turbo Plush Rocking Horse
This plush rocking horse toy will make a fun adventure partner for your kids. It's got that realistic looking vibe but is also kid-friendly. It comprises of a sturdy wooden base that is as hardwearing as they come. The stuffed horse body is plush and very comfortable. It's also outfitted with all the right accessories, such as the saddle, reins, and even foot rests.
There are also a ton of cute features that make the horse a total hit with the kids. For example, you can press the left ear to hear the "I'm a little Pony" song. Similarly, pressing the right ear and result in 6 great talking phrases as well as some super realistic horse sounds. The moving mouth makes the whole experience even more authentic!
Your child will have a holly time 'galloping' on this toy. This ride on toy horse is made for for toddlers 3 years old and above.
Pros
Several fun accessories included
Has a moving mouth for extra authenticity
Sturdy wooden base
Comes with a number of voice features
Realistic mane and tail
Cons
4. Labebe Baby Wooden Rocker Horse
Specially designed for babies and crawling toddlers, this particular rocking horse toy is perfect for those looking for a fun activity to engage their new baby with. While the shape and design of this toy is very basic, it features a highly appealing and soft color scheme that would look great in a nursery interior design.
Moreover, the cottonwood and density board structure is incredibly durable and sturdy. The seat of this horse is also quite sturdy and large enough to accommodate even a 5-year-old – although having 2 kids sitting simultaneously is not recommended as there are no extra rails to hold.
You can also embellish the horse to further spruce up its aesthetics. For example, by adding a soft cushion, your baby can feel comfier on the seat. The great thing is that there's also a backrack guard that ensures extra safety for the baby when the horse is rocking backwards. It's definitely a great way to develop your baby's motor and developmental skills.
Pros
Highly durable
Sturdy hand-rails and a large seat
Extra safety measures at the back end
Scope for further embellishment
Can be used indoor and outdoor
Great rocking horse for babies and small toddlers.
Cons
5. Rockin' Rider Animated Plush Spring Rocking Horse
This innovative spring rocking horse takes another win for the innovation front. It's got all the style, the charisma, and the accessories to attract any young kid. The spring cross structure provides great movement and the plush horse makes for a great adventuring partner. It's also highly comfortable to sit on and also has very authentic aesthetics.
The unique functions and features of this rocking horse toy also ensure greater engagement with the kids. The synchronized moving mouth, nodding head, wiggling ears, and swishing tail will make your young one feel like they're actually riding a real horse.
Pressing the ears blasts out the "I'm a little Pony" song that the kids can jam to. It also activates 6 talking phrases, and other sound effects. And if that wasn't enough, there're also the motion-activated galloping sounds, the brush accessory for grooming, and some easy-grip handles for safe riding. This rocking horse is every horse-loving kid's dream come true.
Pros
Made from sturdy steel and has durable spring covers
Features motion-activated galloping sounds
Easy to grip sturdy handles
Brush accessories included
Synchronized moving mouth, nodding head, and ear wiggling feature
Cons
Needs rubber pieces on the base to protect the floors
Assembly needs a lot of patience, care, and concentration – and although rare, you might even end up with a missing or mishappen piece
6. Minimalist Wooden Rocker Horse for Toddlers
If you want you and your child to be a true minimalist in a world full of maximalism, then this cute, sophisticated, and unembellished rocking horse would be right up your alley. Perfect for growing babies and toddlers, the white-coloured aesthetic of this horse would make a great accessory for the baby's room.
It also provides an excellent opportunity for you and your kid to hold a DIY project and get your artistic groove on with some paints and stickers. The white finish is like a canvas that you can always personalize with your favorite colors.
The cottonwood and density board structure ensures feasible durability. This rocking horse is both sturdy as well as safe. The handles and footpegs ensure great balance for the kids while they rock back and forth. For added safety measures for smaller kids, there's also a backrack that keeps their rump from slipping off and falling when they rock backwards.
Pros
The white finish allows a great creative outlet
Cottonwood and density board finish ensure safe construction and sturdiness
Handles and footpegs ensure better balance for rocking
Backrack for smaller kids so they won't fall off while see-sawing backwards
Cons
Lightweight construction means less longevity
The wood can also develop cracks and start to weather if exposed to too many outdoor elements and water
7. Step2 Unicorn Rocking Horse
The perfect ride for your kid's next magical adventure, this rocking horse is designed in the image of a beautiful unicorn. It's super stylish, fun, and would make a great accessory for your kid's bedroom interior.
The sleek contouring on each side mimics the muscles of an actual horse and add so much more depth to the whole design. the golden horn and colorful mane make for beautiful attractions for the kids.
The precision design of this rocker is super sturdy and never lets the kids fall. It may look like a classic, but it's got all the trappings of modern quality control.
It can also be easily wiped clean, doesn't get matted, and is highly easy to maintain, which ensures a longer lifespan. The contoured seat is very comfortable to sit on and the handles ensure safety and balance while rocking. An adorable unicorn rocking horse for kids aged 3 years old and up.
Pros
Great body contouring that delivers a highly authentic vibe
Handles and contoured saddle ensure great balance and comfort
Sturdy base
Very smooth movements
Cons
Comes with no instructions for assembly
8. June Princess Rocking Horse Pony
Your little princess would love reenacting their own unicorn Pegasus adventures on this pretty pink rocking horse. It's designed in a sleek, stylish, and beautiful way. The strawberry pink plush fabric upholstery adds infinite charm and attraction to the whole design.
All the embroidered details, quality stitching, and the gloriously magical pink mane and tail ensure excellent aesthetics. Made from wood, steel, and premium polyester, this horse ensures amazing durability. Spanning 18" in height, this horse rocker also features great sound and light effects on the chest.
This fairy princess rocker would be a magical present for kids aged 3 and above.
Pros
Sturdy build
Fun built-in sound effects
Lighting effects in the chest add extra appeal
Embroidered details are as gorgeous as they come
Cons
Assembly may become a headache for many
9. Lewis & Fitz Ride On Horse
This beautiful abstract rocking horse would make as gorgeous a statement piece in your kid's bedroom as it would their next best friend. Accessorized and designed to appeal young eye, your kid will never be able to resist its gravitational pull. Made from birchwood, steel, and polyester, you'll find this rocker to be incredibly durable and sturdy.
The paisley pink body of the horse is embellished with eye-catching print and the faux-mane is made from suede so that no synthetic hair triggers allergies or makes a mess. You can even attach the detachable foot plates for shorter kids. They can be removed as they get taller.
It also comes with an extra bunny rabbit soft toy that can be stored in a pouch on the rocking horse.
Pros
Comes with sturdy handles and footrests for good balance
Detachable foot plates make it perfect for growing children
Steel and birchwood construction ensures durability
Cons
May be smaller than your expectations
Assembly may be a headache
10. Happy Trails Rocking Hailey Horse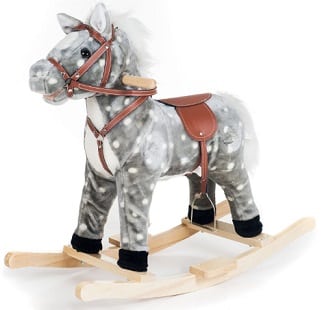 The Hailey rocker horse will become your kid's next best friend. It's designed for 2 – 3 year olds who won't get bored by the monotony of rocking back and forth. It's got a sweetly designed plush form that is comfortably bolstered and is incredibly comfortable.
The realistic-looking saddle and reins make for a great addition. The whole design is presented to spark instant attraction between kids and the toy.
The wooden rocker legs are incredibly sturdy and precision made. The fluffy mane and tail would let your child unleash their inner cowboy. The handles and footrests ensure great balance while rocking back and forth. You'll love how this toy would enhance your child's motor and developmental skills.
Pros
Pretty design
Comes with a glorious mane and tail
Features realistic looking saddle and reins
Handles and footrests ensure great balance
Cons
Seams are delicately sewn and might come loose if your kid manhandles it.
Additional Ride on Horse Toy
If your toddler wants a more authentic horsey experience, ride on horse such as the one above are a great option. These ride-on toys have risen in popularity recently and it's easy to see why. Kids can ride this toy like a proper horse by bouncing it up and down to move forward. Watch this awesome video below of it in action!
If you'd like to learn more about ride-on toys, see our guide to the best ride-on toys for kids.
Also, if your child has an interest in motorcycles, we have another awesome guide to the best motorcycle rocking horses. You'll be amazed by how realistic some of these look!
Final Thoughts
All these rocking horses span a wide genre of made, construction, materials, and design, so we hope that you find what you'd been looking for.
Also read: