by Kid Crave
|
Last Updated:
04/21/2015
If your kid is asking for a pet dog, and you just don't want to deal with all the related mess, then a robot dog toy is the way to go. It's a mess free solution that is sure to keep both parents and kids happy.
With advancement in technology, we now have access to robot dogs that are packed with intelligence and have many interesting capabilities. Take a look at some of the best robot dog toys for kids in 2020 right here.
1. Zoomer
Description
One of the most popular toy robot dogs is the Zoomer robot dog series. This brand has received plenty of positive reviews on popular shopping sites such as Amazon. Currently, there are a few models within the Zoomer series such as Spot, Candy, Shadow et al.
The most well reviewed is the Zoomer Bentley, which is the model we recommend. We also recommend checking eBay for this model as you'll likely get it significantly cheaper than other online stores.
Zoomer Bentley represents a big leap from its precious models. The biggest selling point is its re-playability. Your kid can always teach Bentley new commands and actions, which will keep them playing for a long time. In fact, Bentley sometimes feels like a real dog because he is always learning new tricks and actions.
Asking the robotic dog toy to shake its paws is a favorite and popular demand among kids. And, the dog farts! Kids always have a good laugh when he does that.
Despite the overall performance of this lovable robotic dog toy, there are still some things that can be improved on.
Bentley doesn't have batteries and needs to be charged via USB cable. This can be done through your computer, else you might need to buy a separate USB charging base, and that doesn't come with the toy. Each charge lasts about 20 to 30 minutes, which I personally think is too short.
Due to improper pronunciation, kids will struggle with certain commands. I think this toy is more suited to kids aged 6 and above. Any younger child might have trouble training the robot dog toy.
The robot dog toy has a loud bark, and I don't think there is any way to turn the volume down. It can be quite irritating when the toy barks continuously.
Overall, it is just a great toy that kids will enjoy, especially when they can't have the real thing due to various reasons. Suitabel for kids aged 5 – 10 years old.
Positives
Following around
Shaking paws
Farting
Negatives
Short battery life
Voice recognition from kid is weak
Slightly noisy
Zoomer Dog Toys Comparison
One common question asked by potential purchases is with regards to the difference between the various robot dog toy models, especially when they are from the same company. It is easier to know their difference if we group them into 3 separate groups.
The Zoomer Zuppies: These are the cheaper versions of the robotic dog toy. However, they have very limited actions. Most can't even walk. They can basically just blink their eyes, bark, etc.
Zoomer earlier interactive models: These are the initial versions of the full interactive robot dog toy. They have a full range of actions to learn but are priced on the higher end. These earlier versions are also known as Zoomer Spots. They have quite a number of flaws probably due to them being comparatively new products.
Zoomer Shadow and Bentley: These models are the later versions of the Spot model. Their intelligence and built quality have significantly improved, resulting in a better user experience. Although flaws still exist, they are more pronounced than the earlier versions.
Given the above, our recommendation is to go for the Zoomer Shadow or Bentley. The Zuppies have very limited actions to be really fun, while the Zoomer Spot has a number of teething problems.
2.
Tekno Newborns Pet Dog Toy
Description
This adorable little puppy is bound to become everyone's favorite in the house. It loves to play, jump, walk, sit, and beg. With eyes that light up, this robot dog toy is going to cheer up kids, and keep them entertained. It can wiggle its tail and ears, which makes it look just like a real puppy.
The best thing about this robot dog is that it can interact with other Tekno pets. Tekno offers a similar robot kitty, which is ideal for the cat lovers in your house.
This 5-inch puppy has an on/off switch so you can rest your ears in case it gets too much. Kids just cannot get enough of sounds and music. Suitable toy for 3 year olds and up.
Positives
Various actions
Sings
Jumps into hand
Negatives
Smaller than expected
Ears might come off easily
3. Interactive Puppy Robot Harry
Description
This electronic toy pet has a very high customer rating on Amazon, and for good reason. The Dalmation dog toy is 6 inches tall, and makes all the sounds a real dog makes. He has sensors that respond to touch. And his bump n go feature makes sure that Harry keeps walking. Touching the head makes the puppy sing and dance; touch its backside, and be surprised.
This robot dog toy runs on 3 AA batteries that are included in the package. It's a reasonably priced toy, and is labeled Amazon's Choice. It is a cute little toy, but better suited for ages 3 and up. Younger kids might just throw it here and there, instead of playing with it properly.
It comes with an on/off button, so both the dog and adults can get a break. Some people feel that the 'responds to touch' description is not altogether true. This is because the dog toy has one physical button, and a few areas that pushes Harry to do something; other than that, it's not like he responds to each and every touch.
Kids like to hold this toy from its tail and that can get quite annoying. This is because the dog yelps every time you pull its tail.
Positives
Bump n go
Sings and dances
Surprise on backside
Reasonably priced
Negatives
3 AA batteries included
Pulling on the tail can get annoying
4. Aomeiqi Electronic Dog
Description
This colorful puppy features voice control, touch response, light, and music – all the right things to bring a smile on your kid's face. It can walk, stand, and sit when you clap your hands, or touch its body. It barks and walks when you pet its forehead. Watch it dance when you press its nose.
It has eyes that light up a blue color when it's first turned on; they turn red when the puppy is sleepy or hungry. It also comes with a paw-print scarf so kids can have fun dressing up their favorite pet.
This is a nice robot dog toy that will keep even babies engaged for some time.
Positives
Instruction manual
Eyes light up
Various actions
Responds to touch and clapping sound
Scarf
Negatives
Scarf might have a few lose stitches
5. Georgie – Interactive Plush Electronic Puppy
Description
Although pricey for a toy, Georgie is a very friendly and interactive toy dog that simply loves to snuggle, and can respond to a number of commands. It can do all the usual doggy actions like the other toys, but one very interesting action is the high-five. Kids will definitely enjoy this feature on Georgie.
The toy comes with a toy rope, a puppy training instruction guide, and a bandanna for the neck. After all, Georgie must walk in style.
Georgie is silly and mischievous, but when it's time to sleep, the dog can be so cute and cuddly your kids will want to go to sleep as soon as they can!
This robot dog has a rechargeable battery, and his favorite game is tug-o-war. It is an excellent toy, but every thing has its flaws. Similarly, Georgie has problems comprehending kids' voices, in which case it sometimes stays unresponsive. That can really bore kids, so we recommend this toy for older children.
Positives
Friendly and interactive
Rechargeable battery
Toy rope
Puppy training guide
Neck bandanna
Various actions, including high five
Negatives
Poor response to kids' voices
6. Paw Patrol Interactive Pup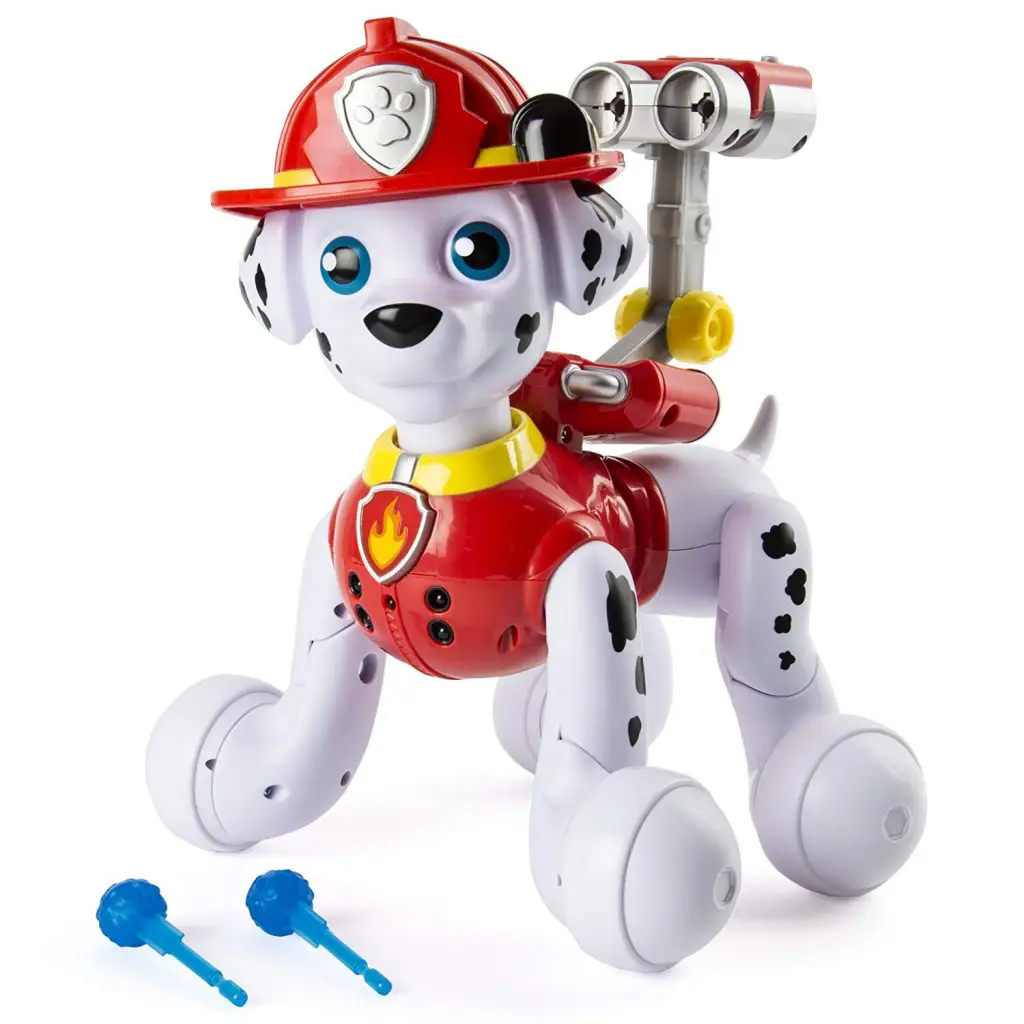 Description
We are sure most of the parents today are familiar with Paw Patrol that seems to be every kid's favorite cartoon show these days. What better than a Paw Patrol Interactive Pup for your little Paw Patrol fan?
This is yet another pricey pup, but it sure is worth it. It plays more than 150 sounds and phrases from the cartoon that kids are really going to enjoy. With more than 80 tricks and missions, this robot dog will keep your little one engaged for hours. It also performs the Paw Patrol theme song, and Pup Pup Boogie.
Paw Patrol Zoomer comes in different characters of the cartoon show, so each child can have their favorite puppy. Marshall's pup pack contains spring-loaded water cannons. Open up his pup pack for some action. Open up Skye's pup pack to activate her wings, and Everest's pup pack to activate her grappling hook.
This toy requires 4 AA batteries that you need to get separately. All in all, it is an excellent toy for Paw Patrol fans, and even for kids who aren't familiar with the show yet.
Positives
Over 150 phrases and sounds
Over 80 tricks and missions
Negatives
Batteries not included
7. WowWee Chippies Robot Toy Dog
Description
Chippette is a pink pup who loves to cuddle. She has a heart shaped collar, and purple ears and tail. Touch her head and see her sniff, give puppy kisses, and do much more. She comes with a remote control that you can use to make her sing, dance, chase her tail, and roll.
It is a very reasonably priced toy that makes for a great gift. Chippette has infrared sensors, which means she can guard you against intruders. How interesting is that!
WowWee Chippies have other models as well, so each kid can take their pick. These little pups are as full of energy as your kids, and will keep them busy. Although Chippies can walk on carpet, they are much slower as compared to when they walk on wooden or tiled floors.
If you get more than one Chippie, it can cause interference in the controllers. And that can be quite annoying for kids, because each kid wants to be in total control. Other than that, it's a cute little robot toy dog that is sure to become your kid's favorite. Suitable robot dog toy for kids 4 – 15 years old.
Positives
Responsive to touch
Reasonably priced
Remote control
Infrared sensors
Negatives
Not responsive to sound
Interference if more than one controller and Chippie
Conclusion
Robot toy dogs are an amazing way to cheer up your kids when they want a pet dog. With such smart robot dogs, kids will have a fun time training them, and watching them perform various actions. Their interactive features make them really interesting toys for a wide range of ages.