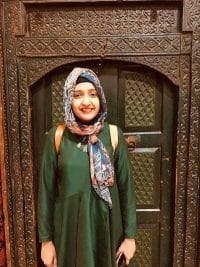 by Zunaira Ghazal
|
Last Updated:
01/03/2020
If your kid is showing an interest in music, then presenting them with a good electric guitar can turn out to be the perfect way to gauge their talent. It's also a great way to give them a creative outlet and liberty from a young age. Below, we've compiled a list of some of the best kids electric guitars you'll find in the market, so let's take a look at them.
Best Electric Guitars for Kids
1. Fender Squier Mini Guitar
This mini electric guitar for kids would make an amazing first companion for kids who show a potential towards learning music. The best part about it is that it comes as a wholesome kit – complete with a clip-on tuner, a strap, some picks, 20 medium-sized frets, and an instrument cable. It also comes with an instructional DVD so that your kid can start learning asap. Its C-shaped neck is perfectly ergonomic, and the thinner body makes it fit more snugly against the kids' body.
Pros
Sturdy maple neck.
Great sound quality.
A comfortable C-shaped neck.
Slim physique to provide easy holding for kids.
Cons
It weighs around 17 pounds so make sure your kid is strong enough to hold it.
You might have to tinker with it a lot to find the right tunes.
2. GLARRY Beginners Guitar
This beginner's kids' electric guitar has been approved by many professionals. It's got style, a comfortable body, and produces excellent music. It comes with a small, low-powered amp that's perfect for making some noise. The accompanying guitar bag ensures safe storage and perpetuates good instrument care for beginners. Other add-ons include 2 Plectrums, 1 Trebolo arm, 1 connecting wire, and 1 Spanner Tool.
Its standard sizing makes it easy for beginners to learn the fundamentals right. Basically, it's a great value for money deal as it gets you everything a pro electric guitarist needs, but on a small budget.
Pros
The body is lightweight and easy to hold.
Is easy to carry in the accompanying bag.
Cons
You might need a new cable to match with this guitar, or you'll end up hearing a lot of static.
The low-wattage of the amp may be a concern for some.
3. Left-Handed Kid's Guitar
Every kid is special, but some of them have dominant left hands. This can be a huge set-back as the majority of instruments are designed for right-handed people.
Its half-size design is quite ergonomic for kids. Plus, it comes with everything you'll ever need to start playing – including an instructional DVD, an amp, a strap, a guitar bag, and cable. Even if your kid might not end up going pro with this instrument, they'll definitely have a lot of fun making some noise with it. It's a fun, energetic instrument to begin with. Suitable for kids aged between 6 – 12 years old.
Pros
Has been scaled down 4" shorter & 3" narrower to better accommodate a smaller body.
Its solid basswood body allows great frets.
It comes with 3 single-coil picks.
Perfect for left-handed children.
Molds really well to the child's body thanks to its ergonomic contouring.
Cons
You'll have to buy an amp to accommodate it.
4. Winzz 30 Inch Kids Guitar
Whether you're planning on nurturing a musical prodigy or are simply looking for a fun musical instrument to gift your kid, this guitar would definitely be an excellent investment. Designed for 4-10-year-old kids, it comes in a number of eye-catching colors.
Its sturdy craftsmanship is polished to perfection and features high-quality hardware such as maple single-board, single-coil pick-up, and a chrome alloy bridge. Plus, it comes with everything your kid will need to start making some noise asap. From an amp, to a guitar bag to cable, a strap, 2 picks, and a wrench, this kids' electric guitar kit comes with everything your child needs to start playing immediately.
Pros
Its 30" body is quite ergonomic for small kids.
It comes with an extra 2-year warranty you can buy.
It is a well-equipped kit that definitely provides value for money.
The amp has a spot for headphones as well.
Cons
The small amp size might be worrying for some as it makes a lot of static.
5. Left-Handed Beginner Electric Guitar Package
This is another left-handed electric guitar kit that will help your kid enjoy some quality music-making experience. It's equipped with every single thing that your child will need to immediately get started – including the amp, instructional video, strap, cable, and bag.
The basswood construction ensures amazing durability. It's got a very ergonomic neck, which makes it easier for the kids to learn and play through the strings. It's a great starter kit for a kid who's either ambidextrous or left-handed.
Pros
Designed for left-handed kids.
The neck is smooth and accommodates sliding/fretting quite well.
The amp has a lot of volume and a headset jack.
Cons
You might be dissatisfied with the low wattage of the amp.
6. Sanmersen Guitar for kids
Your kids will never be able to resist unleashing their inner rockstar when it comes to playing on this particular childs electric guitar! Its 3 modes would make it extremely easy for your child to start their learning experience. It has an infrared light system that makes it easy for the children to follow the rhythm and pick the strings fluently. It also helps keep the kids' attention to the task of learning music!
Aside from the clear sound quality, there are also adjustable settings that can ramp the volume down when it gets too noisy. Its made from ABS environmentally sustainable and non-toxic materials. It's colorful and eclectic – a perfect toy for kids 3 years old and up.
Pros
Made from eco-friendly materials.
Consists of infrared lights which make learning easy.
Perfect beginners' instrument for toddlers.
Cons
The infrared lights cannot be followed in the daylight.
7. Squier By Fender Mini
If you plan on making your child go pro with their music in the future, then it's best to give them an early start with this mini kid's electric guitar. This mini guitar features a laminated hardwood body that's got both style and that rockstar vibe.
Its C-shaped maple wood neck ensures excellent quality and comfort. Due to its great ergonomics, your child will definitely find it easy to play their music and rock out some tunes on it. This guitar comes with three single-coil Stratocaster pick-ups with five-way switching. Lastly, it comes with a side-mounted output jack.
Pros
Ensures an easy learning experience
Is made from the sturdiest hardwood
C-shaped neck ensures ease of learning
Slim neck and profile make it sleeker and more aesthetically stylish
Cons
It doesn't come with related equipment (such as amp, cable, strap, etc.) so you'll need to invest in these essentials separately
8. LilPal's Karaoke Microphone & Guitar
If you want to let your child get an early taste of awesome stage presence, then this kid's electric guitar could be your best choice. Note that this guitar is a toy first – it doesn't compare to professional instruments. But it's an educational tool that can help instil a love of music tinkering in your little one.
It has 2 modes – one where your kid can jam to some pre-set tunes, and another which allows the kids to create their own music. It has an aux jack that can be connected with iPhones and mp3 players. It has a number of cord keys and can be connected with an accompanying microphone. Best of all – it just needs 3 AA batteries to operate!
Pros
Allows the kids to jam to preset tunes
It can be used as a karaoke instrument thanks to its aux jack
It can also allow your kids to tinker with and create their own tunes
Cons
You might end up suffering through some static from the microphone
9. Wolfsbrush 6 String Guitar Toy
If your kid is getting curious about guitars, then this toy alternative is a great way to pique their interest further. It comes with a handy strap and can be easily operated with just 3 AA batteries. The beautiful contouring and slim design make it absolutely ergonomic for kids to carry around everywhere.
The ABS construction and steel strings ensure excellent durability and even better quality. Even though it's a toy version, the guitar emits realistic sound effects, so your kids will actually be attuning their ears to the effects of an actual instrument. Lastly, it comes with earphones so your kid can get a real pro simulation.
Pros
Made from sturdy ABS and steel strings
Produces realistic sound effects
It comes with earphones
Cons
Batteries are not included in the purchase
10. Yamix Kids Electric Guitar Toy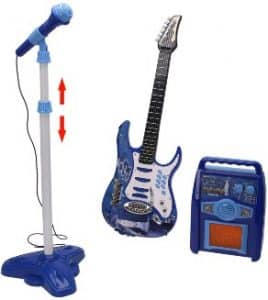 This kids electric guitar is the perfect way to familiarize your child with this type of music. It's a toy but it's got some great features such as the wireless connection from the guitar to the amp, which allows your kid to play around 8 songs with the press of a button. Aside from that, there's also an aux jack where you can plug into your device to customize the music choice. It's great for kids who like to jam, make some noise, and have some fun with music!
Pros
Come with a wireless amp that lets your kids play 8 pre-set songs
It comes with a microphone
Has an aux jack for personalizing your music
Cons
It isn't the most professional choice
Final Thoughts
So, this is our list of some of the best kid's electric guitars. Some of these are meant to lead to professional playing while others are just toys that let your kids experience music in its most childish essence. We hope you find what you'd been looking for in this list.
If you're considering widening your child's musical horizon past electric guitars, take a look at our guide to the best pianos for toddlers.