by Kid Crave
|
Last Updated:
02/21/2019
Big Wheels are a fun way to allow a kids to learn motor skills as well as strengthen their muscles. Best of all, these ride on toys can be used both indoors and outdoors meaning they are perfect in all weathers and seasons.
If you are looking to buy one for your child, we recommend the Radio Flyer brands. This brand deserves some recognition as it offers some of the best big wheels for kids between the ages of 2 and 7.
Best Big Wheels for Toddlers and Kids
1. Radio Flyer Big Wheels
The Radio Flyer Big Wheels are a high-quality toy with different models that cater to the different age groups. For children aged 3 years or older, we recommend the Radio Flyer 474 Deluxe Big Flyer in red or pink. It has received the best reviews on Amazon. Moreover, it can be played with up until the age of 7 (check out the Pink version)!
Deluxe Big Flyer 474 Model
The Radio Flyer 474 Deluxe Big Flyer is one of the best big wheels for kids. It is very well made in terms of both the design and the functionalities. Like all big wheel toys, the seat is adjustable to accommodate a growing child. Its front tire is a combination of plastic and rubber which makes the grip excellent and finally the chrome handlebars add a really sleek finish. If your child likes to spin the big wheel, it will have no issue handling the stress.
This model is strictly for 3 – 7  year old kids. Any younger and it will be too big for the child to handle unless he or she is very tall for their age.
In terms of putting it together, the instructions are reasonably easy to follow and are 100% accurate. You will need tools like a hammer, a Phillips screwdriver and a crescent wrench to complete the assembly.
Parents whose kids have this trike mostly said that their kids love it and use it very frequently. As of this writing, Amazon has it featured as an 'Amazon's Choice' product which shows the popularity of the toy.
Positives
Adjustable seat
Performance grip tread in front wheel to avoid spinning and slipping
Racing design to make kids feel like a racer
Negatives
The seat might be a little uncomfortable for skinny children
2. Grow 'N Go Big Wheel
The Grow 'N Go model from Radio Flyer is an amazing trike for 2 – 5 year olds.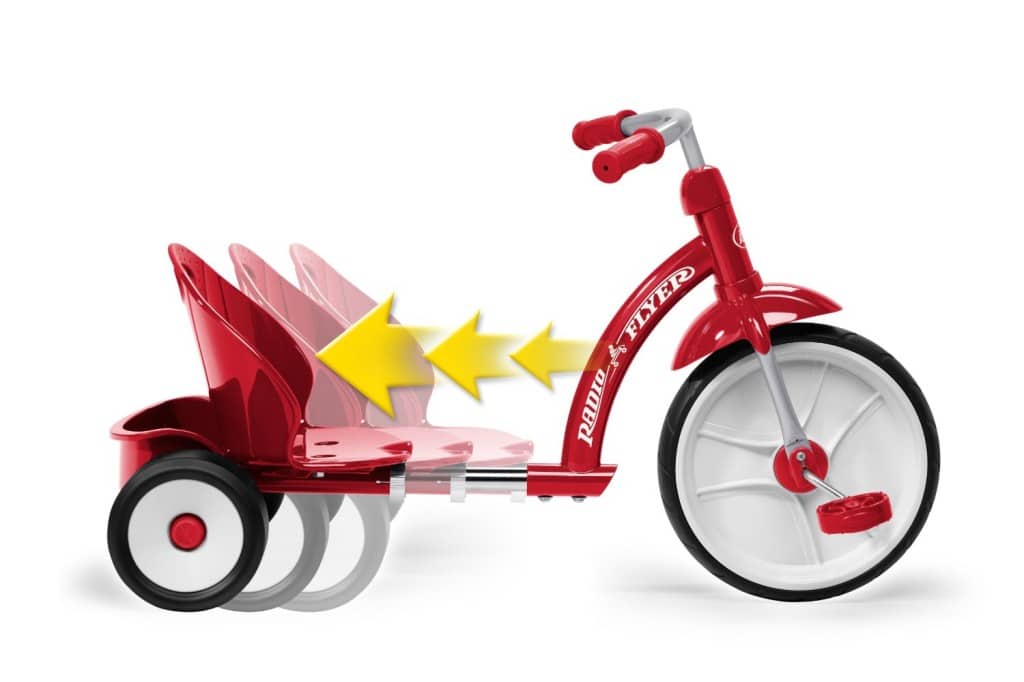 As the name implies, the Grow n Go model has an adjustable seat that makes it possible for a 2 year old to use this big wheel. That being said, if your child is really short, I would hold on to the purchase as I heard some parents saying that even at the shortest configuration, it is still too big for their 2 year olds.
As mentioned in our best tricycles for toddlers guide, it has a nice storage compartment at the back which kids can store their toys or bags in. This feature is not available in the Big Flyer model.
Assembling this big wheel is easy enough, especially when compared to the horror stories from other brands (see below). After the big wheel is put together, I must say the overall look is very nice and should attract the attention of kids.
That being said, there is one particular problem that I think should not arise. The tires for this model are made of pure plastic, rather than a combination of plastic and rubber like the Big Flyer model.
This plastic big wheel makes it harder for the wheel to move and some kids might not be to master how to peddle correctly. I feel this is unnecessary if the company keeps to the same material. Maybe they did it to save cost?
Positives
Adjustable seat
Suitable for different ages between 2 and 5
Storage compartment at the back
Negatives
Might be too big for a skinny and short child
Tires made entirely of plastic might make movement a little difficult for some
Brands To Avoid
If you are not convinced that the Radio Flyer offers the best big wheel, here is our opinion on the other brands, and why we do not recommend them.
Original Big Wheel
I like the adjustable seat aspect for 2 year olds but everything else just plain sucks. The main problem is that the seat wouldn't last due to the way it is made and designed. When a kid pedals forward, he is exerting a lot of backward pressure. As the seat is a one-piece design while the seat's back is secured very tightly to the trike's body, the pressure is then exerted on a thin piece of light plate that joins the seat and the backrest. Unfortunately, it is not strong enough and will tear away eventually, thus separating the seat from the backrest. This is why you see so many reviews complaining about the non-durability of the product. It is an inherent design flaw!
In addition, the assembly takes more effort than it should because the tools required are rubbish. For example, the instructions tell you to use a wooden block to prevent the axle from sliding down when you are inserting the rear wheel. Unfortunately, no wood block is provided if you are off to find one on your own. However, the most frustrating thing is when poor manufacturing problems lead to parts not matching each other when they are supposed to.
If you compare Original Big Wheel to Radio Flyer, there is just no way for a comparison to be made. The latter wins out by a significant margin as it is easier to assemble and has no problems with the seat being separated.
Disney Big Wheel
I am surprised that a company as big and renowned as Disney allowed the manufacture of this big wheel. Overall, the sizing is for okay for a small child, but the parts seem cheaply made and definitely not worth the price. The biggest problem is that it is difficult to turn the wheel because the rod connecting the wheels at the back is too short. Children will have a hard time maneuvering the vehicle.
The Disney big wheel also has installation issues. Specifically, the numbers of the parts do not match the ones stated in the instruction manual. In the end, you have to use a lot of guesswork to put the big wheel together. This should not happen at all. Someone at Disney is definitely sleeping on this.
How About Big Wheel For Toddlers 1 Years Old?
I know there are some parents out there who are going for a small big wheel for their 1-year-olds. Although Disney does offer this kind of trikes, I am not recommending them here as the pedal drags the ground. This can be very frustrating for a toddler as he or she will struggle to turn the wheel or even go anywhere.
Avoid this frustration and wait until your child is at least 2 years old to get him or her a better rated big wheel, like those mentioned above.
Big Wheels vs Trikes
One alternative to buying big wheel is to get a trike. Parents who are thinking about this might be wondering what the differences are. Below is a brief summary to better understand the differences:
Safety: Compared to the trikes or scooters, Big Bike is safer at top speeds because it is so much lower to the ground. Also, a kid doesn't need to balance a big wheel since the centre of gravity is very low.
Spin: Kids can learn how physics work through their ability to spin the big wheel. Even if they fall from the spin, their proximity to the grounds ensures not much harm will be done.
Ease of pedalling: Trikes will definitely be more comfortable for a kid to paddle. In a big wheel, he is fighting gravity and has to position his leg at the 45 degrees to get the pedal going. In a trike, gravity is working in the kid's favour.
Big Wheels vs Balance Bike
Now that you know the difference when comparing big wheels vs tricycle, what about balance bike? Here are the differences:
Safety: Both vehicle types are pretty safe. Kids cannot go fast in Balance Bike as they are merely pushing the bike along with their legs.
Balancing: Big wheel has a bit of balancing element that the kid has to learn when he or she is spinning the toy. On the other hand, a balance bike is made to help kids learn about balancing so it is more useful in this aspect.
Speed: Big Wheels are faster than a Balance Bike.
Spin: Only the big wheel can do the spin.
If you want to learn more, check out our definitive guide on the best balance bikes for kids.
Final Thoughts
Big wheels for kids can be lots of fun if you get the right model. Pick a wrong model or a wrong brand, and it could turn into a big hell for parents. Trust us on this one and get your kids the Radio Flyer's Big Flyer model. You can't go wrong.
Want more gift ideas? Check out the best toys for 2 year old boys in 2020.