by Kid Crave
|
Last Updated:
01/20/2019
In its simplest definition, a balance bike is a bike without pedals. You may also notice that many do not contain any visible brakes and for good reason as explained by Strider Bike.
Otherwise known as glider bikes, worldwide the best balance bikes are considered as a safer, more economical alternative to tricycles and training wheels (stabilisers), with the added benefit of getting your toddler, kid or older child onto a real bicycle in a much quicker time frame.
In this definitive guide, we will answer all of your questions as to why balance bikes are the best bicycles to learn on, along with recommendations on the best glider bikes for all ages.
Best Balance Bikes in 2020
It is a common misconception that balance bikes are only available for young children below the age of 3 or 4. Although the majority of balance bikes in the market cater to these age groups, there are a few options out there that are suitable for older children. In this article, you can find all the best balance bikes for toddlers, kids and older children.
TOP TIP: You should always consider the weight of the balance bike. A heavier bike will be harder to ride for your child. Typically a bike one third the weight of your child is a good ratio. Also, adjustable seats are often a good idea, as they prolong the use of the glider bike.
Top Balance Bikes for Toddlers (18 months – 3 Years Old)
Please note: You will also want to check the next section as bikes from 18 months – 5 years have been included. We are only placing bikes to a max age of three in this category. Toddlers will also be able to use the best balance bikes listed in the kids category.
A toddler is 12 to 36 months old, however you will notice that the bikes listed below cater to the ages of 18-36 months old. If your child is younger than 18 months old you may be interested in this popular baby balance bike. The best toddler balances bikes list below is comprised based on customer reviews, weight and overall quality.
Strider 12 Classic No-Pedal Balance Bike Review
Strider specialises in balance bikes with ten years of development and refinement to bring the best quality glider bikes on the market. It features the lowest seat in the industry and its no surprise that these are the mostly highly rated no pedal balance bikes with 1 million sold worldwide, allowing for a simple transition to a pedal bike.
There are three versions of the 12 model, the first of which is the classic, suitable for toddlers from 18 – 36 months old (or a 12 to 17 inch inseam).
The others are the Sport and Pro versions shown later in the kids section as they are suitable for 18 months – 5 years (they are slightly more expensive than the classic version). We will leave the feature comparison chart below for easy comparisons:
Strider 12 Classic Main Features
Available in colors: Green, Blue, Pink and Red.
Ages: 18-36 months
Adjustable seat and handle bars, complete with adjustment tool.
Great balance bike for future upgrades such as heavy-duty tires or a foot brake. This bike features brake mounts meaning a rear brake can easily be added.
The lightweight durable steel frame weighs only 6.7 pounds.
Lightweight puncture proof tires
All-weather seat
Footrests for easy gliding.
As the bike offers a low center of gravity its easier to control than many other brands.
Kid Crave verdict: This in our opinion is the best value balance bike for toddlers of 18 – 36 months old. This bike is very durable and can be passed down once your child has transitioned to a pedal bike.
Top Balance Bikes for Kids (18 months – 5 Years Old)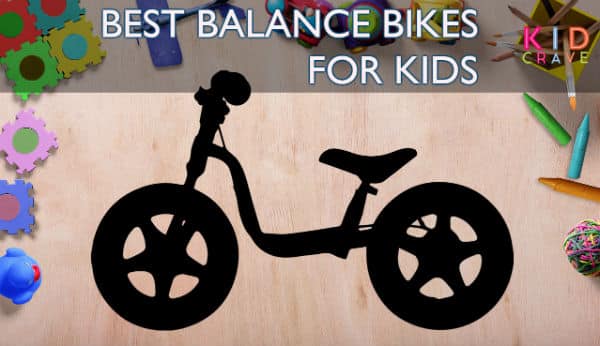 Strider 12 Pro and Sport Balance Bike Models
As previously mentioned, Strider offer the most well-rounded balance bikes in the market. The main differences between the classic and the Pro and Sport models is the following;
Pro and Sport suitable for ages 18 months to 5 years.
Pro and Sport have a 19 inch post seat with an adjustment tool. It's also padded.
The Pro features a number plate, aluminium frame (lighter) and a performance footrest as the only advantages over the Sport.
Pro and Sport models include a handle bar pad and toddler sized grips.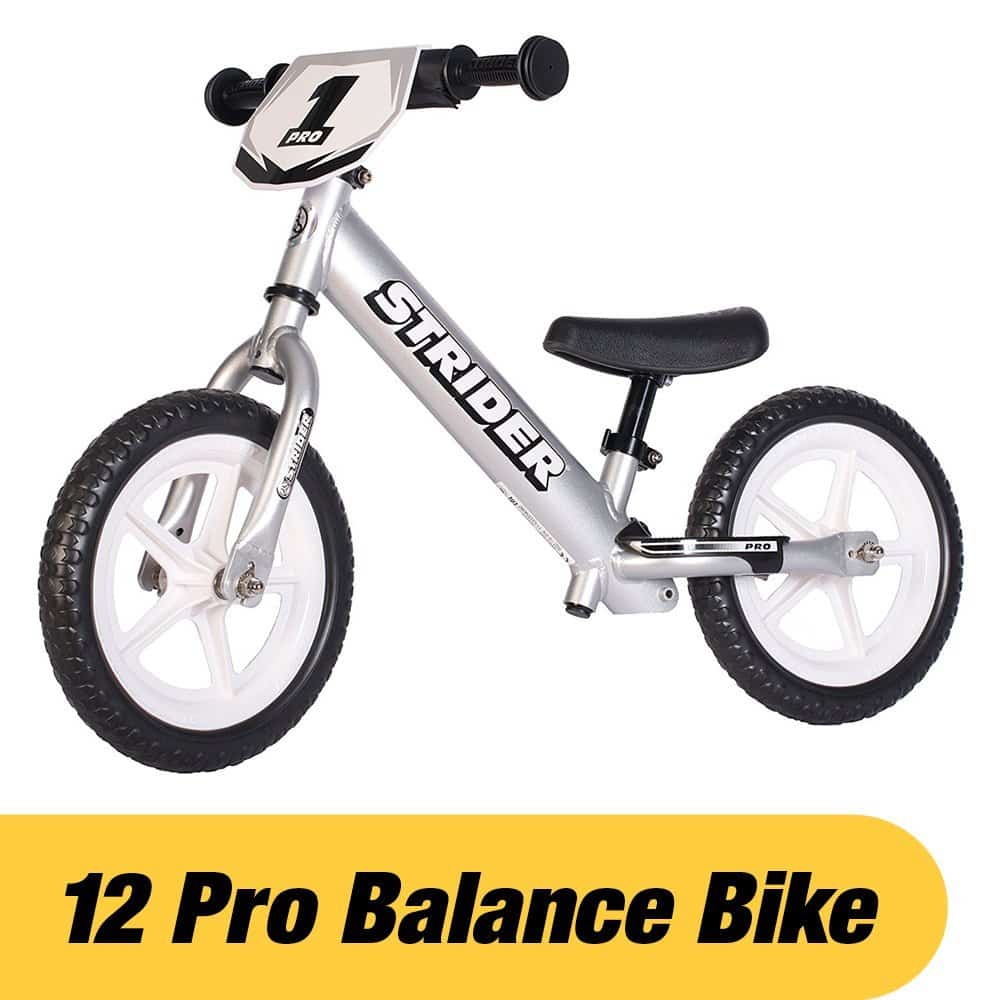 Kid Crave verdict: You really can't go wrong with the Pro and Sport models. Strider bikes are tried, tested and reviewed fantastically by customers. Over 1 million bikes have been sold by the company! If we were to choose the most reliable balance bikes that will last a long time, it would be the Strider 12 models.
What are the lighest balance bikes available?
If you are looking for a really light weight balance bike, then there are two options for you. Many parents like to choose a very light weight balance bike as its usually the safest option and easiest to manoeuvre. While other brands are indeed light weight, there are two bikes which really take a light frame to the next level.
Aluminium frames are what make the bikes so light and often plastic tires are used instead of rubber. However, there is one popular brand that include rubber tires and an aluminium frame, currently one of the lightest balance bikes in the world.
Cruzee UltraLite Balance Bike (4.4 lbs)
Yes, you read that correctly, 4.4 pounds! The Cruzee is suitable for ages 1 1/2 – 5 years old. Yes, it is more expensive than the other lightweight option, but with so many positive reviews you know its the real deal. It comes in 20 different colors, with a lifetime warranty!
This is one of the best balance bikes available, and also one of the safest. The features include a rust-free anodized aluminum frame, a really comfy adjustable seat and flat-free foam rubber tires.
Kid Crave verdict: If you are looking for a really safe, lightweight portable balance bike that will last for many years, then you can't go wrong with the Cruzee. It is more expensive than the model listed below, but often you get what you pay for.
A lifetime warranty gives peace of mind and with so many happy customers you can be sure its a safe option that you kid will love. We also really like the huge array of color options which really adds personality to the bike.
---
The Croco LIGHTEST Aluminum Balance Bike
If you are on a budget and looking for one of the world's lightest aluminium balance bikes then The Croco is for you. It weighs just 4.3 pounds, its available in three colors (blue, green, pink) and features some very positive reviews. It is suitable for ages 1 1/2 – 5 years old.
The Croco balance bike features an aluminium frame, adjustable padded seat, EVA polymer tires (not rubber), soft plastic hand grips with safety ends and foot rests integrated into the frame.
Kid Crave verdict: In our opinion its not a sophisticated as the Cruzee listed above, but its certainly a viable alternative to those on a budget. If you are looking for a cheap, lightweight balance bike then this is a great option. It comes with some really positive reviews so you can be confident that it is safe an well-made. Personally, we prefer the Cruzee as the lifetime warranty and brand are very reliable and the color options make it very personalised.
Ybike Motorcycle Bike
This motorcycle design balance bike is highly rated and one of the coolest designs we've seen. It's suitable for ages 2-4. It is a great design that is easy to assemble and has a wonderful padded seat that is very comfortable for kids.
However, note that the seat for this is not adjustable, so you can't use it when kids outgrow their current bike. The tires are also not made of rubber. Instead, it is made of plastic which can produce noise when used on certain flooring types.
Kid Crave verdict: An awesome looking design and perfect for any motorbike enthusiast. It won't tip over easily as its wider than most. However, as the seat is not adjustable and the tires are made from plastic, in terms of functionality this bike isn't on the same level as many other brands. It does look good value though!
Radio Flyer Balance Bike with 12 Inch Air Tires
Air tires have one distinct advantage over normal tires: they can better hug the surface of the road and they keep the weight of the bike down. This is why some parents insist on buying only the best balance bikes with air tires. If you are looking for one, this fantastic model from Radio Flyer is suitable for 2 1/2 – 5 year olds and features a cushioned suit and bell.
It also has an adjustable seat! Putting it together is going to take you less than 5 minutes. From the reviews, it is also clear that this Radio Flyer balance bike is sturdy and made to last. Most reviewers have had this bike for years and it is still in solid working condition!
Kid Crave verdict: With a cushioned adjustable seat, light weight steel frame, soft hand grips, a bell for added fun and air tires offering a smooth ride, this ticks almost all the boxes. Its no wonder the ratings are so high and the perfect choice for those wanting air tires.
Top Balance Bikes for Older Children (5 – 12 Years Old)
16 Inch Bike
The easiest way to buy a glide bike for older children (5 years – 12 years old) is to look for 16 inch wheels as these are high enough for a child of that age to ride. We've searched high and low and below are some of the best 16 inch balance bikes available.
Go Glider Balance Bike for an Older Child Review
GO Glider is a well-reviewed brand that is worth your consideration when it comes to buying a balance bike for a 5 – 10 year old.
This particular model has a lot of useful features that can benefit a child learning how to ride a bicycle.
For one, it is very light so that makes it easy for the child to control while he is learning how to balance. The footpegs is also a good training mechanism for pedals. This is something that most brands do not have.
To accommodate children of different ages, the seat is fully adjustable with a simple turn. There isn't many balance bike with adjustable seats in the market so it is fortunate that Go Glider does have it.
Finally, the tires are no pump tires and are full of grip for ease of control. In the unlikely event of the balance bike going too fast, there is even a handbrake mechanism, which is again missing in most balance bikes.
Kid Crave verdict: Due to its many features, Go Glider is our top recommendation as a balance bike for older children.
Strider 16 Inch Balance Bike Review
The first version of the Strider 16 inch bike was not the product that the market wanted. Fortunately, the company has since revamped the model and this is version 2, which has more features that are in line with what Go Glider has.
Now, the balance bike has removable footrests for pedal training. The fact that it is removable is a great feature as it gives options for parents to decide when they want the footrest to behold.
The seat and height bar is also adjustable as well so that it can cater to children between the age of 6 to 12 year old.  Like Go Glider, this is a great feature that gives more shelf life to the bike.
The tires are actual wheels that have a solid grip. The first previous do not have real tires and that makes it hard to use. I am glad Strider corrected this flaw.
Kid Crave verdict: The only reason we are not recommending this as the top choice is due to the price. On average, a Strider 16 inch balance bike will cost significantly more more than a similar product from GO Glider.
Due to this price difference, I am putting Strider as my second choice. For fans of this brand, you can't go wrong with this newer model balance bike for bigger children.
Tykes Bykes Charger Kids Bike Review
Tykes Bykes is a well-known kid brand for producing high-quality products. Their 16 inch balance bikes model is one of the first into the market and has achieved favorable reviews.
Update: Currently Unavailable (listing here)
One of the top reviews stated that this balance bike helped the child more than training wheels. Such a review is not unexpected as we have discussed about this in our balance bike vs training wheel article.
Quality wise, this is a well built bike although the set up instructions could be better. Fortunately, assembling the balance sheet is easy enough so the poor instructions do not matter all that much.
Kid Crave verdict: Overall, it is a great balance bike for a 5 year old and up child, it's a shame its not available anymore. The newer model by Stampede Bikes shown on the original listing as the newest version is also not available.
DIY Balance Bike – Make Your Own From Home
If you don't want to spend the money or you already have an existing normal bike for the child, you can DIY your own balance bike by simply removing the pedals, chains and stabilizers. Once these components are gone, the bike essentially becomes a balance bike that can only be pushed forward by the child's legs.
One thing to note is that the bike must not be too tall so that the child cannot easily stand up and balance the bike, if it is then injury risk is greatly increased. The child should be able to sit on the saddle, feet touching the ground with a slight bend in the knee.
If the seat is too high, it will defeat its purpose as a balance bike. It is meant to be a glide bike with very little chances of the child falling off.
Kid Crave verdict: Often, the safest options are of course those available to buy. Take for example the company Strider, they have ten years experience in specifically developing balance bikes.
They not only have the lowest seat in the industry, but also enhanced features. Its probably no coincidence that over 1 million people have purchased a Strider bike.
What is the Best Wooden Balance Bike?
Wooden balance bikes offer a retro-looking alternative to the aluminium and steel frames. Let's take a look at some of our favorites.
ZÜM CX Wooden Balance Bike
If you are looking for a cheap wooden balance bike that is also high quality, check out this model from ZUM.  It takes no effort to put together and comes with no pedals or brakes for easy handling for your kid.
Featured in our guide to the best wooden balance bikes, this bike has an adjustable seat like the previous model. Best of all, it is much cheaper than what an average balance bike will cost. If you are on a budget, this is a great model to get.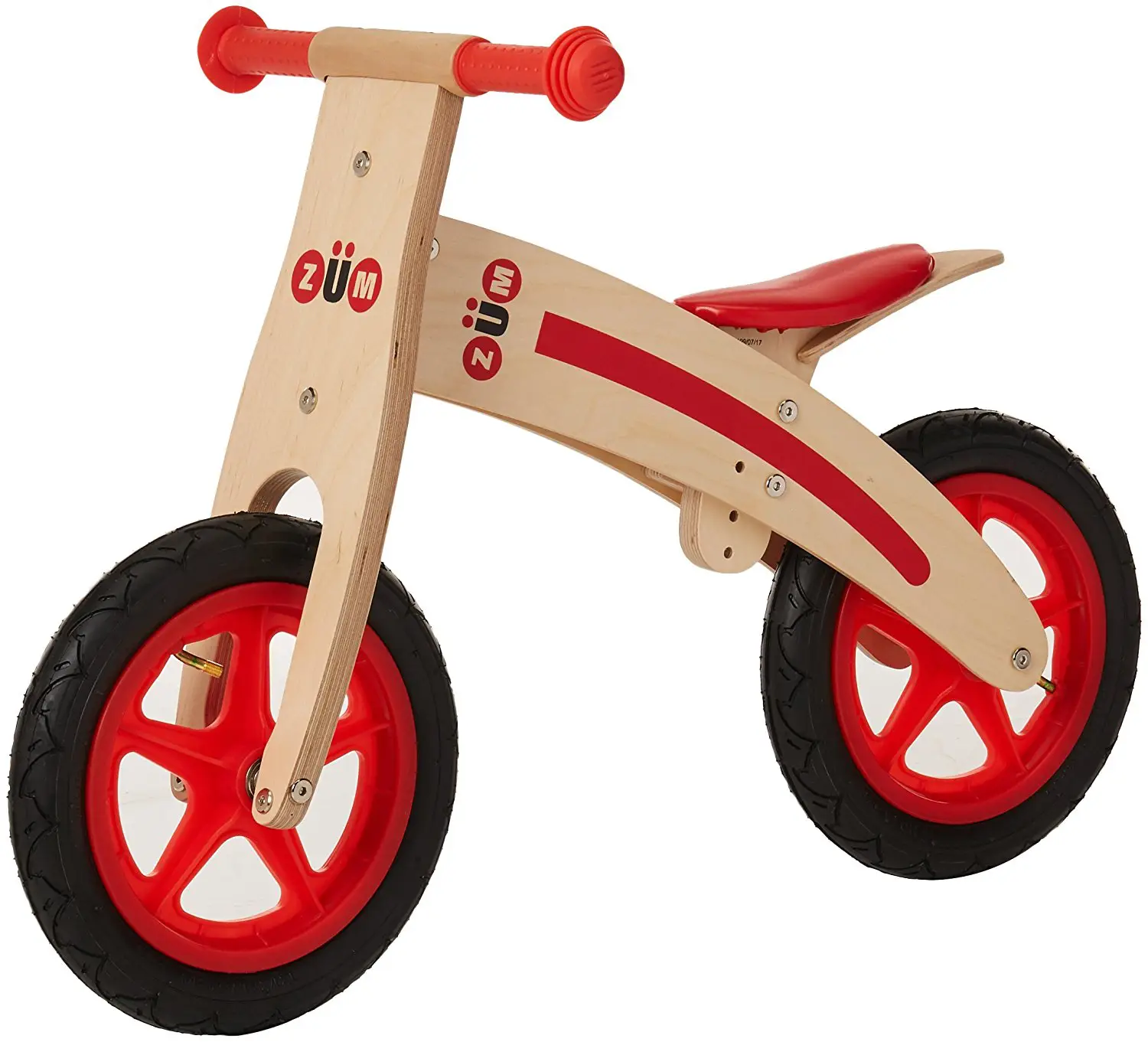 Kid Crave verdict: A really well-made bike, not the best looking wooden balance around, but one that works great.
Kinderfeets Classic Chalkboard Wooden Balance Bicycle
Kinderfeets's cool looking balance bike comes with rubber tires and eco-friendly materials for parents who care about the environment.  The rubber tires are almost puncture-proof and very durable. Best of all, it is bigger than most tires which give kids a sense of security and safety.
Another useful feature is that the seat is not only padded for comfort but is also height adjustable. You can adjust it all the way down such that it is only above the back wheel and use it for a 2 year old.
You can also raise the seat back once your kid reaches 4 years old. This height-adjustable balance bike ensures the longevity of this product in your home as you can use it when your kid grows up from 2 to 4.
Parents who are concerned about the handlebars can also relax as it is designed such that they can only be turned about 20-25 degrees on either side. This means they wouldn't turn completely and dump the kid on the ground. There are pads inside so that there is no wood hitting wood as well as no finger pinching.
Kid Crave verdict: You will be hard pushed to find a more stunning wooden balance bike than this. It comes in seven different colors too! We love the eco-friendly outlook.
FAQs
How do balance bikes work?
While sitting on the saddle, the child will move their legs to push off from the ground, moving the bicycle in a forward motion. The idea is that when enough speed is built up it can be used to learn how to ride and balance.
With no pedals, the feet are used to stop and stay upright on the bike. Some bikes will include brakes and foot rests to enable easier gliding.
How high should the seat be?
The child should be able to sit comfortably on the seat with their feat flat to the ground and a slight bend to the knees. However this does depend on the type of riding.
For tricks and obstacles you may want to lower the saddle so there is a bit more bend in the knee. For longer rides, a higher seat would probably be more suitable.
What is the average age for a child to ride a bike unassisted?
Typically, children learn to ride a bike between the ages of three and eight. The average age is 5 years old. However, with the popularity of no pedal bikes, this is becoming increasingly earlier.
Can you get a 3 wheel balance bike?
These are called Tricycles. They are readily available online and in stores.
Can you easily get a convertible balance bike?
Yes, there is one highly trusted brand named Strider which offer a 2-in-1 model. This means that once your child has learnt how to ride, it transforms into a pedal bike. Suitable for 3 – 7 year olds. It definitely helps to save time and space, as there's no need for 2 separate bikes. It features in two colors; blue and green.
Are there balance bikes for babies?
The youngest balance bikes appear to be designed for those 18 months and older. However, you do have other options in terms of baby balance bikes for those 10-20 months old.
A very young child would not be able to manoeuvre a two-wheel balance bike, so a four wheel alternative has been created. It features in a variety of colors; blue, orange, pink, pink duck, white, yellow and yellow duck.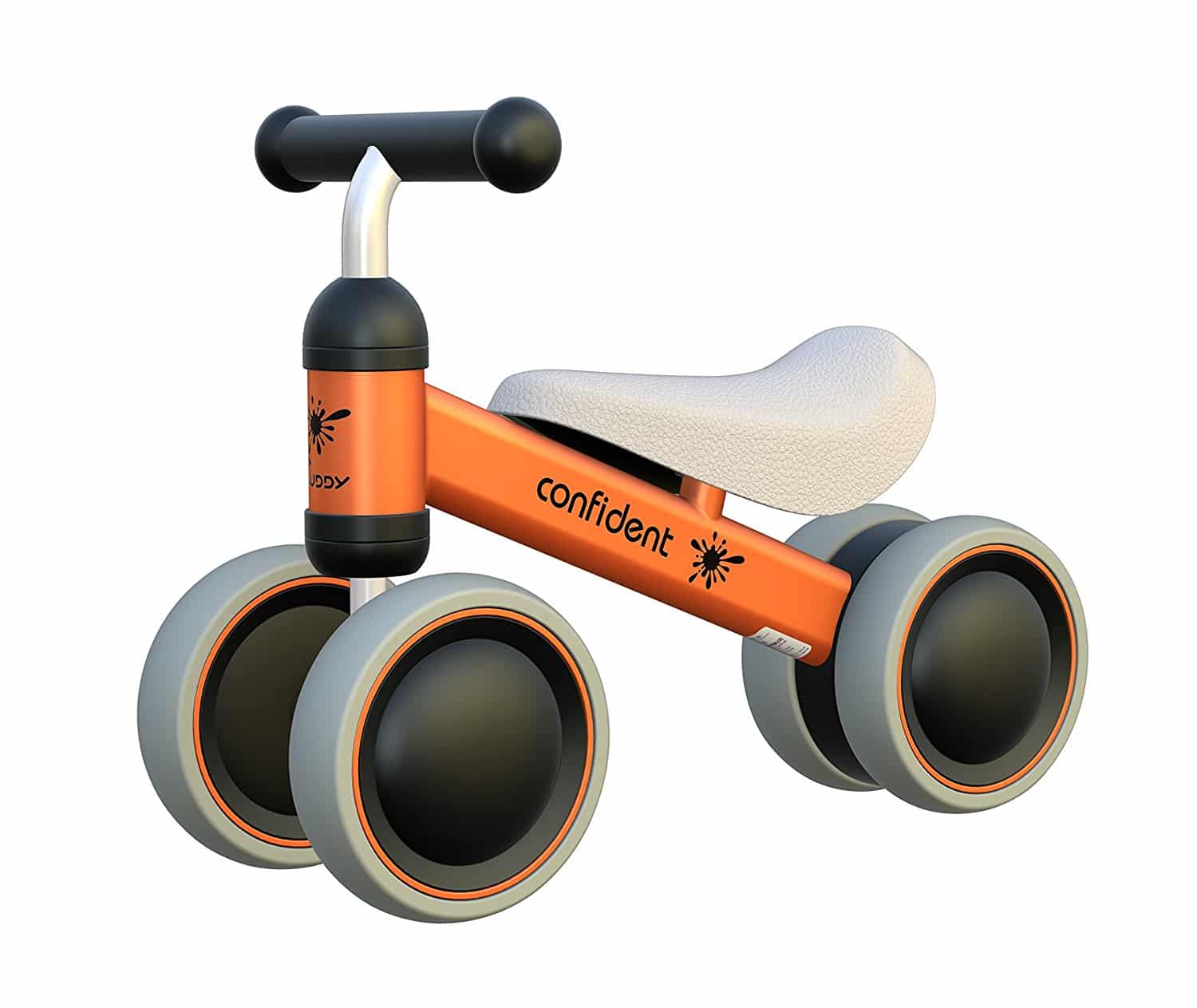 What is the best balance bike for a 2 and 3 year old?
Our favorite balance bike for 2 and 3 year olds would be the Strider 12 Classic. If you need the balance bike past the age of three, you should look at the Sport or Pro models as these models have a seat suitable for up to 5 years old.
What is the best balance bike for a 4 year old?
The best balance bike for your 4 year old is either the Strider 12 Sport or Pro model. Strider tops the list for this age group.
What is the best balance bike for a 5, 6, 7, 8, 9 and 10 year olds?
Our favourite balance bike for 5 – 10 year olds is the Go Glider 16 inch balance bike. Its lightweight, great value and very well reviewed.
What are the advantages of Balance Bikes over Tricycles and Training Wheels?
Balancing on a bike ensures your toddler, kid or older child doesn't get into bad habits. It is a well-known fact that assisted bikes with extra wheels makes the bike less agile as training wheels hold the bike vertical at all times. This means that your child cannot correctly manoeuvre the bicycle when cornering or turning as it will always remain upright. The movements learnt with assisted bicycles will translate when your child rides a real bike. When it comes to riding a real bicycle, a kids balance bike will increase confidence as all the manoeuvrability skills needed for the balance bike will transfer.
Isn't the whole point of riding a bike learning the art of balancing?! Training wheels and Tricycles (while fun) don't teach your kid how to balance. You will find that transitioning to a real bike will be much more challenging in terms of balance, than learning with a glider bike.
Often times, both training wheels are not evenly spread on the ground, meaning the bike may lean to one side. This presents two problems, firstly your child will compensate their weight to one side, which will need to be corrected when riding a real bike. Secondly, as the training wheels offer a sense of security, moving at faster speeds with only one stabilising wheel on the ground could present hazards, especially if the surface is uneven or wet.
If the above reasons are not enough to opt for a kids balance bike, we will add a few more. Not only are balance bicycles safer, sleeker and quieter, but you will also often find that training wheels end up at landfill sites once they have been used. Training wheels also incur an additional cost, making the no-pedal bike a more economical alternative.
We hope that you enjoyed our definitive guide on the best balance bikes for toddlers, kids and older children. What is your favorite and why? Let us know in the comments below.