by Zunaira Ghazal
|
Last Updated:
04/03/2020
This post may contain affiliate links, we may receive a commission if you make a purchase using these links. As an Amazon Associate I earn from qualifying purchases.
Summer is right on the horizon and those fun beach days are not far away. While it's always a great adventure to visit the beach with your kids, it can also be a bit of a hassle if they don't know how to engage themselves.
Beach toys are the perfect way to solve this problem. They come in a vast variety and let your kids have fun on their own – of course with a bit of parental supervision. So below, let's take a look at some of the best beach toys for kids you can buy.
Best Beach Toys for Kids
1. 23 Piece Kids Beach Toy Set
A sunny beach day can never be truly enjoyed without playing in the sand. You can make sure that your kids have the time of their life by purchasing them this 23 Piece kids beach toy set. It consists of 23 unique sand moulds that your kids can play with to design their very own castle.
What's even better is that you can always join in the fun and teach them how to use the sand-moulds. This interactive set is both a kid and adult pleaser that works well for everyone. You can carry all the moulds in an accompanying mesh bag so that you won't lose anything.
Pros
Consists of 23 sand moulds of various shapes and sizes
Perfect for keeping the kids engaged in their own activities while you enjoy your day
Cons
The plastic moulds are very fragile and should not be handed to older or aggressive kids
The bag material is kind of flimsy, which makes it hard to pack all the toys
2. Waterproof beach blanket and kids pool
This dual-purpose beach accessory is perfect for toddlers and little kids – aged 36 months and above. While touted as a blanket, you can just flip it over and convert this toy into an actual kiddy pool. It would be a great beach toy addition because you can just dig a hole in the sand and stow the kiddy pool in the hole.
After filling it with water, you can place your baby in and they'll have the full sea-bath experience! The best part is that this beach toy is fully biodegradable and recyclable and can be easily carried around in a travel bag.
Pros
Great beach toy for children 36 months and above
Lightweight and easy to carry in a travel bag
Biodegradable, recyclable, and eco-friendly.
3. FunLittleToy Kids Beach Sand Toy Set
This wonderful beach toy is perfect for getting your sand moulding groove on. Consisting of 12 unique pieces in a number of beautiful colors, your kid will love designing their very own sand toys and accessories with these moulds. All you need is some sand and water to get things going.
The set consists of a beach boat, a bucker, a watering can, a shovel, a rake, a submarine, and 6 sand molds in the shapes of fish, octopus, sea shell, crab, dinosaur, and tortoise. The ABS plastic is non-toxic and kid-friendly. You and your little ones will definitely have a blast with this set.
Pros
12 piece sand-moulding kit for kids
Consists of 6 moulds and 6 toys including a shovel, rake, and bucket
Super easy to use
Incredibly engaging for all kids
Colorful and attractive
Made from kid-friendly ABS plastic
Cons
The plastic toys may be too fragile for older and forceful kids
4. B Ready Beach Bag
Engage your toddlers in a fun beach activity with this ever-ready beach bag kit. Zipped securely in a bag with a sturdy strap and mesh panel, the toys can be easily stored in a breathable carrier.
The kit consists of a bucket, a mini monster truck, rake, shovel, 4 sand moulds, and a pinwheel – basically everything your kid will need to design their own sand castles and sculptures.
The BPA-free materials ensure a kid-friendly composition and promise the kind of durability that will make this beach toy your kids' favorite accessory for years to come.
Pros
The mesh panel bag is fully breathable and lets all the sand out
Incredibly engaging and educational
Perfect for keeping the kids busy at the beach
Cons
The mesh material of the bag may be too flimsy for the high-quality plastic toys
5. Large Long Tail Octopus Kite
A windy beach is perfect for flying a kite and this octopus-shaped kite is definitely the kind of beach toy. Kits are a great way to interact and have fun with your kids.
The package consists of 2 oversized kites in red and blue colors. Their large size and long tails will immediately attract the kids to their design. It's super easy to carry to the beach and you'll love its smooth sailing across the clear blue sky.
Pros
Fairly large and comes with a long tail, which looks great when the kite takes flight
Ensures a great beach activity with your kids
Great packaging that's easy to unfold
The kites are reusable. You can just cut the string and fold them back until next time
Cons
Some might find it difficult to assemble
Can start to wear out after 10+ uses
6. Kids Explorers Club Beach Toys Set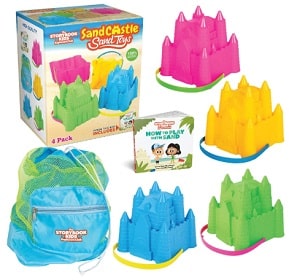 Dominate the beach with this adventure-filled toy and all the accessories that come with it. This is an educational beach toy as it comes with an illustrated book titled "How to Play with Sand." The fairytale castle moulds allow your kids to design their very own kingdoms.
The highly engaging moulds come in many different shapes and sizes. Your kid will play for hours with this particular kit, and once they're done, you can just toss the moulds in the durable carry bag and get home.
Pros
Consists of sand-castle bucket moulds
Highly engaging and colorfully attractive toy
Lets your kid unleash their creative side
Sturdy carry bag
Comes with an illustrated book titled "How to Play with Sand"
Cons
The castle moulds might become too monotonous for the older kids.
7. Activ Life Fun Kid's Flying Rings
The perfect alternative to the typical Frisbee, this beach toy is a must-have for those who want their kids to break away from the sand-moulding tradition. Activ Flyers are highly easy to throw, fly smoothly, and can be caught easily as well.
The lightweight material composition of these Flyers makes them very unexacting to hold and throw without putting a lot of pressure on your wrist. The outdoorsy interaction with these toys will make you bond faster with your kids while leading a fun activity.
Pros
A lightweight and faster alternative to Frisbees
Great for leading interactive play with your kids
Easy to carry
Doesn't strain the wrists because of their light material composition.
Cons
Not as durable as one might think.
8. Melissa & Doug Sand and Water Sifting Funnel
Compel your kids with easy movement, colorful aesthetics, and a beach-themed functionality with this fun little toy. The sand/water funnel is perfect for engaging your kids in a stand-alone activity. The brightly colored design makes it highly attractive to the kids.
The different layers of funnel moulds can be tipped, spun, or sifted – whatever your kid feels like doing. You can carry it around easily in a convenient hand-carry. It's a fun beach toy for 1 – 4 year olds kids and can also be used in regular old sandboxes.
Pros
Consists of fun sea-creatures
Encourages hands-on exploration
Can be easily carried around everywhere in a convenient bag
Cons
Sand can get stuck in the top half, which makes it difficult to funnel sand or water.
9. Water Gun Super Soaker
What's a beach day without a good water gun fight, right? This is why you need to get this cool squirt gun set! With a no-leak design and a 30 feet shooting distance, your kids will have a blast at the beach while playing with these guns.
The ergonomic design makes them easy to use – all you have to do is fill the tank and pump the pressure to shoot. Plus, the tank is big enough to allow a lot of time between refills. It's a great toy to engage in some fun family-feud style activities.
Pros
No leak design ensures great durability
Large water tank means fewer refills
30 feet shooting distance
Great volume output
Cons
Can be too complicated for some toddlers
10. Collapsible Sand Bucket
A bucket is an absolute beach toy essential. It's not only used to design simple sand castles but can also be used to collect sea-shells, glass, and other beach themes treasures. This one is one of the best because it features a collapsible design.
The plastic tummy has a big storage area and comes with a spout for pouring as well as a hold for hanging it on the wall. It can become your kids' best friend whenever they go out to play.
Pros
Foldable bucket made from nonporous silicone
Easy to carry
Perfect for work and play
Can be used for cleaning as well
Cons
Will deform if you pour hot water in it
11. 13 Piece Sand Castle Mold Set
Building sand castles might be the basic theme of the beach, but you can't enjoy this activity unless you ave sturdy moulds. Your kids will love this 13 piece colorful sand moulding set. The pieces are small enough to be handles by toddlers, so you can enjoy some quality sunbathing while your kid unleashes their imagination.
The creative shapes can be moulded into fun sculptures that your child will definitely love. The set comes with a sand castle, a bucket, and 5 other types of moulds along with a sifter, shovel, water can, rake, and 3 sea creatures! It's a must-have for every kid to make the most of their beach day!
Pros
Small-sized and perfect for tiny hands
Consists of a variety of shapes
Colorful, attractive, and eye-catching
Perfect for building your kids' STEM skills
Cons
The bag might be of a slightly lower quality than the toys themselves.
12. 4 Pack Water Blaster Soaker Gun
Your kids will love having fun water fights with these 4-pack water shooters. Each one comes in a different color and features a unique character at the top/ they are made out of foam and plastic, so they're pretty lightweight and super easy to use.
Each shooter is 14" long, so they won't even weigh down your luggage when you pack them up. It's the perfect beach toy to get the whole family in the mood for some cool summer fun.
Pros
Lightweight water shooters for kids of all ages
Perfect for both children and adults
Are easy and light to carry
Has a shooting distance of 30 feet
Cons
The foam material crumbles after extensive use
13. Kids Bath and Beach Soft Cotton Hooded Towel
Looking for some fresh, fun, and colorful beach towels for your kids? This one is the perfect choice for ages 3-7. The Baby Shark themed towel can be worn like a hood and wraps around easily all over the body.
It's made 100%out of cotton and would be a great accessory for the kids to show off once it's time to settle down from play and relax. It's super plush and is able to keep the kids warm once the chill from all the water-playing starts to kick in. You can also easily wash it by throwing it in the washer with the rest of the laundry.
Pros
Can be worn like a hood-and-cape
Wraps around the body and retains warmth
Features a Baby Shark themed design which is always loved by children
Can be easily washed with the rest of your laundry
Cons
The material might be thinner than you'd expect of a towel
Comes with plastic attachments, which need to be taken off carefully
14. Amphibious Remote Control Car for Kids
Building sandcastles and having water fights is not the only activity that you can carry out on the beach. In fact, this fun little beach toy is the perfect accessory for boys and girls who love racing. This RC Car surfs on water and fully remote controlled – but it can also race on land as well!
It's built from weather-proof materials and features anti-interference technology along with an auto-shutoff feature. Both you and your kids will love having fun with it on the beach!
Pros
A fun RC car that's just as fun on land as it's on water
The perfect beach accessory for the 'cool kids'
Features 4-wheel gear for 180 and 360 degree flipping
Has shockproof tech, so hitting and large impacts won't hurt it
Cons
Charging port requires you to remove a base plate with a screwdriver, which is a bit of a hassle
The remote control is not waterproof
Short Battery lifespan
15. Sand Pal Beach Sand Castle Building Kit
Breaking tradition from the kiddy sand-moulding paraphernalia and sculptures, this kit is suitable for both adults and children alike. It consists of basic building modules with which you can design bigger structures from your own imagination.
Consisting of 9 high-quality tools, this kit lets you make sand bricks, cylinders, and other such basic shapes, which you and the kids can use to create the sand fortress of your dreams. With bright, attractive colors and excellent quality, you'll also get the added benefit of a chic holding back that ensures easy carrying!
Pros
Great sand-moulding module kit for kids and adults
Allows you to make bricks, cylinders and other basic shapes so you can design bigger sand buildings
Can also be used to construct stone sculptures
Comes with a chic carrying bag
Cons
May be too basic for bigger kids
These are some great beach toys that you and your kids will love. They'll add more fun to your relaxing day!