by Nalda Parker
|
Last Updated:
03/09/2020
Masked crime fighters date back to 1936 with the birth of the Clock, but this genre didn't become highly popular until later in the 30's when Superman (1938) and Batman (1939) were introduced. Unlike many superheroes Batman has no superhuman powers.
Having witnessed a personal trauma, he chose to hone his natural skills. It is this decision that makes Batman a natural favorite for many and a positive role model for your child. With the recent rise in popularity of superheroes, Batman bedroom décor items are easy to find.
Parents take great joy in decorating their kid's rooms in fun and imaginative ways, and these creative spaces are an important element in your child's life. Your child's private space provides them a space of their own to organize their things, express their interests, grow and explore.
Superhero themed rooms are a great way to support your child in exploring their individual interests and empowering them to identify with icons of American culture.
Depending upon your kid's level of interest, age, and your desires to personalize your kid's bedroom, you can create as simple or as elaborate a space as you wish. With a little creativity and a few select pieces, you can create a creative space that your child will love.
Those of you with the desire for an elaborate space can find as many pieces of Batman related décor as you like. If you are interested in a full Batman bedroom, you will find bedroom furniture, storage options, rugs, drapes, clocks, art work and wall decals.
Batman Posters
Retro Tin Batman Sign
This 13 X 16-inch tin sign features a retro image of the caped crusader. This image of the traditional batman comic figure will delight kids of all ages, last for years, and requires no framing.
The Dark Knight Walking at Night

This is a poster from the Iconic The Dark Night Comic. The poster measures 24″ x 36″ and is shipped in a sturdy cardboard tube. It's quite big and will certainly be the centrepiece of any Batman loving person's room!
Batman & Robin Retro Metal Tin Sign Poster
Featuring Batman and Robin in their comic form, this tin sign has rich vibrant colors and heavy embossing making this wonderful for adding a touch of Batman when decorating. It measures 12″ x 8″ (30 x 20cm) with rounded corners.
Batman Curtains
JPI DC Comics Batman Bedroom Curtains and Tiebacks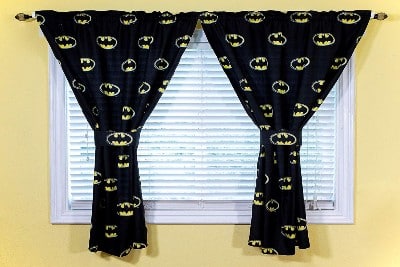 These officially licensed 42 x 63-inch drapes come with tiebacks. Made of super soft polyester, these drapes are machine washable. The images on these drapes are engaging for all ages.
Warner Bros Batman Window Drapes
These 82 x 63-inch drapes are made of soft machine washable fabric and feature a 2-inch rod pocket for easy hanging. Decorated with cartoon images of Batman, the Batmobile, and the Bat signal, these drapes will excite the most discerning young superhero fan.
DC Comics Kids Room Darkening Curtain
This 42 x 63-inch room darkening curtain panel will transform your child's bedroom into his/her own personal Batcave. Decorated with two sizes of the world-famous bat signal, this panel is machine washable. Ideal for light sleepers, this simple iconic pattern will engage a toddler's attention, help improve sensory perception, and blend well with all your Dark Knight décor.
Batman Rugs
Delta Children Soft Area Rug
This non-slip area rug provides an easy to clean, secure floor covering for any bat cave. Made of soft polyester, this 48 X 30-inch Bat Signal invites your personal superhero to get down on the floor and engage in creative play.
48 X 72-inch DC Comics Batman Emblem
Large enough to cover the floor of a large bedroom, this super-soft 100% polyester rug is the prefect signal that it's playtime. Your child will love this simple rug emblazoned with the iconic signal for Batman's help whether it's playtime or bedtime. It offers a space large enough for your kids to spread out and enjoy active time with their friends in their own personal space.
Batman Lamps
Warner Brothers Lamp
This simple stick lamp is a subtle addition to your child's Batman décor. Made with a pull chain for small hands, this lamp can cast enough light to brighten up even the darkest corner of your superhero's room.
Batman Emblem Projector Mood Light
Amaze your favorite superhero fan with this LED night light that projects a Bat Signal onto any ceiling, floor, or wall. This engaging night light will scare away all worries and provide gentle ambient lighting.
LED 3D Night Lamp
This durable energy-efficient light displays a 3D image of The Batman logo in your choice of 7 colors. No matter what their age, your kids will love this light regardless of whether you use one of the monochrome color modes or the flashing color mode.
Batman Beds
Children's Twin Bed
This twin bed can support up to 350lbs and is covered in faux leather. Made of sturdy wood, this wood slab twin bed requires no box spring and fits a standard twin sized mattress.
Batmobile Twin Bed
Every Batman fan wants his or her own Batmobile. This sturdy molded plastic twin bed is designed with a winged spoiler, racing wheels, and colorful decals sits low to the ground making it easy for little legs to climb into and out of bed.
Designed to fit a standard twin mattress, this bed can also fit a box spring for added support. The Batmobile has high sides that act as guardrails to keep little kids from tumbling out.
Batmobile Toddler Bed
Recommended for kids over the age of 15 months old, this durable molded plastic toddler bed has built in guardrails for safety. Designed to sit low to the floor, this engaging Batmobile fits a standard crib mattress making it you child's natural next step from crib to a full-sized bed.
---
Sheets and Sheet Sets
4 Piece Toddler Bedding Set
This machine washable 100% toddler bed set, comes with a quilted bedspread, a flat top sheet, and a fitted bottom sheet designed to fit a toddler bed or crib mattress. The single pillow cover fits a standard size pillow. This extremely soft toddler bed set is decorated with cartoon images of Batman, Gotham City, and the Batman emblem.
Reversible Bed Set
This licensed Batman bed in a bag is available in twin, full, and queen sizes. These sets have different numbers of items depending upon the size of the bed you are making. The 100% microfiber comforter is soft, silky, and machine washable. This set, decorated with the Batman emblem, is appropriate for toddlers, kids, or teens.
Warner Brothers Batman Sheet Set
Featuring cartoon images of Batman and Batman imagery, this 100% machine washable polyester bed set comes in twin and full sizes. Each set includes both a fitted and a flat sheet. The twin set comes with one pillow case fitting a standard pillow. The full set comes with two pillow cases.
---
Batman Storage
Large Bin for Toys
Made of sturdy fabric with twisted rope handles, this light weight bin is ideal to house your children's toys or to act as a clothes hamper. 22.5-inches tall, this polyester basket is a great way to encourage your young superhero to keep a tidy room.
Delta Children's Delux 3 Shelf Book Case
This sturdy wooden bookshelf is appropriate for kids 3 and up. Colorfully decorated with artwork depicting Gotham City and the Caped Crusader, this bookcase has three shelves and will encourage your young reader to keep an organized bedroom.
Langyashan Square Canvas Batman Storage Bin
This 13-inch black and white linen and cotton bin, fitted with leather handles, is perfect for any aspiring superhero. The simple black and white images adorning this waterproof bin will hold your young child's attention and build your baby's sensory abilities.
Folding Storage Bin
This set of two 10-inch Batman bins fit well into a cubby style organizer and collapses flat for storage when not in use. Decorated with iconic Batman images these soft canvas organizing cubes are great for storing books, toys, or the latest in Batman apparel.
Batman Clocks
Digital Display Batman Alarm Clock
Featuring the head and torso of the Dark Knight, this digital alarm clock runs off AA batteries. Molded in hard plastic, this durable alarm clock will delight your young super hero. It is not intended for those who like to extend their wakeup, however. There is no snooze on this no-nonsense alarm clock. The alarm begins as a soft beep and builds in intensity until it shuts itself off after approximately two minutes.
Wolf Warrior Analog Alarm
This metal twin bell alarm clock is reminiscent of a time gone by. Sporting the Bat signal, this durable metal alarm clock is a subtle addition to any superhero's bedroom. Powered by AA batteries, this simple alarm clock comes with a button to illuminate the dial and is loud enough to wake the soundest sleeper.
Batman Wall Decals
RoomMates Batman Bold Justice Peel and Stick Giant Wall Decal
This 44 X 38-inch decal of Batman in action, adheres easily to any smooth surface making it easy to decorate your personal Batcave. All it takes to add this classic depiction of Batman mid stride to you child's bedroom wall is that you peel and stick this durable vinyl image. Guaranteed not to harm your walls, this image is both economical and visually pleasing.
Gotham City Wall Decal
This high quality 44 X 24-inch vinyl wall decal is available in a variety of colors. Produced by a small company located in the US, this durable matt decal looks hand painted once applied. Completely safe for use in a child's room, this decal is guaranteed to engage your child's imagination with it's comic depiction of the city of Gotham and its glowing Bat signal.
---
Regardless of your budget and DIY expertise, you will find many decorative items to help you design the perfect space for your aspiring superhero. Whether you choose a few accent pieces or decorate the whole room in Batman style, you will find many high-quality options to make your child's room one of a kind.
Faqs
What is the best way to make a Batman bed light up?
There are many ways to light up your child's Batman bed. One of the simplest is to attach Phillips Hue Light strips to the sides of your Batman or Bat car bed. These flexible light strips can be programmed to shine white or colored light and are dimmable to encourage sweet dreams. You can program these lights to dim and turn off during the night and brighten for gentle wake up in the morning.
Best batman wall decal? To Paint or apply wallpaper?
If you are creative and don't mind repainting your masterpiece if your child outgrows the Batman theme, you should feel free to paint a mural on your child's bedroom wall. However, you should know that there are low cost and simple to apply alternatives to the traditional options of painting a mural or hanging wallpaper in your child's bedroom.
You will find a variety of wall decals with images of Batman related icons and comic illustrations. These self sticking decals can be removed without damage to your wall if you should decide to change your décor.
Is there a queen size batman bed and bedding?
Although most bedding with a Batman theme is only available in twin sizes, there are Batman bedding options for full and queen size beds.  You will find both sheets and comforters available in toddler bed, twin, full, and queen sizes, since Batman is not a superhero one outgrows at a young age.
Is there a batman crib for babies?
No. Although you will find bedding appropriate for a babies crib, you will find no actual batman crib. There are, however, toddler beds available for Batman enthusiasts that fit a crib mattress.